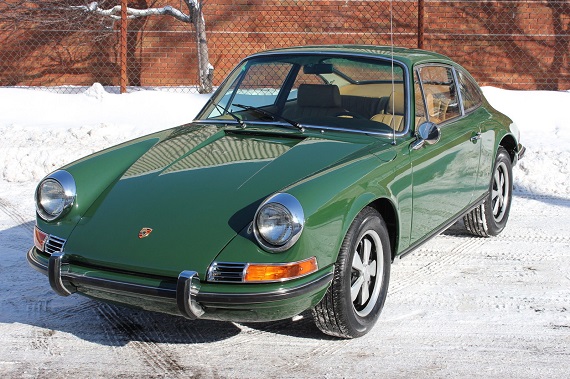 For reasons that I can't quite pin down, I really enjoy the look of a green 911 on models prior to the 964, especially the long-hood models, but am far less a fan of those same colors on everything from the 964 forward. The exceptions are some of the dark green metallic shades that I enjoy on any model, but a color such as the one we see here, an Irish Green 1970 Porsche 911T Coupe, I find immensely more appealing on an early 911. Perhaps there is something about the narrower, lighter, structure of the early cars that showcases colors like this one in a way the newer models do not, but it is something I can't really put my finger on. Regardless, this is a beautiful 911 complete with a Tan interior to complete this iconic contrast of shades. It appears to have gone through various stages of restoration, and sits currently as a well cared for driver to either be put to good use or more fully restored to pristine condition.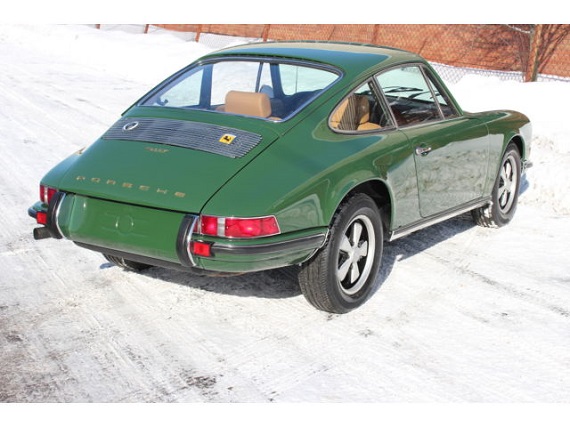 Year: 1970
Model: 911T
Engine: 2.2 liter flat-6
Transmission: 5-speed manual
Mileage: 58,941 mi
Price: Reserve auction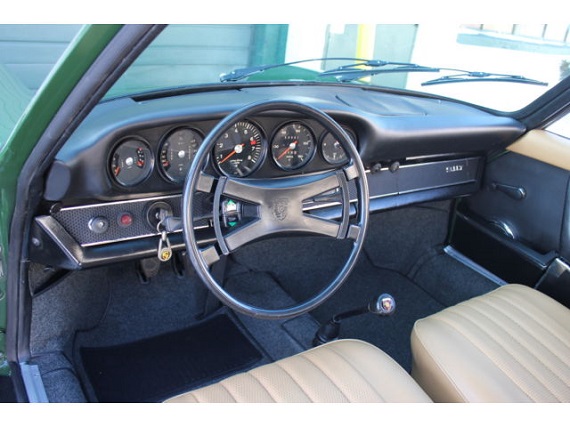 Chassis# 9110121369
Engine# 6106277
Gearbox# 911/01 710 3183
Paint Code: 1515 –G Irish Green
A 1970 Porsche 911T Karmann Coupe, 2.2 liter. Irish Green with tan leatherette interior, showing 58K miles on the odometer. All matching numbers according to the COA.
Optional equipment: US Equipment, Comfort Equipment, Tinted Windshield.
Extensive work was done on the engine by the previous owner in the mid-eighties (receipts available). Recent work includes body work, paint job, new floors, interior (door pockets are original), upholstery, brakes and light engine work (cleaning and tune up). Comes with the desirable 15 inch Fuchs with brand new tires. Runs and drives very well but needs to be driven regularly for peak performance.
The car is equipped with the original jack, owner's manual and spare tire, as well as receipt history and the original COA.
A presentable and elegant driver, ready for the road.

Any questions welcome, please message or call Frank at 2166452100. (We can help to make arrangements for worldwide shipping.)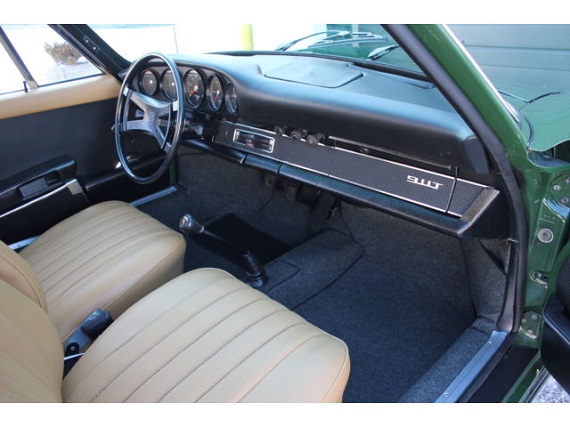 While I really enjoy the contrasts here the interior does not appear to have been redone in the original color as the CoA states it was brown leatherette, rather than what appears to be tan here. As a driver-quality 911 that is perfectly acceptable and the quality of the work looks to be to a good standard. As the entry-level 911 the T is generally the only long-hood version buyers can still get their hands on under six figures and bidding here – currently at $55,000 – bears that out. I would still expect bidding to rise a little bit prior to auction end, but for an early 911 this one should probably come at a relatively reasonable value for what appears to be a solid good-looking 911.
-Rob