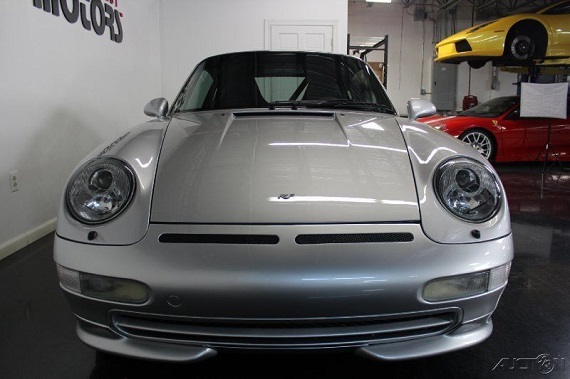 The 993 market is red hot right now, and few cars stir the emotions of enthusiasts quite like the Turbo models. Of course, this car wasn't originally a Turbo, but the nameplate on the front and rear more than makes up for that shortcoming – it is the 1995 Ruf BTR press car for the U.S.. Converted originally by Ruf Auto Center, this car has continually risen in price over the past few years. Since November, it has moved from Texas and it's original $129,000 asking price to Missouri – an expensive move, apparently, since the asking price is now $149,888. Now, I haven't shipped a car between states, but knowing some people that have (and the type of cars they ship…) I'm pretty certain that's not a $21,000 trip. It equates to $29 a mile, if you're counting. Does $150,000 sound like too much for a non-original, but documented history converted Ruf car?
The below post originally appeared on our site November 25, 2014: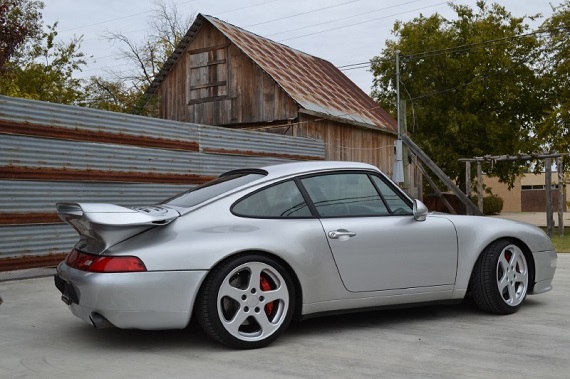 From a poorly represented backyard creation of a tuned E28 BMW we're heading for probably the most respected and coveted tuner in the world. Ruf cars are legendary and have been since new – grabbing headlines and turning heads wherever they go. By the 1990s, though, Ruf had some serious competition from within Porsche itself. Porsche not only had the monstrous 400 horsepower, all-wheel drive spiritual successor to the 959 in the Turbo, but it also had a stripped and widened GT2 model homologated for racing. Adding power was good, but Ruf really needed to set itself apart. The result was the wild CTR, probably the most famous of which I wrote up about a year ago. But behind the big splashing headlines of the power figures of the CTR was the successor to the Yellowbird – the BTR: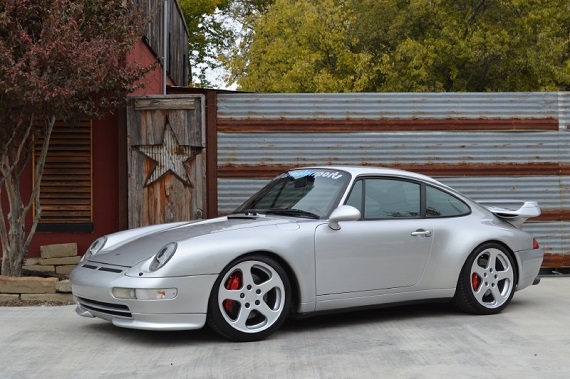 Year: 1995
Model: BTR
Engine: 3.6 liter turbocharged flat-6
Transmission: 6-speed manual
Mileage: 35,077 mi
Price: $129,000 Buy It Now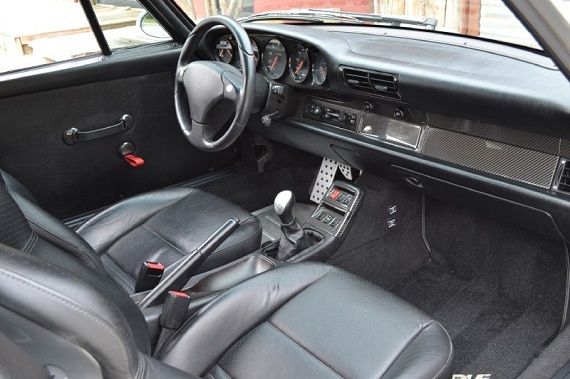 New Description
Exotic Motors Midwest is pleased to offer this 1995 993 Porsche 911 RUF BTR finished in Arctic Silver over Black Leather interior! This RUF BTR Turbo Started life as a 911 C2 and was immediately converted into the fantastic RUF BTR as presented today. Extremely powerful with 420HP fed through the rear wheels, powering it's already lightweight body stripped further from the factory with a factory spec'd rear seat delete. The rear of the cabin has been treated to a beautiful roll cage that has been masterfully wrapped in leather retaining it's classic Porsche feel.

Factory Options and features include:

– 6-speed manual transmission

-030- Sports Suspension

-419-Luggage Compartment Instead of Rear Seating

-454-Automatic Speed Control

-498-Without Model Designation Rear End

RUF BTR CONVERSION PACKAGE:

Single Turbo 3.6L Flat-six 8.4:1 CR, 420hp 420TQ, Single KKK Turbo, Rear Wheel Drive, RUF Suspension Kit, Larger Front and Rear Sway Bars, Springs, Boge Shocks, Solid Aluminum-Billet Front Shock-Tower, 18-inch Ruf Alloy Wheels made by Speedline. Carbon Interior panels, Carbon Fiber Radio Delete, Carbon Fiber Center Console, RS Door Cards.

0-60 in 3.7 Seconds

1/4mile in 12.2 seconds at 115MPH as tested by Car and Driver
PLEASE CALL CRAIG FOR MORE INFORMATION AND DETAILS OFFICE (314)561-9766 CELL (314)223-4543 EMAIL CRAIG@EXOTICMOTORSMIDWEST.COM
Old Description
Description
1995 Porsche 993 RUF BTR

1995 Porsche 993 RUF BTR!

Dallas Motorsports is pleased to present this *RARE* 1995 Porsche 993 RUF BTR Conversion!

This RUF BTR began life as a Sun-Roof Delete 993 Carrera 2 and was converted in Late 1995. Also note, this RUF BTR was a press car for RUF featured in the May of 1997 issue.

The centerpiece of the RUF BTR is a single-turbo engine conversion kit for the 3.6 Liter Flat-Six. This kit also includes: RUF Intercooler, RUF Camshafts, RUF Built Transmission, a free-flowing RUF exhaust system, higher-flowing Fuel Injectors, a new engine wiring harness, and a RUF/Bosch Montronic Engine Control System. A Turbo S tail has also been added to house the intercooler. Machined factory Mahle pistons reduce the 3.6 Liter's compression from 11:3:1 to 8:4:1, which helps to prevent any type of meltdown from the single KKK Turbo's 11.6 psi of boost. A long with the engine, RUF also installed a suspension kit that includes springs and Boge shocks, which lower the body about 30 mm. A solid aluminum-billet front shock tower brace, and anti-roll bars twice as stiff as the stock ones have also been installed.

Other RUF upgrades include: RUF Pedal Set, RUF Shift Knob, RUF Floor Mats, RUF Steering Wheel, RUF Door Sills, and a Roll Cage wrapped in leather. Lastly, the BTR is fitted with RUF 18″ Wheels.

This RUF BTR features 420 HP & 420 lbs/ft TQ to go along with a blistering 0-60 mph in 3.7 seconds and an overall top speed of 185mph! Acceleration is better than a 993 Turbo and the driving experience is closer to a GT2 because of the lighter weight and rear wheel drive.

If you are looking to own a RARE AIR-COOLED gem such as this 993 RUF BTR, look no further!!

Call/Text/Email Spencer Heitman 214-773-0588 for more information or to make an appointment. sheitman@dallasmotorsports.com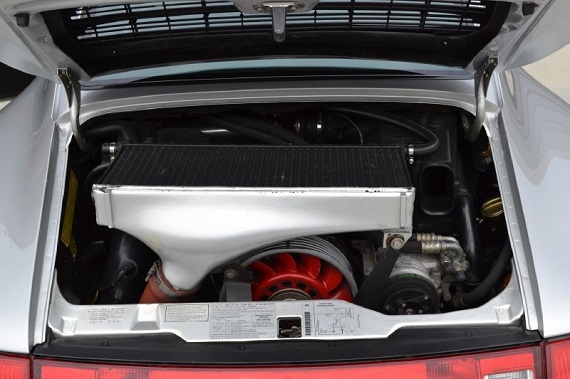 The trail on this car seems to be well documented; aside from the Car and Driver article which I can't seem to find, the car also wen through the hands of Ruf Autocenter a few years ago, who seem to acknowledge the C&D article. The conversion and condition of the car seem to be top notch and though Rufs are rare in general, a last generation 993 BTR converted model with significant history seems to be extra special. While not the wildest colored Ruf we've seen, I think the Arctic Silver with black leather and those awesome Speedline wheels looks just about perfect. There are just enough details to set is apart from the normal Carrera 2, but not so many that it really stands out. I really like the Turbo S rear spoiler with the discrete air intakes, the subtle chin spoiler and the 924 Turbo-esque air intakes in the light panel. It's a bit of a sleeper, all in all. Pricing is considerably higher than when RAC sold the car; the asking price is 50% higher than only a few years ago. But miles are low, condition is still impeccable, the history is known and the 993 market is red hot. This certainly looks like a special Ruf amongst an already special breed!
-Carter