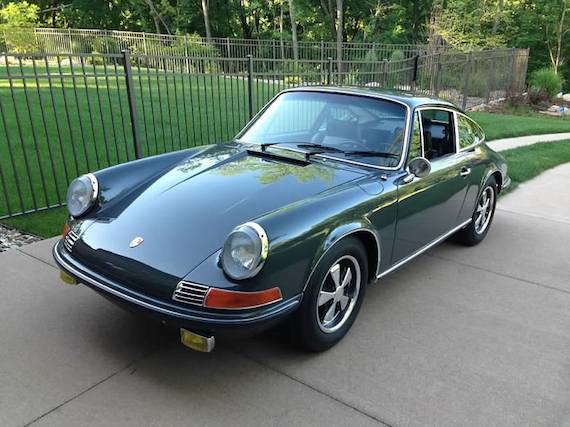 Throughout these pages, I have extolled the virtues of Porsche's 912 for its simplicity married to the classic 911 design. Here we have the car that effectively became the replacement for the 912 as Porsche's entry-level rear-engined sports car, following the cessation of 912 production in 1969. While a 911T does not come at quite the cost savings of the 912 it nonetheless offers the most reasonable cost for anyone who must have a vintage long-hood 911 and values seem destined to appreciate at a steady rate that easily eclipses the 912. The 911T was first introduced as the entry-level 911 in 1967 featuring a 2.0 liter flat-six engine delivering 110 hp to the rear wheels through a standard 4-speed or optional 5-speed manual transmission. In 1970 engine displacement was increased to 2.2 liters with an appreciable rise in power to 125 hp. With only 2240 pounds to propel, performance of the 911T is capable, if not brisk, but still provides the driving dynamics and characteristics so highly desired by Porsche enthusiasts. The example featured here, a restored Slate Gray 1970 Porsche 911T with 5-speed manual transmission, comes to us from our friends at EuroWerkz.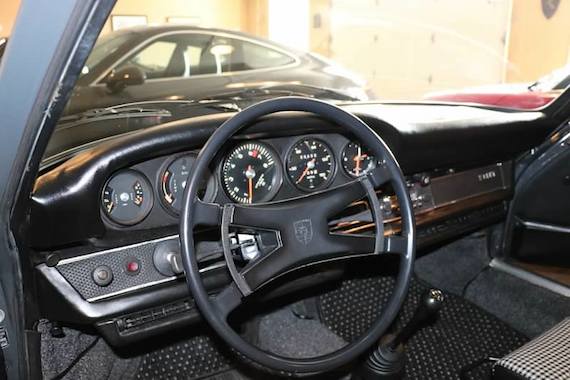 Year: 1970
Model: 911T
Engine: 2.2 liter flat-6
Transmission: 5-speed manual
Mileage: 41,068 mi
Price: $63,900
1970 Porsche 911 T Coupe / Chassis # 9110120328 / Engine # 6108030

Beautiful Slate Gray Coupe/Black Leatherette interior/Sports Seats with Pepita inserts. California coupe wonderfully restored to pay homage to Steve McQueen's 1970 S Coupe used while filming Le Mans.

Freshly restored and sorted throughout 2013 with every element of this car being addressed to make it a super nice stand up driver.

This car was restored with three goals in mind:

A high quality daily driver that will garner compliments everywhere it goes with 100% dependability over countless miles, yet not worrying about a little rain shower or rock chip occurring. Restoration was focused on using period correct materials and parts. Paying Homage to one of our favorite 911's, McQueen's gorgeous S Coupe.

Mechanical:

Engine: removed, tuned, resealed, powder coated and cad plated to fresh. Runs beautifully with no leaks. Zenith carbs rebuilt. New NOS oil reservoir. Gorgeous full stainless Dansk muffler from Sierra Madre to the tune of $1,265.

Transmission: Original 5-speed transmission is great working order. Shifter rebuilt using a full Wevo upgrade. Clutch is in good order with plenty of life and has been adjusted for proper action. New correct real 901 5spd Shift Knob from Sierra Madre to the tune of $220.

Brakes: Rebuilt all around and perform as they should.

Air conditioning: System rebuilt and blows cold. New compressor.

Suspension: New Bilstein's at all four corners with new bushings and hardware.

Wheels: 4 Date Stamped Fuchs 15×6 polished "hearts" fully refurbished shod with correct 185/70 Vredestein Classic Tires. New NOS black lug nuts.

Interior: New Perlon carpet kit. Fresh headliner. Dash recovered in vinyl as well as center speaker cover. New door pockets and map cards from Ein Malig. Recovered door tops from Ein Malig. New correct door perforated door panels. New inertia reel seat belts front and new lap belts rear. All switch gear correct and in working order. Refurbished period correct Blaupunkt works as well!

Exterior:

Body panels are straight and free of rust, dents, or waves. Gaps look factory spec. To my knowledge this car has never suffered any accident history as structurally the car is solid top to bottom.

All glass is original except for replacement windshield. All glass is free of chips and scratches.

Slate gray paint done to what I would call high driver standards. This car was originally Burgundy in color. The paint was done before I bought the car. From three feet the car looks excellent but there are a few very minor paint details that I wish were done to a higher standard. The paint is one of the reasons I am calling this car a "stand up driver." Flaws are as noted: door jambs should have been prepped better. Front bumper has a slight crack and the alignment could be better executed on the driver side. A few very small nicks here and there.

All new lights and lenses and all in working order. Bosch "eyebrow" NOS fog lamps sourced in Germany. Hella H4 headlamps are perfect.

All new correct rubber seals. S trim rocker deco strips and wheel well trim in excellent fresh condition. Window moldings and door handles in good shape but show slight patina.

Additional Goodies (included) :

Porsche Certificate of Authenticity
Correct Tool Bag and Tools
Replica Porsche Sport Seats with Pepita inserts by Stephan at GTS Classic Seats
Receipts from purchase of the car and all work performed in 2013.
One key with two additional correct key blanks (yet to be cut)
Original black leatherette seats in very good condition and included with sale
Correct Bosch rear taillight lenses
Black and Gray Coco Mats

My Nit Picks:

Lacking complete ownership history.
Due to lacking previous ownership records I do not know if transmission has been gone through or when clutch was last replaced
Correct tools and tool bag but missing jack
Gauge detailing a little yellow and dash gauge surround is a little scruffy
Dash not replaced but recovered in vinyl…looks very good but it is recovered vs replaced.
Color change from Burgundy to Slate Gray

In summary this is a wonderfully sorted coupe that is ready to safely drive and enjoy. The next owner can enjoy this car and watch vintage 911 values continue to rise. 5-You will notice several detailed pictures that show the quality of this car and I am being particular with my nit picks. I want to be sure that it's new owner has total clarity as to what the car is and what the car is not.

Last fall I took it to our local Cars and Coffee event and it garnered significantly more interest than my three other 911's (89 930, 97 993TT, and 997 T4S). Since then I have sold my 997 and was able to take delivery of a 50th Anniversary 911. If you have a 50th Anniversary car, this 1970 Coupe bookends that modern classic beautifully due to the similar color palette and bright work details.

I am selling this car only because I have found a 72 Sunroof Coupe that I simply cannot pass on due to it checking all of my vintage 911 boxes. I have done my best to accurately describe this wonderful car. I'll do my best to answer any questions.

$63,900 – title is in hand – buyer pays transport costs – will work with you to ship worldwide

With Drive!

Jason
319-651-9032
Doug
641 891 3571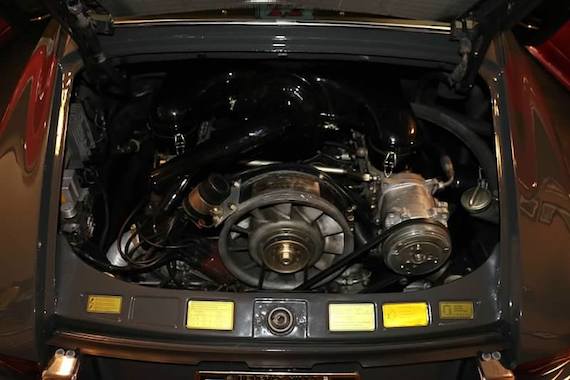 This car comes to us with good timing as recently I have been featuring 911s in a variety of colors. While we should note that the Slate Gray this 911T wears is not its original color (and the seller provides additional detail concern this in the ad), it remains an excellent choice of color possessing a subdued quality that really presents well. A driver quality restoration such as this can make for an interesting opportunity. It can either be fully restored to become a high-dollar collector or it can be driven and enjoyed with confidence knowing that everything is in good working order and its value should remain fairly stable even with some additional mileage.
For those interested in this 1970 Porsche 911T, you can contact Doug Wittkowski of EuroWerks at witt@eurowerkzlc.com
-Rob