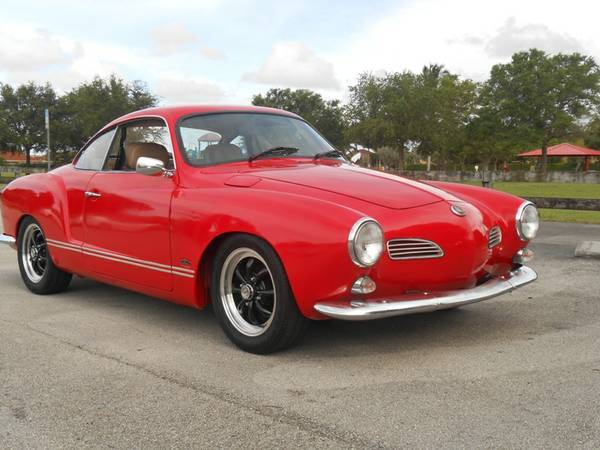 Probably like a lot of people out there, I have a neighbor with a Karmann Ghia sitting in his driveway, rotting away. It's a sad sight that I walk past everyday. I've asked him what he's doing with it and like many, he plans to rebuild it "someday." All too often, though, "someday" never comes and these project cars change hands – the lucky ones eventually may be rebuilt and live to see another day, but many fade into a distant rusty memory. Occasionally, though, you find someone who's "someday" has already come and gone and they're looking to move on. Such is the case with today's Karmann Ghia, a nicely resto-modded red example: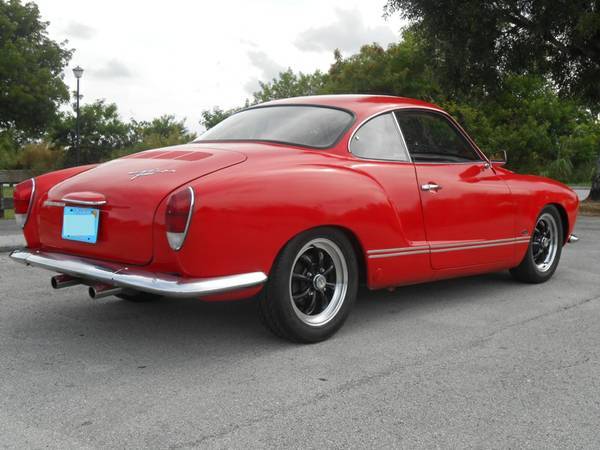 Year: 1970
Model: Karmann Ghia Coupe
Engine: 1.6 liter flat-4
Transmission: 4-speed manual
Mileage: "1,000" mi
Price: $12,000 Buy it Now
Up for sale is our very special 1970 Volkswagen (VW) Karmann Ghia. This car has a lot of sentimental value for my wife and me. It was the car we built and drove off on our wedding day. This car was completely rebuilt from the ground up. It had been in storage for over thirteen years and a few years back my uncle and I took on the task. Not only is it special because it was a family project completed by my wife, myself (Gulf-War Veteran), and it was also worked-on by my uncle who is a disabled mechanic (One missing arm). We are only the second family to have owned this car and it is solid. I have driven this car all over the state of Florida without any trouble whatsoever. Unfortunately due to rising medical bills and all other problems that come with life, we need to sell the car in order to maintain more important things.

Not long ago I had a new engine completed and installed. The new engine has less than 1,000 miles, and it does not leak a drop of oil, and it turns on without any trouble. If you have not noticed or are not familiar with these cars, notice that I have tried to keep the car looking as much as possible to earlier model Ghias. I have changed the large front turn signals to late 60's model nipple turn signals. I have also omitted the large rear square reflectors and the dash has been redone. I took off the lower black padding and the wood grain sticker that used to surround the dashboard. All of the padding holes have been sealed and the dash painted the same body color.

While you are looking at these pictures keep in mind that we built this car to drive on a daily basis and enjoy it, not just keep it as a trailer queen. It does not have Air Conditioning (AC) but I did place a fan that resembles an AC unit and blows hard. Whatever minor flaws the car has are not very notable on it, so feel confident you are getting a good car. I will welcome any independent person to come look over the car. I have been around Karmann Ghias since 1986.

I will also provide you with all the pictures of the car before, during, and after the restoration as well as all the paperwork to document the maintenance and new parts to the car. Call or Text Marcos at 786-338-1679, just email me. I can also email you any additional pictures that you request. I will post all questions asked, so fell free to write and bid with confidence.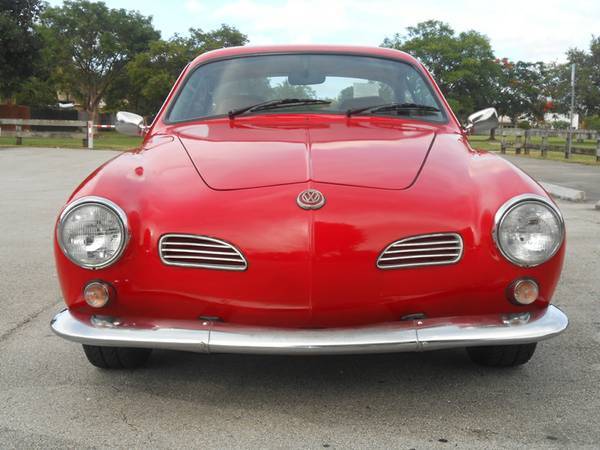 While not the best driving car the world has seen, the Karmann Ghia offered boatloads of style at a budget price. It may not have been a sports car like its Porsche cousins, but if an alien landed in front of a Karmann Ghia parked next to a late 356, you'd have a hell of a time explaining why the Porsche is worth five to ten times what the Volkswagen is. Today's model is a perfect example of how it's much easier to buy a car that's been restored than to try to do it yourself. Sure, you could buy a cheaper car and spend a bunch making it right, but unless you have a very different vision than what this car is, this is a better and cheaper way to get there quickly.
The seller not only has a great story to go with the car, but also shows genuine love and, at least in my mind, did all of the right things to make this Ghia stand out. It looks splendid in red with tan interior, and while it looks good enough to pop into a show I'm glad it's a driver and can be used. Aside from changing the steering wheel, I'd like to know how many miles are on the chassis, although I doubt that would be a deal breaker. The seller undoubtedly has much more money into the car than the $12,000 asking price even without counting the sweat equity. Top it off with a set of stories that will captivate the crowd at the local car event when they ask where you got it, and you've got yourself a well bought classic.
-Carter