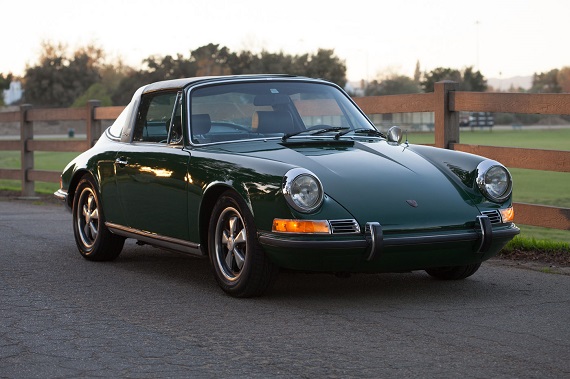 Here we're going to look at another imperfect long-hood 911 and compared with yesterday's 911L the imperfections on this 911E are less noticeable, less urgently in need of repair, but in one case possibly more problematic. But this one is really pretty so I couldn't let it pass by without further inspection. This is an Irish Green 1971 Porsche 911E Targa, located in California, with a wonderfully contrasted Black interior with Houndstooth seat inserts. The Irish Green over Black combination is said to be its original colors – though in neither case is it the original paint or seating material. We don't have confirmation of that originality nor do we have confirmation of the originality of the Houndstooth inserts. So while it all comes together very well and looks fantastic inside and out, we'll have to hope the right verification is available. About that problematic flaw: this 911E currently is fitted with a 901 5-speed transmission, the period-correct desirable choice of most 911 owners, but it's not the original setup of the car as this was delivered as a Sportomatic.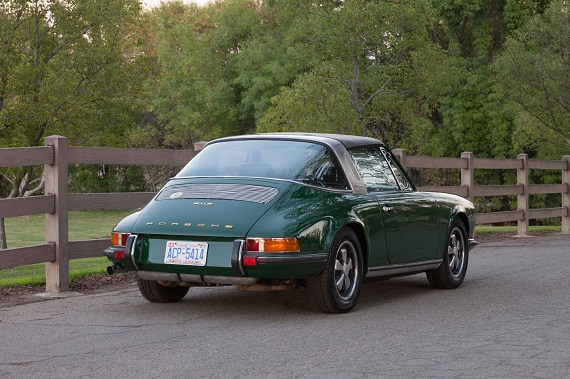 Year: 1971
Model: 911E Targa
Engine: 2.2 liter flat-6
Transmission: 5-speed manual
Mileage: not listed
Price: Reserve Auction ($99,995 Buy It Now)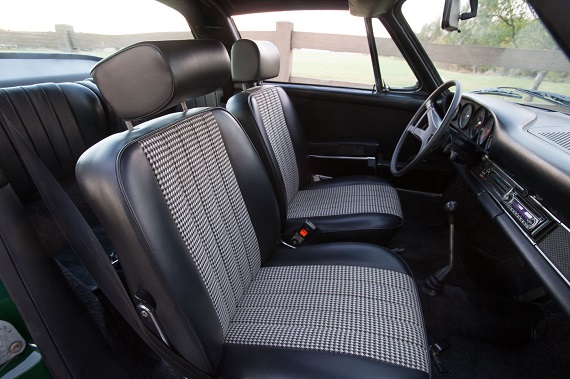 This is a beautiful 1971 Porsche 911E Targa, that has recently been restored to its original color scheme of Irish Green over black. This car spent many years in the dry climate of New Mexico, then in North Carolina for approximately 10 years before coming back west to California, where it now resides. The car possesses its original numbers matching engine, complete with MFI, and a period correct 901 5-speed transmission. When I bought this car several years ago, it had been repainted an emerald green and was showing signs of age, but otherwise ran great. I kept this car in my home in North Carolina for several years before bringing the car back to California recently.

In California, the car has received a comprehensive restoration that was just completed, which included the following:
– Complete bare metal glass out respray in the original Irish Green
– New rubber seals throughout the car
– New suspension bushings throughout
– New front and rear shocks
– Professionally restored targa top (still out for completion)
– New rear wheel bearings
– Restored brake system, with rebuilt calipers and new rotors
– Powdercoated suspension components
– Engine out service with re-sealed motor
– New carpet
– Newly recovered front seats with houndstooth inserts
– Restored door pockets
– 2 new Interstate U911 batteries
– I'm sure I'm forgetting something

The car is a pleasure to drive and ready to be enjoyed. Excellent gaps throughout. Solid original floors and front pan, a testament to the years spent in a dry climate. Most trim is original and in excellent shape. COA in hand confirms engine is original to the car. This car was originally equipped with a sportomatic transmission, which has been replaced with a period correct 901 5-speed transmission. Numerous additional photos of the car are available, but eBay will no longer allow me to post a link. Contact me via eBay and I will be happy to send a link.

In person pre-purchase inspection is welcome. The car is located in Van Nuys, CA and can be seen BY APPOINTMENT during normal business hours before auction closing. There is a lift at my location. The car is sold as-is, with no warranty expressed or implied. Very reasonable reserve. Please keep in mind that even though the car has been restored, it is still 45 years old and will require more love, care and maintenance than a modern car. I own a restoration shop that specializes in Porsches and we restored this car in our shop. This is one of my personal vehicles and I have a clear North Carolina title in my name. I have over a dozen Porsche in my collection, but a personal change in circumstances necessitates the liquidation of most of them. I have sold many cars all over the world and am happy to assist with shipping, but you must finalize arrangements and make payment directly. Please email me via eBay and I can provide a phone number to discuss any questions you may have. $1000 deposit due via PayPal upon auction closing, with the balance of the purchase price to be paid via wire transfer, cash or cashier's check within 7 days.

Thanks for looking.
On Dec-08-16 at 14:30:02 PST, seller added the following information:
A few additional items to note:
– The rear parcel shelf and trim piece is new and newly recovered, as well as all of the small interior trim around the interior of the windshield and the B-pillar
– Steering wheel is original and in good shape, with a small amount of cracking of the original leather cover in one area
– Dash is original and has a small crack forward of the speaker grill at the narrowest point, but is otherwise crack free and in very good condition
– The car has four original Fuchs with Vredestein tires. The spare is a 5.5″ steel wheel
– The car does not have a tool kit. I believe I have an owner's manual.

On Dec-09-16 at 12:40:22 PST, seller added the following information:
I do have the owner's manual. Additional photos can be found here: Photos of 71E Targa for Sale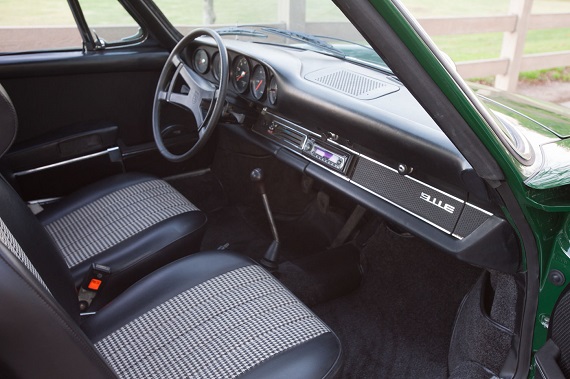 Should it have stayed a Sportomatic? Purely for originality, of course it should, but given some of the prices I've seen for Sportomatics I'm not sure it'd really make much difference in regard to value. That said, while most owners do prefer the manual transmission bidding here remains lower than what I'd typically expect from a restored 911E so perhaps that lack of originality is confounding things. Or maybe bidders see the BIN price and feel it's too high to bother getting involved. All of that confusion aside, this is a pretty nice looking E with a couple flaws that at its current bidding would make a nice value. I'm a little perplexed as to why the restoration didn't bother to fix the cracked dash, even if it's a minor crack. It seems there was some effort taken during the restoration to retain as much of the original material as possible, which in itself is a laudable approach, but I do wonder at what point we might think it pointless. After all, if the transmission is no longer original then does an entirely original dash matter? Anyway, here we are. The seller obviously won't want to sell at the current bidding, so things may take some time, but at some point the market will have been deemed to have spoken and perhaps this nice value will remain as we see it here. This 911E definitely could be worth keeping an eye on.
-Rob