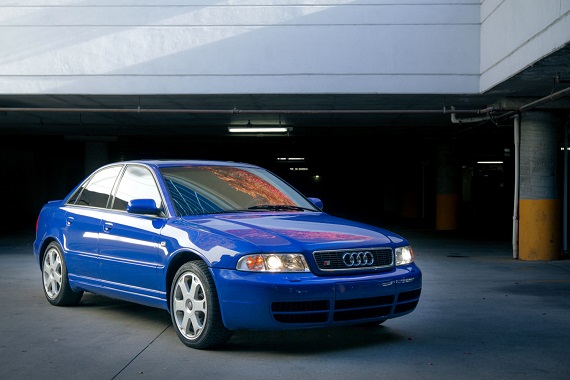 Circuit Paul Armagnac probably isn't a name which is familiar with you. It's not even a particularly famous race track, if I'm honest. But the city where that track is located will be suddenly make sense in the context of this post – Nogaro, France. It was the name of that small city in Southwestern France that was made famous when it replaced the moniker "RS Blue" in Audi's go-faster lineup. The result was a color synonymous with speed, though few fans of the shade know the origination of the name. Blue was, of course, the racing color of France, so in a departure from the typical country-color orientation, Audi popped the obscure name onto its purpley-blue missiles starting with the B5.
That the tone had previously been assigned only to Audi's skunkwork quattro GmbH (recently renamed Audi Sport) S6 Plus and RS2 was an indication of the sporting potential of the new S4. Power came from not one, but two KKK turbochargers feeding a 250 horsepower 2.7 liter V6. That power was delivered via a 6-speed manual transmission through all four wheels utilizing a center Torsen differential and rear electronic locking unit. Though the new S4 was neither the first fast Audi nor the first to wear the "S4" badge, it was a departure in that it was the company's first attempt to really take on the M3 head-to-head. It was comfortable, quiet, and quick in all conditions, and while it may not have been a huge threat to BMWs on the track, in the real world the S4 was arguably a superior car: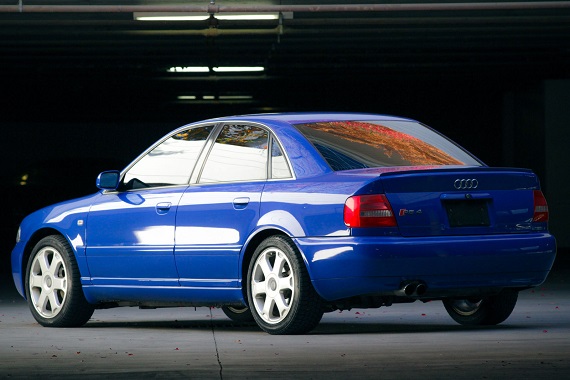 Year: 2000
Model: S4
Engine: 2.7 liter twin-turbocharged V6
Transmission: 6-speed manual
Mileage: 113,345 mi
Price: $15,500 Buy It Now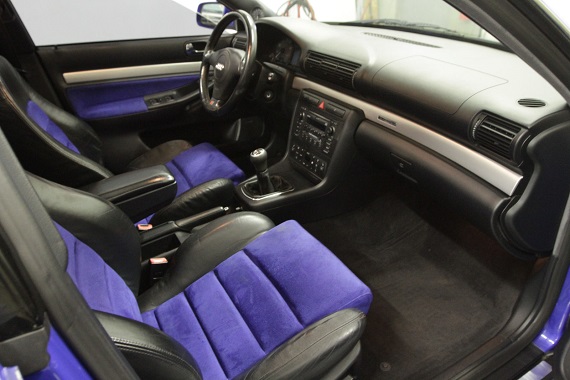 Adult Owned, No Accidents, Well Maintained, VAST RS4 Stage 3 engine and clutch kit, Well Optioned, A True Modern Classic.
THE VEHICLE OFFERED

If you are looking for a modern classic the B5 S4 is exactly that. This specific example is a true sleeper thanks to a mostly stock exterior and a plethora of tasteful performance upgrades. Thanks to its low number of adult owners this S4 sets itself apart from the rest of the abused offerings. This car began life well optioned unit. The original window sticker / Monroney report states; Cold Weather Package, Bose Premium Sound, Convenience package, six speed manual transmission, Onyx/Blue interior, and the famed Nogaro Blue Pearl Effect paint. This car has never been in an accident and the exterior paint is all original. So expect usual wear and tear for a now 16 year old vehicle. With that being said this car has aged remarkably well and is in overall great condition. Now on to the performance upgrades. In 2009 with 92,000 miles on the car, it received the following; VAST RSR4 turning kit, upgraded turbos, upgraded bypass valves, APR snub mount, UUC trans support, RS4 engine mounts, UUC down pipes and exhaust, full brake kit, AWE boost gauge, carbon fiber engine trim, and a VAST stage 3 clutch kit. All of these receipts have been kept in a 1 inch thick folder. The costs total over $22,000. Cosmetically it has benefited from a few tasteful modifications including; M3 rear spoiler, euro code front headlights and tail lights, fog light delete, and window tint. The vehicle has also been well maintained. The timing belt and water pump was preformed in 2009 and more recently in 2014 when the about 1,000 miles ago. It just received at full synthetic oil change and is ready to be enjoyed. Currently the car sits on its original wheels with Blizzak winter studless tires. Included in the sale are 19″ chrome wheels with un-worn performance tires. There are absolutely no check engine or warning lights on the dash cluster. Nor are there any dropped pixels on the red digital displays. Included are three sets of full factory Audi coded keys. This truly is one of those hard to find, well kept performance cars. This car really does take off. And the values are expected to do the same. Now is a smart time to be purchasing a choice example B5 S4.
HISTORICAL SIGNIFICANCE

The Audi S4 is the high performance variant of Audi's compact executive car A4. The second generation S4 (Type 8D), now correctly titled Audi S4 quattro debuted in 1997, with factory production commencing October 1997, as part of the facelifted B5 platform Audi A4 line-up, although it wasn't available in North America until late 1999. Several years after it was sold new, the B5 S4 remains a potent enthusiast car, and as featured in the December 2007 issue of Sport Compact Car magazine, a Torque Factory tuned S4 won a comparison test against several other extreme performance cars. The B5 S4 claims acceleration from 0 to 100 kilometers per hour (0.0 to 62.1 mph) in 5.6 seconds, and had an electronically limited top speed of 250 km/h (155.3 mph), making it both the quickest saloon/sedan in the Audi model line, and among the quickest saloon/sedans in the world at that time. Available exterior colors included Brilliant Black, Laser Red, Light Silver, Cactus Green, Santorin Blue, Hibiscus Red, Casablanca White, Pearlescent White, Imola Yellow, and Nogaro Blue. The last two colors were exclusive to the S4 model.

Click here for additional photographs.

Call Max. 208-720-8854

Fee and Tax Information: Out of state buyers will not be charged Idaho sales tax, you will be responsible for taxes in your home state at time of registration. In state purchases will be charged Idaho sales tax of 6% to be remitted by Modern Classics. Documentation fee of $200, in state temporary 72 hour registration $8, Out of state 30 day temporary registration is $5. Winning bidder must contact us within 24 hours of auction end, and make arrangements for payment at that time. A $500.00 deposit is due within 24 hours of end of auction. The remainder is due within 3 days of auction end. If no contact is made within 24 hours we reserve the right to re-list the vehicle, sell it to the next high bidder, or sell it otherwise. If you need financing I can work with your lending institution or I can help you arrange financing. You must have approved financing arranged before the end of the auction. Buyer is responsible for pickup or shipping of this vehicle. We ship 2-6 classics a month through our broker. If you want a quote please request. If you wish to have it shipped using your service, we will gladly cooperate. We reserve the right to end the listing if the vehicle is no longer available for sale.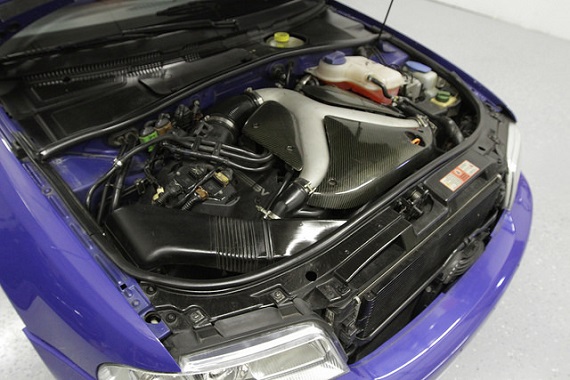 The color has developed such a cult following as a subdivision of an already cult-status car that these B5s often demand a strong premium. It's also a rare case where the color is probably much more famous and better known among enthusiasts than its namesake. This particular model has several things going for it that really bolster its desirability. First, the car has the color matched Alcantara interior. While for some it's maybe a bit too much blue, for others this is how every S4 should have been specified. Great photography really highlights the dynamic paintwork and color combination. Quite simply, it is a striking car and a poignant reminder of what made the B5 chassis so popular.
But the hits don't just stop with the aesthetics, as subtle RS4 upgrades mean that the package has the punch to back up the peacock display. The turned up performance carries brand-item names and is documented, and this car should produce sufficient thrust to stick with a B7 RS4. To me, though, the best part is the presentation; outside of missing fog lights and a subtle RS4 badge in the rear, there's nothing to let you know that this example is a monster at heart.
While B5 S4s are a bit ubiquitous on the tuning scene and you don't have to cast an internet search net very wide to find any number of cheap alternatives, coming across an excellent condition, signature color model with the right mods and maintenance is quite tough. This is one of those packages – a velvet hammer wrapped perfectly in purple-blue velvet.
-Carter