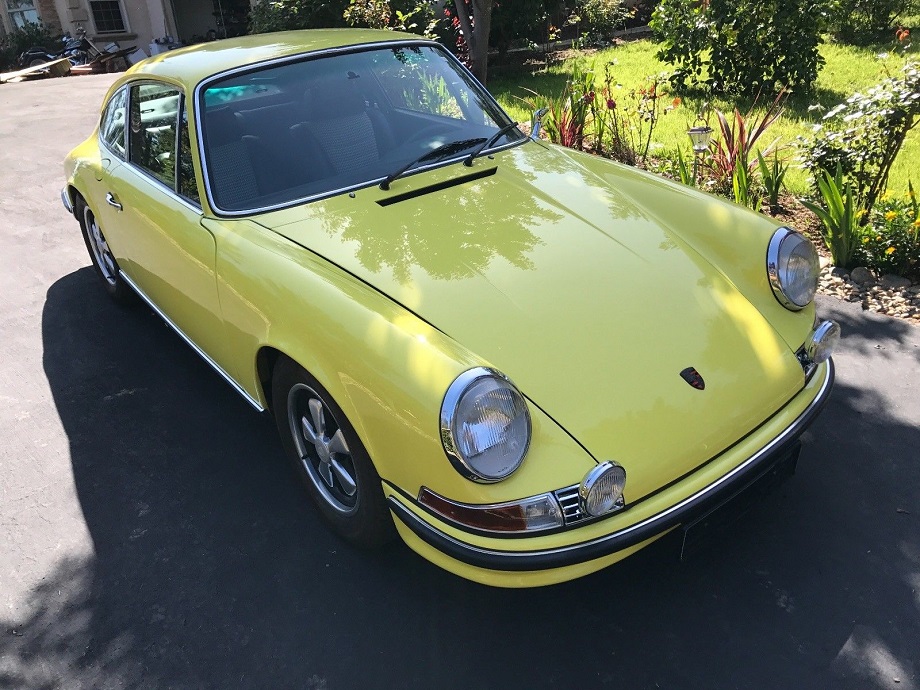 I've got a couple more yellow 911s I'd like to feature. This one in particular possesses a strong resemblance to the Summer Yellow 3.2 Carrera featured Wednesday. This 1972 Porsche 911S Coupe would not be the same color (Limonengelb), but it's still quite similar. We aren't told the color code of this one, but I suspect it is either Lemon Yellow/Canary Yellow (Zitronengelb) or Light Yellow (Hellgelb). Two very similar colors and very difficult to distinguish in the shade. Both are very attractive as evidenced by this 911S.
It feels like forever since I've featured an early 911S and this is a particularly nice example for me to return to them with. It's been fully restored and looks immaculate right now. It shows a black interior containing sports seats with houndstooth inserts. It doesn't get much better than that for the seats and they complement the exterior yellow very well. Original mileage is unknown, but the listing states the current mileage as 500, which I assume is the number of miles traveled since it was restored.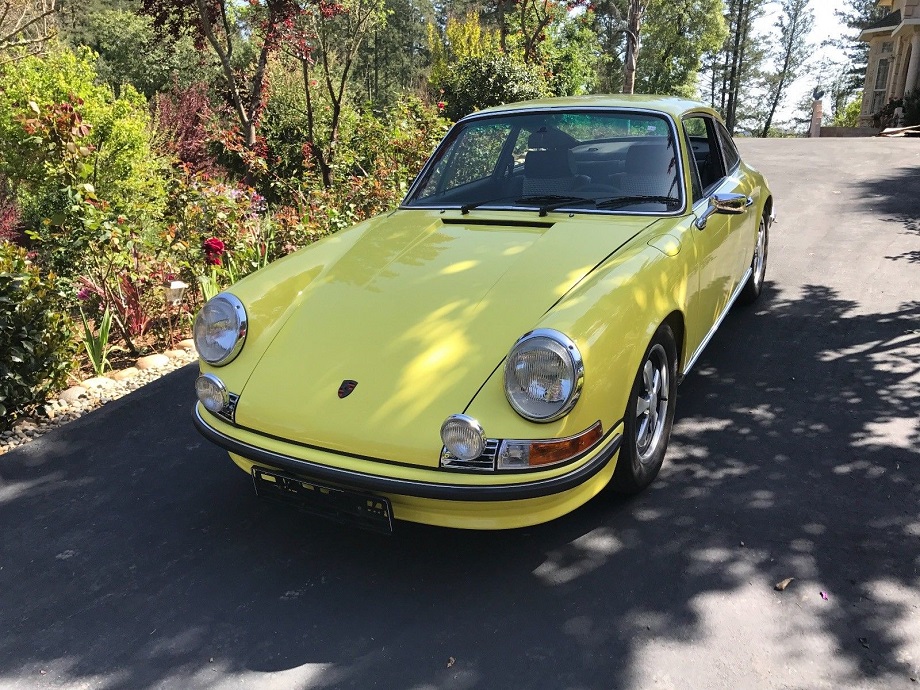 Year: 1972
Model: 911S
Engine: 2.4 liter flat-6
Transmission: 5-speed manual
Mileage: 500 mi
Price: Auction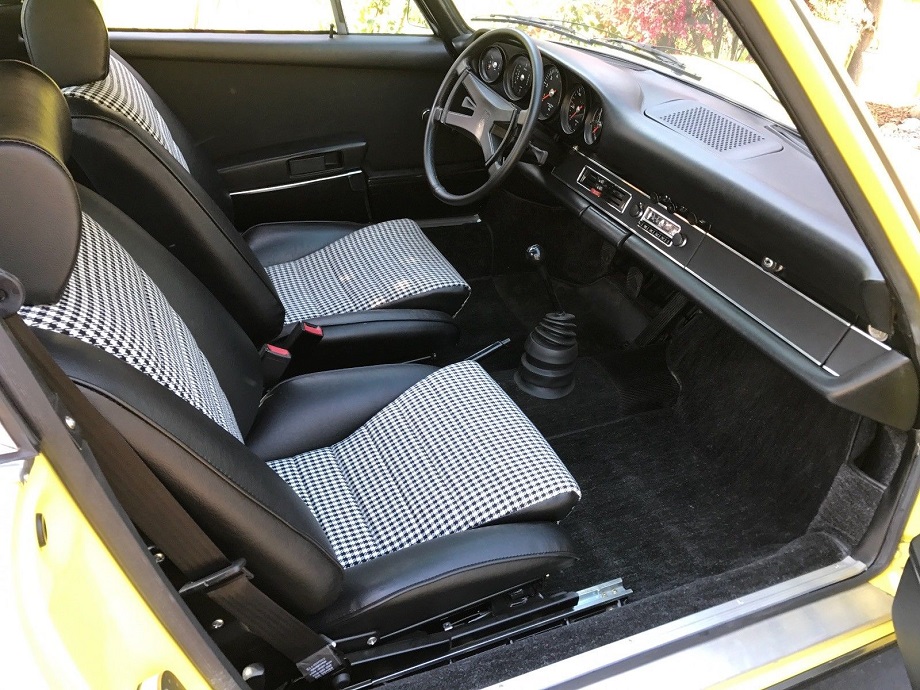 This spectacular 1972 911S was restored by world renown 911S in Wuppertal/Germany and represents one its best in the world today. The vehicle was legally imported into the US and has a clear California title. The all number matching vehicle comes with two independent reports, both evaluating this vehicle as a #1 car. Classic Analytics from March 1, 2017 evaluates the vehicle with a Market value of 208300 Euro and insurance value of 250.000 Euro, European Appraisal. The second intensive evaluation was done by the Auto Appraisal Network in April of 2018 in and comes to a Replacement value of 322.000$ US. The vehicle comes with full history and complete photo documentation. I am reducing my personal collection and therefore offering this vehicle for a substantial lower amount and am open to all offers. The 911S 2.4 1972 is one of the most fun to drive sports cars of the seventies and would be one of the highlight at all Porsche events. The vehicle can be viewed by appointment only. I am willing to sell overseas and will export the vehicle. I will end the auction early for any reason. I can shoot pictures of every angle, nut and bolt. I am always willing to talk Porsche 707-478-3078.
Das Auto wurde von 911 S in Wuppertal restauriert und befindet sich nach Werteinschätzung zweier unabhängiger Gutachter im ZUSTAND 1 mit kompletter Photodokumentation und Historie . (Marktwert von 208.300 E, Versicherungswert 250.000 E, zweite Gutachten 322.000 US$) Ich kann das Fahrzeug fuer einen EU Kaeufer wieder kostenlos in die EU reimportieren.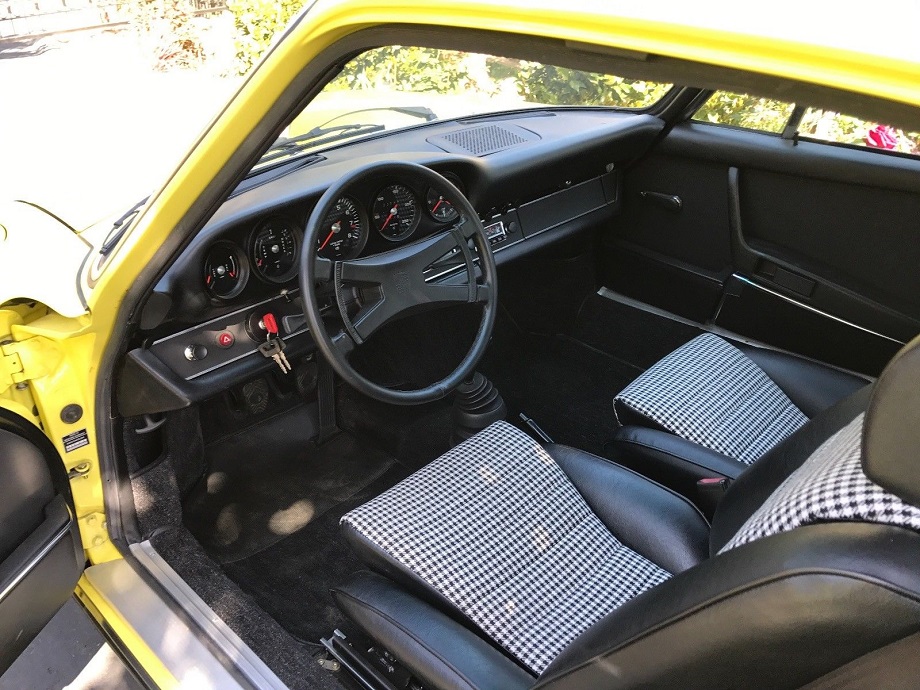 As with any early 911, the documentation for this 911S will be key. When you set a starting bid at $195K you are suggesting that everything is as it should be and the car comes fully documented. We aren't provided any of that documentation in the ad – most importantly something to support the originality of the color and interior – though the ad does say it comes with a full history and photos (presumably of the restoration). Given the value stated by the two provided vehicle appraisals I have to assume this is the original specification of this 911S, down to the seat inserts. Otherwise, I'm not sure why it would appraise so high (and the appraisals are very high!). Still any buyer will want to see that documentation for himself.
What we see with this 911 looks great though as it presents very clean and correct. Such beautiful examples don't come along all that often especially not in such good condition. That this 911 possesses the one-year-only external oil filler found on all '72s should increase its desirability even more. The asking price is very high, but the asking price for any 911S has been high for quite a while now. If you were looking to get one, a color like this with sport seats and seat inserts makes for a good way to go.
-Rob