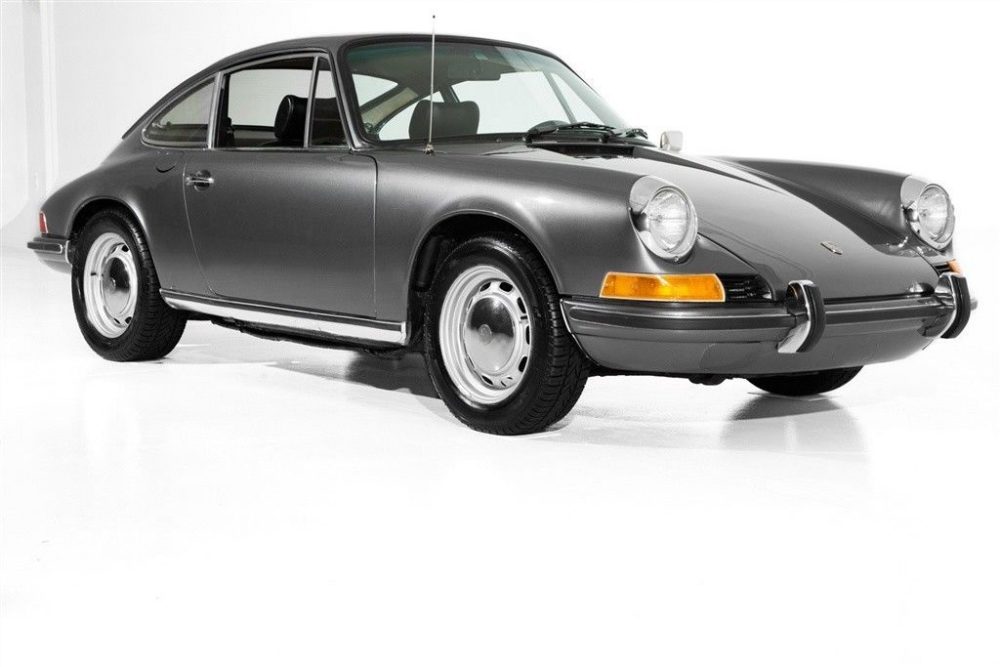 So this seems…kinda reasonable. I don't get to say that often about a long-hood 911, but this Dolomite Grey Metallic 1972 Porsche 911T Coupe sits with an asking price of just under $50K. I can't say we're blessed with a wealth of information about it, for instance the mileage isn't stated at all, but it presents well, looks in good condition inside and out, and is said to run well. A PPI should clarify questions about its mechanical condition. The color isn't original – it's said to originally have been red – but I'm not sure that should surprise anyone given the price. All things considered this could be a nice chance at getting into a vintage 911 for a good bit less than we normally see. I think it's certainly worth further investigation.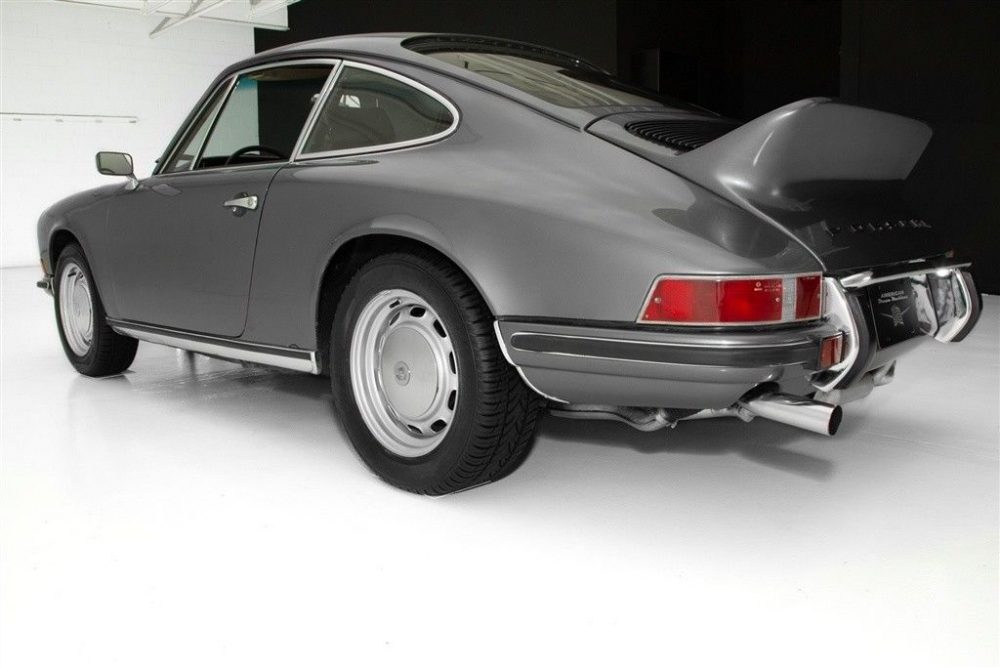 Year: 1972
Model: 911T
Engine: 2.4 liter flat-6
Transmission: 5-speed manual
Mileage: not listed
Price: $49,900 Buy It Now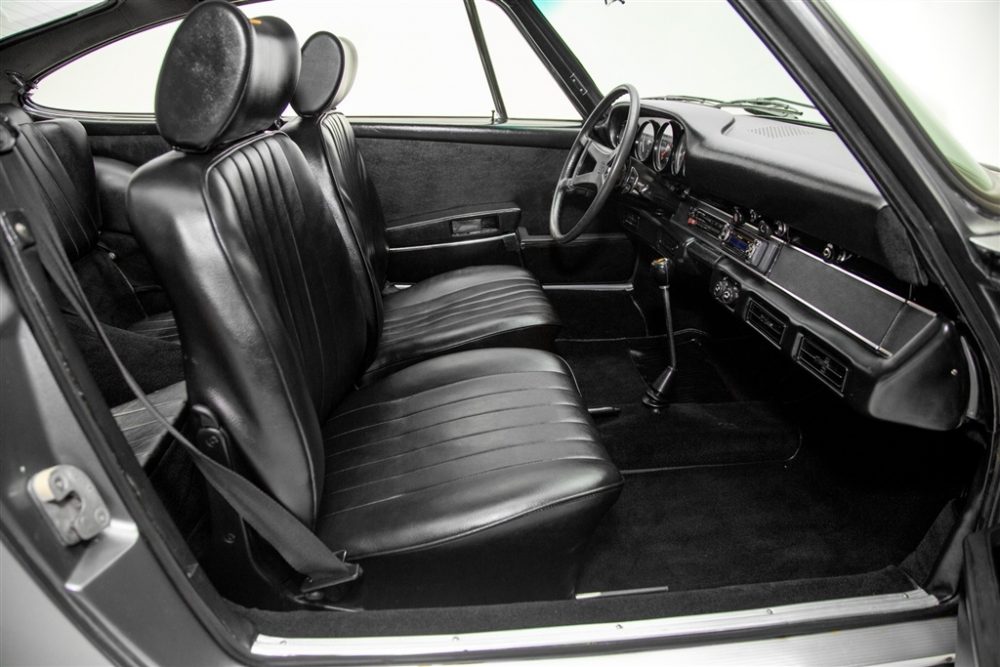 Extremely well preserved and maintained 1972 Porsche 911T, painted stunning Dolomite Gray Metallic, a newer Porsche color, around 15 years ago when the car was purchased by the previous owner. Originally a very desirable red car. The Gray Metallic paint looks amazing and was recently color sanded and polished to a mirror finish. There is a very minor rock chip on the hood that is touched up. This car has been very well cared for and has solid original body panels and gorgeous body lines. The metal structure is intact with virgin factory floors with original factory undercoating that has protected the metal. The car comes with a very cool aftermarket whale tail as well as the factory rear panel. The 2.4 liter 6 cylinder runs like a top and the 5 speed is a blast to drive. The car has a brand new clutch and fresh maintainence service. One year only front mounted oil tank for better weight distribution resulting in a better handling package. This is a rare factory AC car without the original compressor. The interior is in amazing condition for being the original black bucket seat interior. The car is rolling on freshly painted the original steel wheels and chrome Porsche center caps.

EXTERIOR:

Repainted Dolomite Gray Metallic
Color sanded and buffed to a deep shine.
Originally a very desirable red car
Excellent body fit and finish
Clean and clear glass
Stock tail panel as well as a sporty aftermarket whale tail
Freshly painted steel wheels with chrome Porsche center caps and like new tires
INTERIOR:

Original black interior that is in amazing condition
Crisp and clear gauges
Correct fitted carpet in excellent condition
Porsche shift knob and boot
MECHANICS:

Great running 2.4 Liter 6 cylinder engine
5 speed manual transmission with all new clutch and components
Rare factory AC 911T with out compressor
Recent service completed by American Dream Machines
UNDERCARRIAGE:

Structurally beautiful with original metal intact
Factory undercoating that has preserved the bottom since new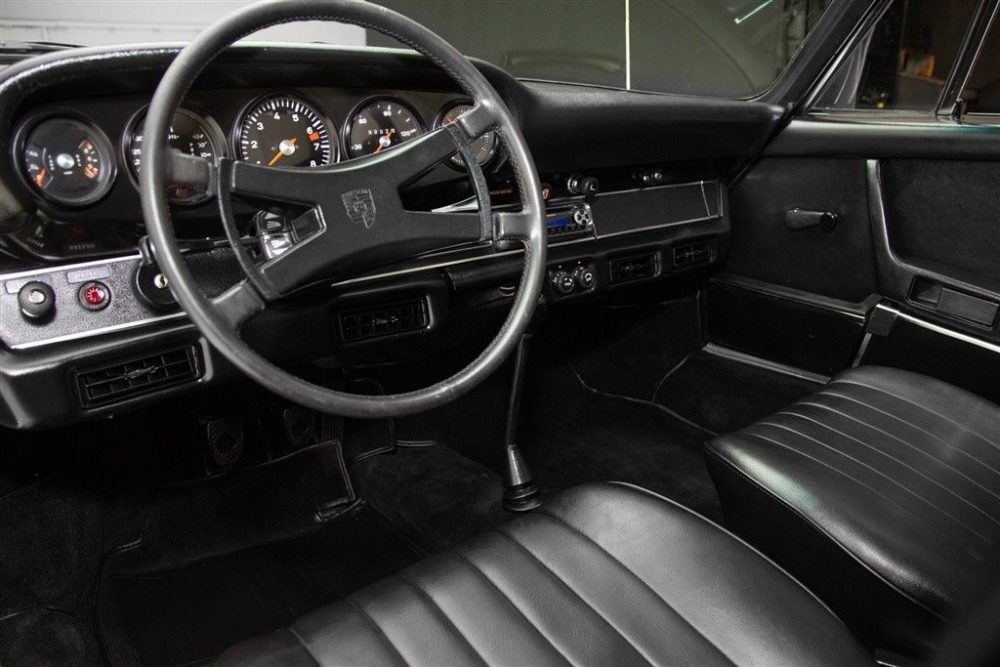 Dark grey metallic isn't very common on an older 911 so when I first saw this one I assumed the color would not be original. I was correct about that, but wrong about the origin of the color, which I thought would be more modern. Dolomite Grey was offered in the mid- to late-70s so it isn't that far from this 911's production. I don't think we'd call it period correct because dark gray doesn't really seem to belong to a specific period, but it does come from close to the correct period. It looks good on this 911T and really brings out the shine in the chrome trim. It's shown here with a rear ducktail and the standard decklid and both come with the car. I prefer it without the tail, but it's nice to have options.
The interior is a fairly standard black. There isn't too much to say here. It looks in good shape with minimal wear and no cracks or tears. It sounds like it's even original, which is a nice bonus. This 911 was equipped with AC from the factory, but if I'm understanding the ad correctly it isn't functional. Mechanically we're told it runs well, but as I noted we aren't told the mileage nor is much said about its history. It does appear and sound like it has been well cared for and a PPI should sort out the issues.
I'm mostly interested in this one because of the price. While not entirely original the condition looks quite good and if a new owner so desired it might not be too difficult to return it to its original specifications. Or you could simply enjoy it as is. Long-hood 911s have been pretty expensive for a long time now, even for the entry-level 911T, this one at least goes somewhat against that trend.
-Rob