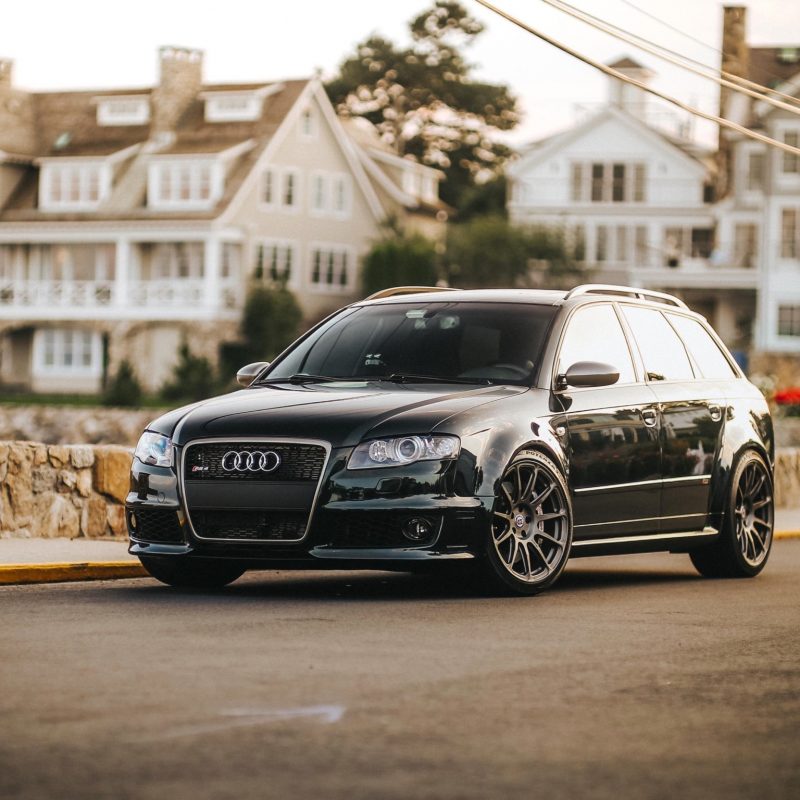 After B5 production ended, Audi continued to widen the pool for its small chassis. Joining the lineup for the B6 model was a new Cabriolet, and of course returning were the dynamic duo of the sedan and Avant models. Power now came from the BBK 4.2 liter 4 cam 40 valve all-aluminum V8. Fitting the motor into the small chassis necessitated dropping the belt drive in favor of the infamous rear-mounted chain. Still, though, with 340 horsepower on tap and weighed the same as the outgoing 250 horsepower V6 twin-turbo, with instant torque, the S4 seemed top of the heap. But it was still playing catch-up with the outgoing E46 M3, so when it came to the B7, Audi offered even more spunk, bringing for the first time after three generations their first top-tier offering in the small chassis – the RS4.
At the heart of the new addition to the fleet was, of course, a special motor. Dubbed the BNS, Audi ditched the 5 valve heads but added FSI direct fuel injection. In reality, little was shared or untouched between the seemingly similar 4.2 V8s in the S4 and RS4, but the result of the fiddling was impressive. The engineers at Ingolstadt managed to crank a 420 horsepower screamer out, and coupled with the revised, more rear-biased quattro drivetrain in the B7, a completely different beast was born.
But while there was celebration that another RS model joined the lineup for the United States, there were some fan groans that once again Audi had skipped its party piece – the RS Avant. But that not-insignificant setback didn't stop some enterprising individuals from making their own: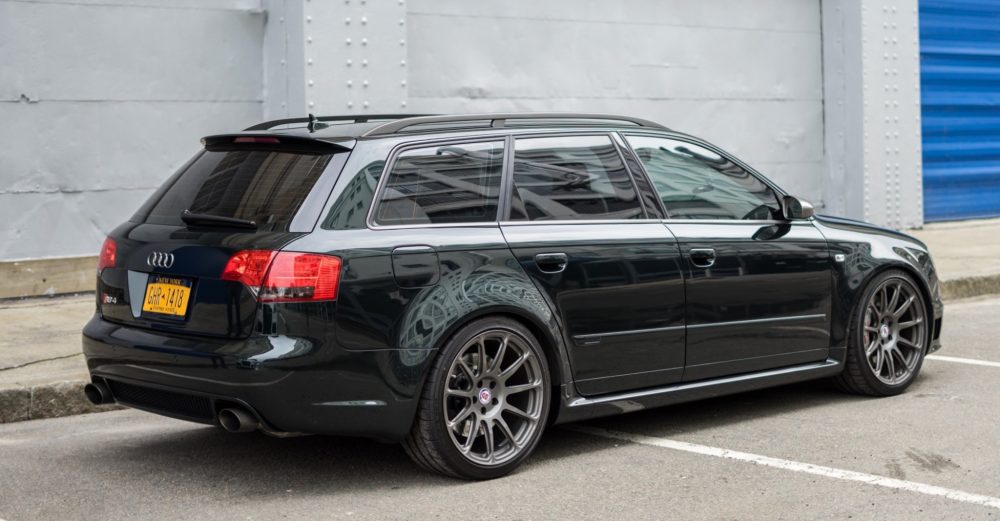 Year: 2008
Model: RS4 Avant
Engine: 4.2 liter V8
Transmission: 6-speed manual
Mileage: 111,000 mi (TMU)
Price: Auction
src="https://germancarsforsaleblog.com/wp-content/uploads/2018/09/RA3-791×800.jpg" alt="" width="791″ height="800″ class="aligncenter size-large wp-image-139760″ />
BaT Essentials

Lot #12247
Seller: dsgray16
Location: Norwalk, Connecticut 06854
Chassis: WAUUL78E88A168456
111k Miles Shown; TMU
FSI 4.2-Liter V8
6-Speed Manual Gearbox
RS4 Widebody Conversion
Cambridge Green Metallic Finish
KW V3 Coilovers
365mm Brembo GT Front Brakes
Heated Leather Recaro Sportster CS seats
19″ Forged HRE Wheels
JHM R-Series Stage 3 Clutch
Custom ECU Tune
Private Party or Dealer: Private Party

This 2008 Audi S4 Avant has been with the seller since 2013, during which time it was transformed into an RS4 clone using factory widebody panels along with a rebuilt and modified 4.2-liter FSI RS4 V8 with factory headers and intake manifolds. Power is routed through a 6-speed manual gearbox and differential from an S4 donor car. Other modifications include custom green paint, a set of KW V3 coilovers, 365mm Brembo GT front brakes, a JHM R-series Stage 3 clutch, an ECU tune, heated leather Recaro Sportster CS seats, forged 19″ HRE wheels, carbon fiber engine covers, and more. This Avant is offered with a clean Connecticut title in the seller's name.

The widebody conversion was conducted by Frank's Auto Care in Hamden, Connecticut, with the bulk of the panels reportedly sourced from a US-spec RS4 and the rear bumper from a German-spec Avant. Sheet metal was repaired and resurfaced prior to installation and the body was refinished in Cambridge Green Metallic, a hue available only through the Audi Exclusive paint program.

Newer headlights were fitted and feature Euro-style clear corners as well as LED city lights. Mars Performance LED taillights were also installed. Paint correction was recently carried out followed by application of XPEL protective film to the forward surfaces and rocker panels along with ceramic coating to the body and wheels.

The car rides on a set of forged 19×9.5″ HRE wheels shod in Bridgestone RE-11 tires at each corner. The ride height has been lowered using KW V3 coilovers, and other suspension alterations include an 034 Motorsports rear sway bar, adjustable end links, and Density Line control arms. A newer OEM engine skid plate and splash guard are fitted according to the seller. Braking is handled by 365mm Brembo GT rotors up front, a JMH big-brake kit out back, and EBC pads that have reportedly been used for 5k miles.
The interior is trimmed in black leather and fitted with heated Recaro Sportster CS seats, SRP pedals, an Audi TTRS flat-bottom steering wheel with airbag, and a Black Forest Industries heavy-weight shift knob. The odometer displays approximately 111k chassis miles. No reverse lights are present, and a dash light is illuminate indicating a burnt bulb, though the seller notes a faulty LED resistor as the culprit. with exception of the rear fog light and reverse lights according to the seller. A 2017 air conditioning service included installation of a new compressor and receiver drier.

The engine was built from two torn-down long blocks by Redline Speed Worx in Green Brook Township, New Jersey. An RS4 short block was checked for balance and rebuilt using new bearings and RS4 cylinder heads, headers, intake manifold, and valve covers. A new starter and relay were installed, an Optima battery was relocated to the trunk, and a third RS4-style torque mount was welded to the engine bay. The engine benefits from a custom ECU tune and remap as well as newer water and oil pumps, fuel system parts, injectors, spark plugs, and ignition coils. Additional modifications to the engine and exhaust include the following items:

JHM 2.75″ cat-less down-pipes
EBWerks 2.75″ cat-back exhaust without resonators
Grouppe M carbon fiber cold air intake
K&N air filter
034 Motorsports mass air flow hose
JHM upgraded oil cooler adapters and 12AN stainless lines
Earl's oil cooler
New OEM carbon fiber engine covers
R8 oil cap, coolant cap, and new coolant reservoir

A 6-speed manual gearbox and rear differential were sourced from an S4 which reportedly showed 90k miles to replace the stock automatic transmission. The following items were installed during the transmission swap:

JHM R-series stage-3 clutch, pressure plate, and lightweight flywheel
JHM limited-slip helical gear differential
JHM full trio short shifter and linkage
Stainless steel clutch master to slave cylinder line
034 Motorsports Density Line motor mounts
ECS Tuning rear differential mount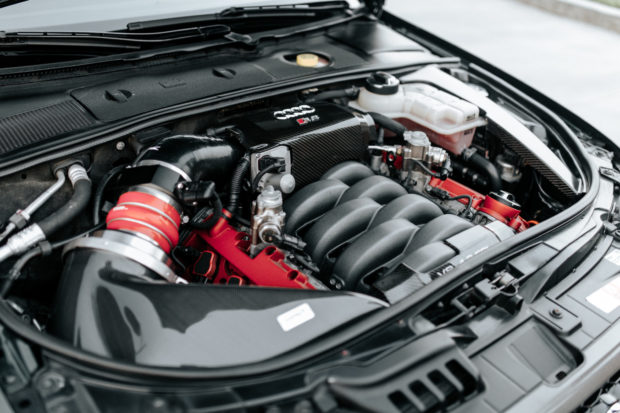 Stunning. I'm always impressed by modern builds because the complexity of newer cars is such that to start to rip them apart seems like opening Pandora's Box. You're unlikely to get the contents back in, and you'll probably get hurt in the process. Finishing this car off in the inspired Cambridge Green Metallic was really the flourish that takes the build even a step further – it's gorgeous. The addition of the HRE wheels and race-inspired Recaro seats continue to add to just how slick this package came together. Sure, it's not an original RS4 Avant, but in its current state you could make an argument that it's even better. Without doubt, this is one of the most desirable custom-built Audis in the country, and its certainly the best of both worlds when it comes to small chassis performance – the car that Audi never offered us.
-Carter