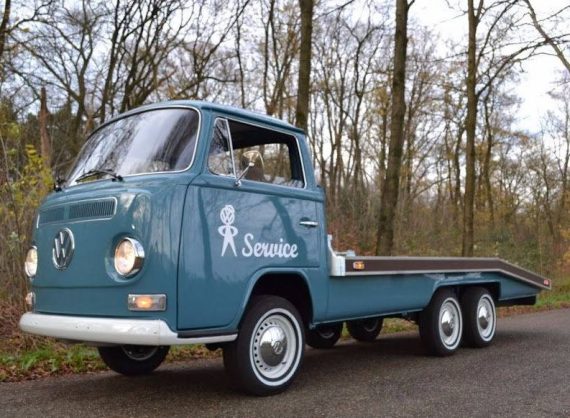 Custom conversions can either go really well, or really poorly. Most of the time it is really poorly. But not today. What started life as a Volkswagen Type 2 factory single cab dropside pick-up is now a flatbed hauler with an extra axle thrown on there for good measure. Now before you get excited about that extra axle, it's only along for the ride as it looks like only the second axle is functional. Once I started digging into the (sparse) information on this T2,  it was built and used to be a working car hauler — save for one big problem. So let's check out this once Californian T2 that now resides in the Netherlands.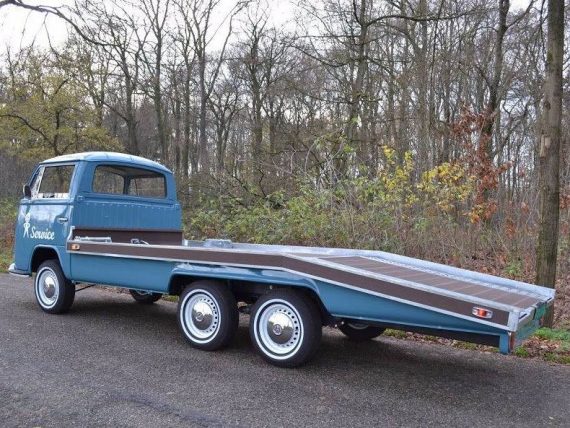 Year: 1972
Model: Type 2 Flatbed
Engine: 2.0 liter flat four
Transmission: 4-speed manual
Mileage:
 Unlisted
Price:
$76,540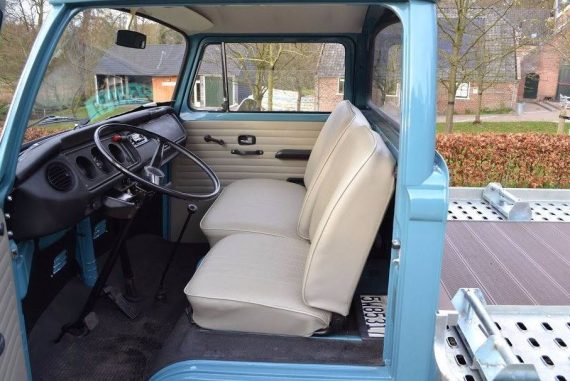 *Translated from German*

T2 tow rarity and SINGLE PIECE
Last year was complet restored .
Everything is new , down to the smallest details .
The car has been working in the 70s to 90s as tow for a VW shop in Northern California .
2 years ago came to Europe and now restored as new.
1700kg payload . EU papers with can be arranged TUV .
Suitable for historic racing or as promotional object for your classic car business.

With winds !
loaded with a Porsche or WV bus he runs still just over 110km / H !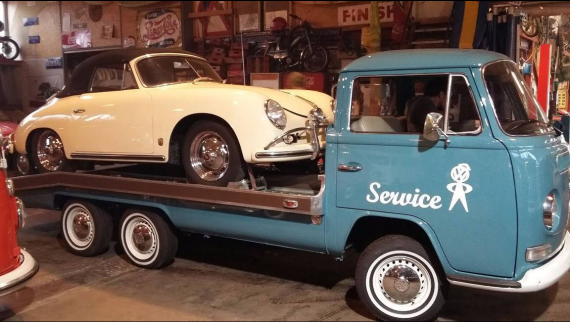 Looking at the photos, it looks like you can just roll your Porsche 356 right on the bed, block off the wheels with the custom holsters, tighten a few straps down and ride off at 110 km/h (68 mph). But I'm not buying it. That big problem I mentioned? It's that these things are incredibility slow. Mercedes-Benz 240D owners call this thing slow it's that bad. And this was before throwing an extra few thousand pounds on it's back. It's not like it's just under powered, it's that I think it physically won't be able to accelerate to any kind of reasonable speed on a road with anything on it's bed. Forget about trying to climb any hill. Now if you were to find yourself on a hill and have to traverse down it, good luck trying to stop this thing with $100,000 worth of car behind your right ear. So it can't accelerate or stop, we might as well go for the hat trick and say that any quick movement in handling this thing would have it rolling like a cheap hot dog at a gas station.
I don't want to be overly harsh on this thing, I think it looks awesome and is an amazing showpiece, but it advertise it as anything but a show piece isn't cutting it. The ad mentions it's originally from California where it did function as a shop truck, probably noting but Beetles, before being shipped to the Netherlands where it was totally gone through. The color is great, the interior looks amazing, the custom bed is a great piece of engineering and design all being topped off with the period correct door decals. Bet let's be honest here, if you are buying this thing at a crazy price of over $76,000, you are probably driving this thing to the car show empty while your 356 is being towed by a real truck, then unloaded at the destination only to be reloaded on the T2. Anything else would not only be crazy but dangerous. If you want a real German flatbed truck, call up Jay Leno and ask to borrow his Mercedes-Benz Racecar Transporter.
– Andrew