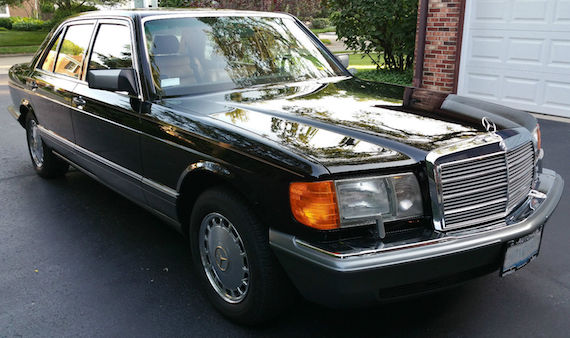 Last week, we featured a rather remarkable 1992 Mercedes-Benz 500SEL with just over 16,000 miles on the odometer. Only two model years separate that car and this 1990 560SEL for sale in Illinois, however, they are a world apart in terms of the executive car formula. The W140 that replaced this W126 S-class was large and in charge. Perhaps too large, given its reception at the Geneva Motor Show in 1991. While it was a technical tour de force, many were lamenting the passing of the W126. The 560SEL was the standard bearer for German luxury for many years, that is to say a car that was elegantly styled with bulletproof build quality. To this day, these are cars that blend in nicely into the automotive landscape. It's hard to explain how they can pull off both the classic and modern look at the same time, but they do. Like the 500SEL from last week, this 560SEL is another low mileage piece, with just under 10,000 miles on the clock.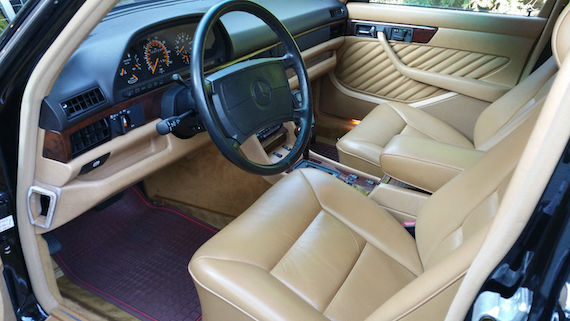 Year: 1990
Model: 560SEL
Engine: 5.6 liter V8
Transmission: 4-speed automatic
Mileage: 9,580 mi
Price: No reserve auction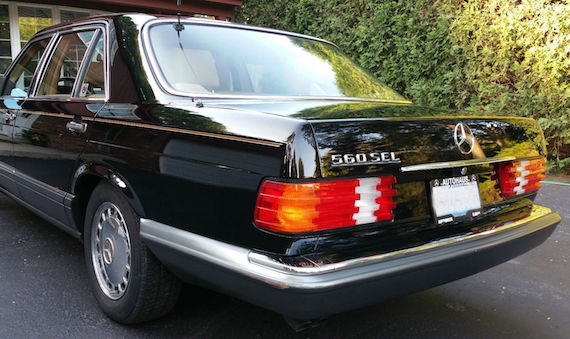 1990 Mercedes Benz 560 SEL-Low Mileage & Newly Updated SRS

9,580 miles on odometer.

VIN # WDBCA39E6LA541433

External Primary: Black (Code 040)

External Trim Gold

Interior: Leather Saffron (Code 264)

Presented for auction, is one of the best all-original, long-discontinued, Mercedes-Benz 560 SEL in existence. The car exterior is finished in one of the most distinctive color Mercedes-Benz offered in the S class era: Glossy Black trimmed in Gold. The interior featured all-around pleated leather saffron with woodgrain trim on the center console, across the dashboard, and four doors. Burled walnut was used in this high-end top-of-the-line vehicle.

As one enters, the new car smell is still unmistakable, given that no one has ever smoked in this covered garage-kept car. To say this car is an impeccable example of the flagship S class (Sonderklasse in German, or special class) is an understatement. The Mercedes W126 and its iconic chassis is one of the most recognized vehicles in the world. It defined an era of special luxury in the 80s and early 90s. Few luxury vehicles have found such a niche market. Manufactured and assembled in Sindelfingen, Germany, the car reeks of superior engineering, finest appointments, niceties and quality rivaled by or second to none. Priced at over $80,000 then, a lot more in today's devalued dollars, it was the domain of the powerful and the rich. When one gets behind the wheel of the Mercedes 560 SEL, one truly feels spoiled.

This beautiful specimen has been meticulously maintained, covered, and garaged. To car connoisseurs, this is indeed a rare find. The Burl wood inlays are spotless, without fading, attesting that this car has never been left out in the sun for long. The undercarriage is rust free, with rust inhibiting coating and even some factory stickers still present. The car was first purchased on 10/08/1990. The current second owner, who bought the car in late February 1992 with 4915 miles on the odometer, has never driven it in snow, and rarely, only by chance, in unforecast rain. For twenty four years, he has added only five thousand (5000) miles in leisure driving, while meticulously caring for the vehicle.

All recommended services are up to date. All fluids are fresh as testified by the attached Multi-point Inspection report dated July 1rst, 2016 by a reputable approved Mercedes Benz dealer: Autohaus on Edens, LLC in Northbrook, IL. Furthermore, besides oil and filter changes, coolant, transmission and brake fluid changes, the only repair ever done to the car was the replacement of the airbag sensor, steering wheel contact ring and brushes performed on July 11, 2016 by the same approved dealer. The old defective original parts were saved and will be available to the new buyer. With the complete updating of the SRS system for over $3,500.00 and a clean bill of health by the dealer, the car inspires confidence and is ready to find a new appreciating connoisseur or collector.

The tires are Michelins all around, including the never-used spare. The car needs nothing mechanically or cosmetically and is ready to be enjoyed, shown, or garaged as collector's item.

Mercedes Benz has stopped manufacturing the 560 SEL since 1991, so one can count on this car, if maintained well, to go up in value as time passes.

All original Glass is crystal clear and free of nicks or chips.

Interior shows no sun fading. All seats are powered and heated. Two foot rests are available in the trunk for passengers' comfort during long trips. Carpeting and the entire interior is impeccable and as close to flawless as one can get.

Burl wood inlays have a mirror-like shine and are free of imperfections. All power options are functioning. The Radio (Theft deterrent ID card included) with its fully extending antenna sounds beautiful and the A/C is ice cold. Once the doors close with their unmistakable solid and comforting well-fitting thud, all outside traffic noise become barely perceptible.

The engine bay is clean. No oil or fluid leaks. The undercarriage is exceptionally well preserved and confirms the use of the car exclusively in fair weather conditions!

In short, the vehicle looks almost as it did back in 1990 when it rolled off the factory line.

If one strives for excellence, this car is as close to perfect as one will get buying this vintage model.

This vehicle is not an everyday commute car. It's a piece of automotive history, suitable for a discerning collector willing to provide it with a caring environment and garage; so he can enjoy it for leisurely rides when weather permits..

All Books (Including a scarce thick and detailed Service Manual), the car cover pictured, the Roadside Assistance ID cards, the theft Deterrent Radio ID card, and 3 keys are included.

Located in Wilmette, IL, 60091

Payment for sale will be completed through eBay and PayPal.

Happy and successful bidding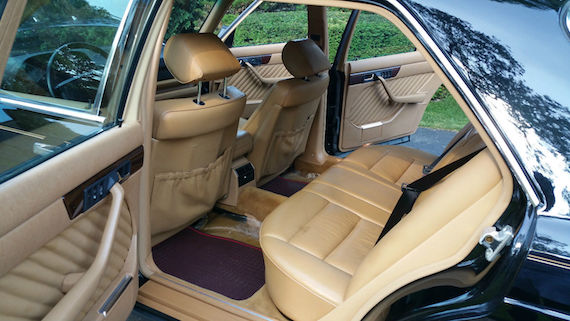 While this is a no reserve auction, the starting bid is priced way beyond what one could realistically expect for a clean W126. This car might have cost over $80,000 new, which was a lot of money at the start of the 1990s, but the market isn't making a case for the ask that we see here. From what we've seen in the US market, around $20,000 to $25,000 is about tops for what one could expect. There's plenty of R107 SL roadsters on the market with low miles, but a pristine 560SEL such as this is seldom seen. As was popular at the time, the alloy wheels on this example are chromed and have aftermarket center caps with gold emblems. That's a bit too garish for my taste, to be honest. However, everything else about this 560SEL is right, especially the color combination. This is one car you would be proud to be seen in.
-Paul