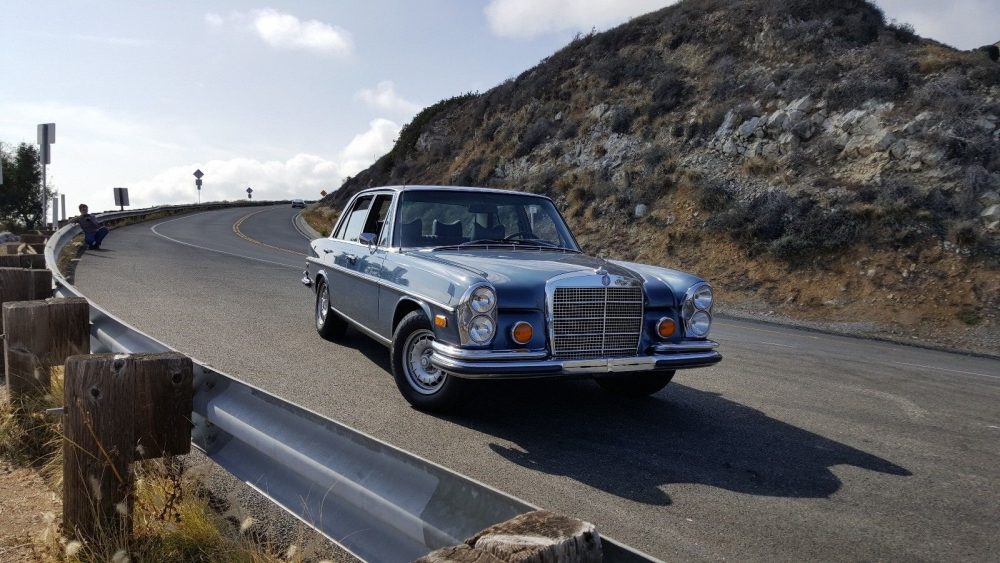 I never get tired of a really nice Mercedes-Benz W108/W109. From the 2.5 liter up through the legendary 6.3 and with a bunch of options in between, you can get your fix just about any way you want with them. Honestly, this thing is so handsome it could have a tiny OM615 that makes 55 horsepower and I'd still be happy with it. The square contours on this thing are all sized perfectly but at the same time doesn't feel like a small car. Despite only having an eight year production run from 1965 to 1973 and pumping out over 380,000 examples, these sedans have stuck around. You can find them in almost every condition for almost every price. Today's example, a 1972 280SE 4.5 up for sale in California, is one of those better ones.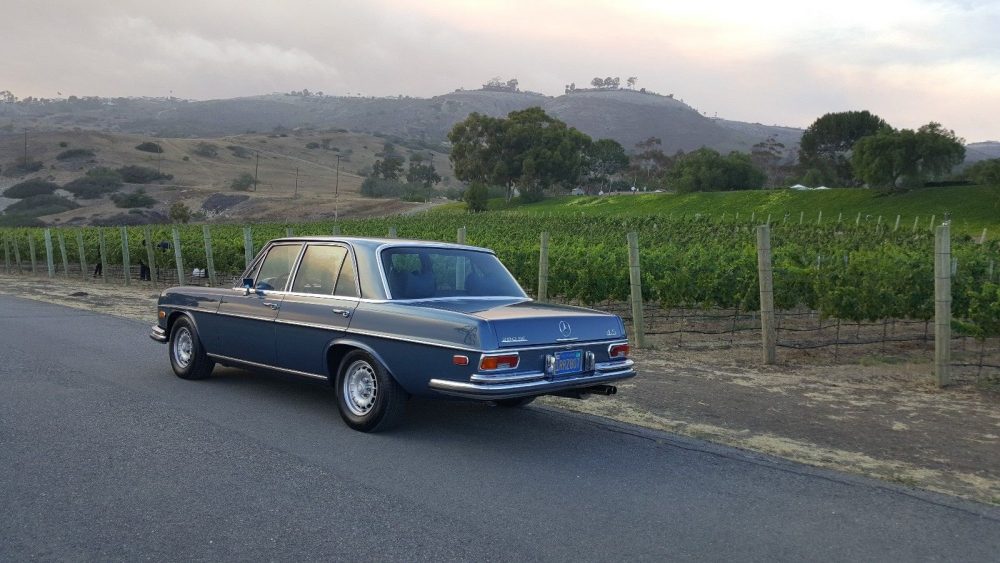 Year: 1973
Model: 280SE 4.5
Engine: 4.5 liter V8
Transmission: 3-speed automatic
Mileage: 47,000 mi
Price: Reserve Auction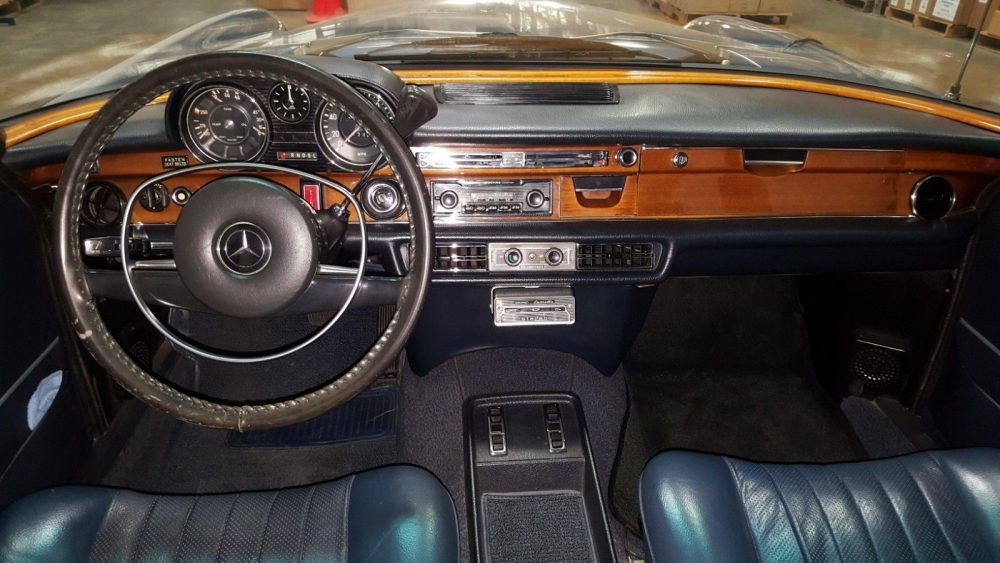 1973 Mercedes Benz 280SE 4.5 V8

Low mileage, original and well preserved and maintained 4.5 sedan. Has been in California its entire life. Delivered new from Walter's Mercedes Benz in Riverside California and owned by a corporation from 1972 to about 2005. Second owner was a Mercedes Benz mechanic in Pasadena and owned car until 2016. I am the third owner.

The car had a high quality respray in its original color at some point, and I believe it now looks better than factory. Chrome is very clean and shows well. Car sits on Bundt wheels on wider 215 Michelin tires, giving it a much more aggressive stance. Equipped with the desirable and gigantic factory sunroof. No large scratches, dings or dents on exterior.

Interior is clean with no tears in the seats or cracks on dash. Dash wood trim is still shiny with no cracking except the far edges where it curves back. Not visible when doors are closed. AC blows cold. Everything inside works with the exception of the clock in the instrument panel.

Trunk contains spare tire, jack, lug wrench and tool roll.

Car has had recent extensive mechanical service performed to ensure it runs well and reliably. This car is ready to drive and enjoy and is an ideal addition to any collection. Not to be confused with lower priced examples in need of much work. This is an honest, well preserved, properly maintained low mileage example.

1973 Mercedes Benz 280SE 4.5 sedan
47,000 miles

4,5L V8
Automatic Transmission
Metallic Blue Exterior

Blue leather interior

Clean California Title and Current California Registration

Classic blue/yellow California license plate (though number suggests it's from the early 80's)

Factory Air Conditioning

Power windows

Power operated factory sunroof

Factory Becker radio

Dealer installed Becker cassette player

Bundt silver alloy wheels

Michelin tires in 215/70R14

Recent Service Receipts Include:

Cold start valve

Fuel hoses

Water pump

Spark plugs and points

Air filer

Fuel Filter

Transmission filter and fluid service

AC idler pulley

Radiator hoses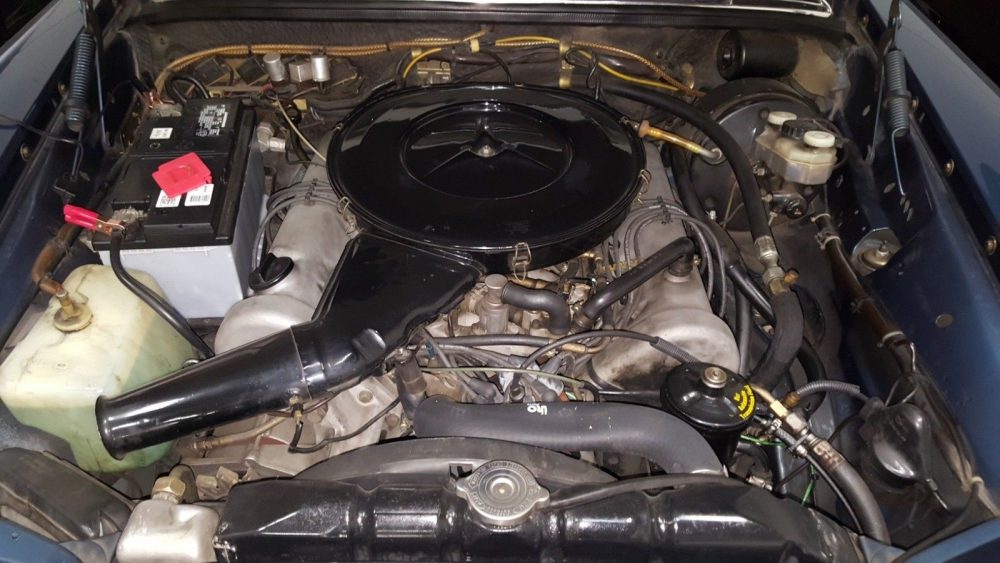 This is a really nice example of a W108. The low mileage and being in California surely helped the case for this car, but maintenance and general overall care for it went a long way. No, it's not perfect by any means. It has some discoloring on the carpeting and the wood trim as well as a couple oily spots under the hood, but this 4.5 shows really well. I really like when people go with a 215 width tire on 14 inch Bundt wheels because it gives the car just a little more aggressive stance and it doesn't look like this big, heavy car is dancing around on skinny tires. The factory cassette player is a nice period correct touch too.
It wouldn't shock me to see this car top $20,000 at all. Nice W108/109s prices have shot up in the past few years (much like everything else) and while I don't think these are cars that are going to make you rich if you buy one now, I do think you won't lose much if you ever decide to sell. It doesn't cost a fortune to own and drive one of these and that is really the appeal of owning one of this, aside from these are quite good-looking, so it's not like you'll go broke trying to look after one of these. Personally, I'd look for one with maybe twice the mileage as this one as I'm not into paying for low miles, but if you are someone who likes that kind of thing, this one isn't a bad bet.    
– Andrew