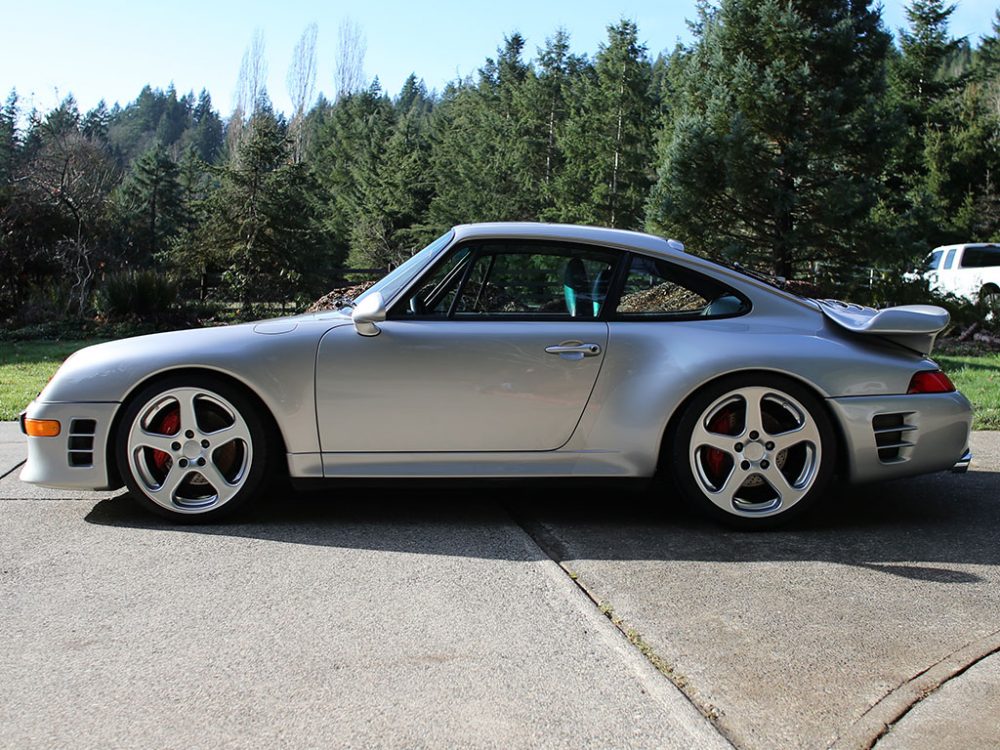 Yesterday I featured a regular 993. It was very pretty. Today we're going to take that design and turn everything up. The performance, the look,…, the price. But I have to say this one isn't any less pretty than the other one. It's a heck a lot more aggressive looking though.
The 993 Turbo already does great things with the 993's lines. With a couple of small tweaks by RUF it looks even better. We all know RUF GmbH. In the tuner world they may be the most well known name around. For Porsches they are certainly the most highly regarded. Unlike some Porsche tuners that followed more in the footsteps of Porsche's racing designs, RUF stuck mostly with subtle modifications to its road cars. The uninitiated might not have even known the car had been modified. While few Porsches could ever qualify as sleepers, a RUF almost could, assuming that others mistook it for a "regular" Porsche.
For the 993 RUF gave us the Turbo R: 490 twin-turbocharged horses directed to all four wheels through a 6-speed manual transmission. That's 82 more hp than a standard 993TT and still 66 hp more than the Turbo S. Heck it's even well up on power compared to the GT2 all while retaining a healthy does of civility. And here's one such beast for sale!
This 911 began life as an Arctic Silver 1997 Porsche 911 Turbo before undergoing a conversion to the RUF Turbo R. At 37,500 the mileage is quite low, the condition looks great, and it's said to come with its paperwork.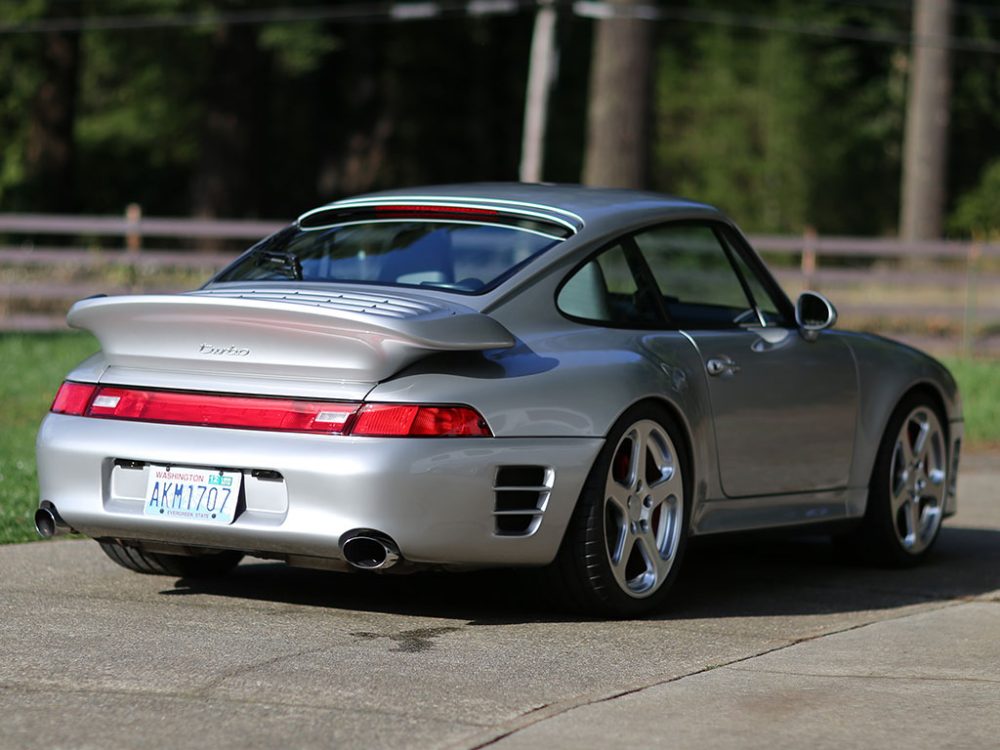 Year: 1997
Model: 911 Turbo
Engine: 3.6 liter twin-turbocharged flat-6
Transmission: 6-speed manual
Mileage: 37,500 mi
Price: $190,000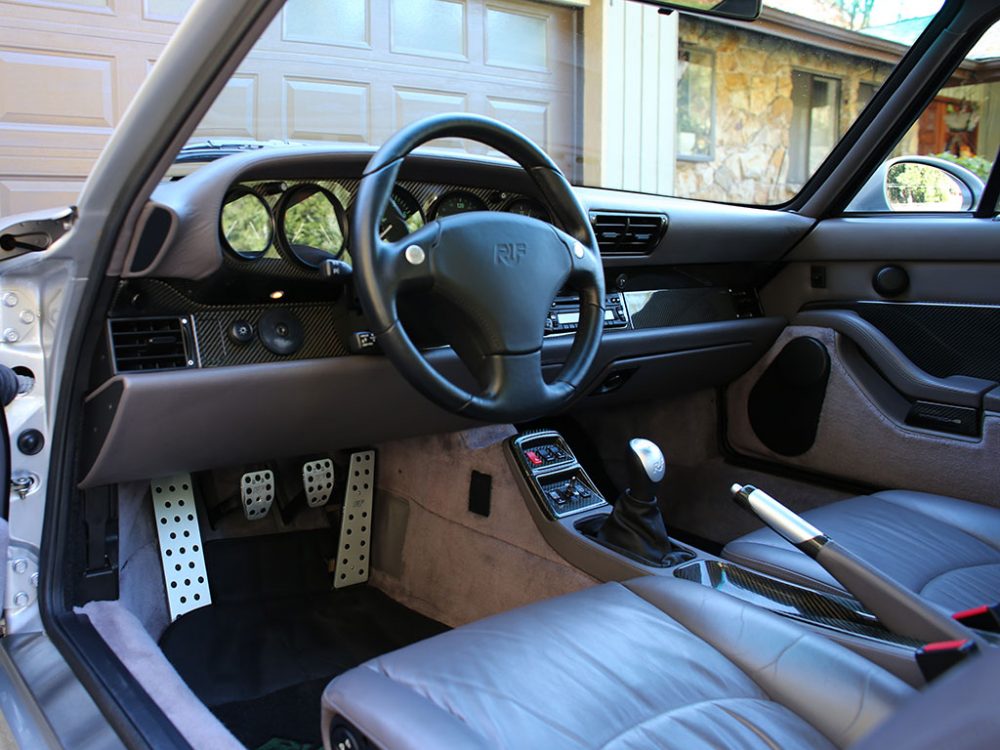 1997 Ruf Turbo R

Porsche 911 Turbo conversion

Odometer 37,500

Arctic Silver paint, Classic Grey leather

Location: suburb of Seattle WA

Carfax clean with 5 owners. I have owned since August 2012.

Car was involved in a minor incident here at my home in March 2013. Result was broken rear reflector, plus paint scraping on rear bumper and engine lid. Rear reflector was replaced, paint work was done on rear bumper and engine lid. I have complete details available, including pictures.

Service paperwork and current Carfax available as PDF.

Factory options:

Leather tray behind parking brake.

Metal door sill with insignia.

Aluminum/leather brake handle.

Head restraint with Porsche crest.

AM/FM radio with CD player.

Supple leather front and rear.

Installed at Ruf Auto Centre, Carrollton TX September 2009, odometer 27,765:

Ruf Turbo R conversion: "new camshafts, modified KKK turbos, a new exhaust system and the remapped Bosch Motronic system increase the maximum power from 408 hp to 490 bhp"

Ruf 993 suspension

Ruf steering wheel

Ruf three pedal set

Installed at RAC Performance, Carrollton TX September 2012, odometer 35,700:

Ruf 19" wheels with Michelin PSS tires

Ruf dead pedal

Ruf shift knob

Ruf floor mats

Ruf instruments

Ruf bumpers, sprayed by Stuart's Paint & Body, Dallas TX

FD Motorsports RS-style shift rod ("Golden Rod")

FD Motorsports short shift kit

Sachs lightweight flywheel & clutch kit

Clear bra – full hood, fenders, bumper

Valentine One hardwired radar detector

Laser Interceptor quad with power switch in center console. This power switch took the place of the sunroof open/close switch. Sunroof can be opened and closed manually.

Intalled at Chris's German Auto Service, Bellevue WA December 2015

S Car Go intercooler hoses (2)

Included:

Original wheels

Manuals as pictured

Two folding keys & valet key

S Car Go additional non-intercooler hoses (3)

Original shift knob

Durametric Enthusiast kit, Option 1 for 1996+ cars. Has been used on this car only, can support two additional VINs

Car cover

Two sets of front mats

Photocopies of immobilizer & radio code cards

Contact me at: rufturbor@gmail.com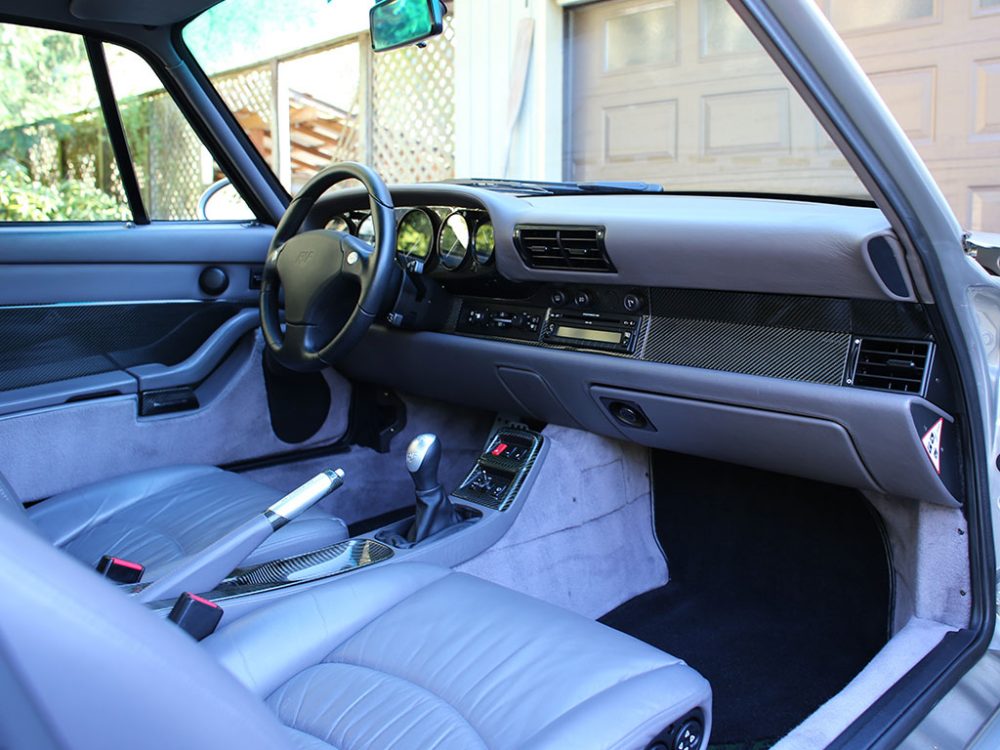 From what I can tell it sounds like this conversion got the full treatment from a performance perspective, with perhaps the exception of the brakes, though I'll admit I'm not entirely well versed on what differences there are between the Turbo R brakes and a standard 993TT. There's no mention of brake work, but you get all 490 horses from the engine along with RUF exhaust and suspension. It has the RUF front and rear bumpers on the exterior and a smattering of RUF details inside. This isn't the full Turbo R interior, which would have included custom leather trim, sport seats, an integrated roll cage, and (I believe) the deletion of the rear seats. But it has the RUF gauges and I like those a lot. I think for most, having the full performance enhancements will suffice and they could do with missing a few interior details. For those concerned about such things, there are only around 10K miles on the engine conversion performed in 2009.
This obviously is a great package and quite rare among 993 Turbos. It also appears to be in very good condition. Is it worth $190K? I honestly don't know. It's definitely a high price and I'm not sure you could expect to purchase a 993TT yourself then have the conversion carried out and expect to spend much less money. At least not with a Turbo of similar mileage and condition. You probably could buy one with higher mileage and get it done for less, but of course this one already is done. You can have it now rather than later. The choice is yours.
-Rob