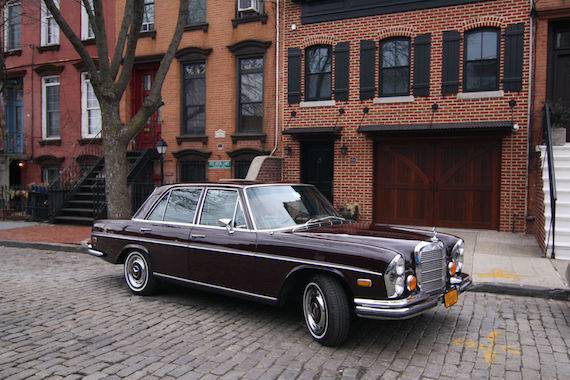 As my family moves on to its ninth Mercedes-Benz, I was reminded the other day of my grandfather's 1972 280SE. This was a rather unusual car for the day in Philadelphia, but reflected a bit of his taste as a diplomat for the Portuguese government. These were stately cars that compromised little. I've always preferred the look of the W108/W109 as opposed to the befinned W111 that preceded it and this late model 280SE 4.5 is no different. The W108 would only be sold in the US market for 1973, as the rest of the world had already moved on to the W116 S-class. For sale in New York, this isn't the most perfect W108, but it certainly holds a lot of promise.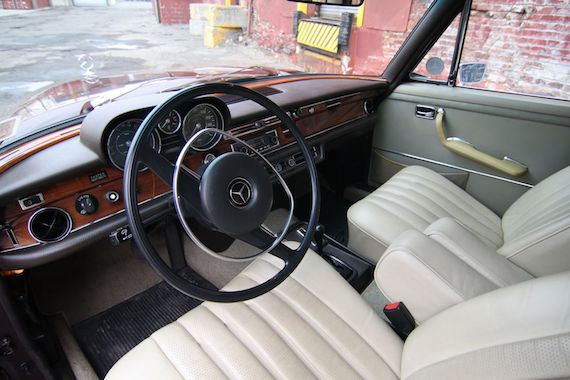 Year: 1973
Model: 280SE 4.5
Engine: 4.5 liter V8
Transmission: 4-speed automatic
Mileage: 101,500 mi
Price: $9,800 Buy It Now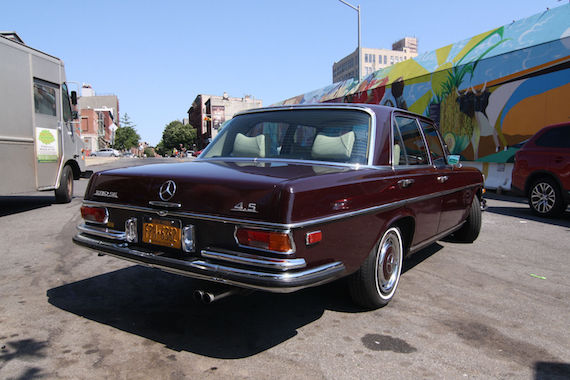 Chassis # 108-067-12-020724
Engine # 117-984-12-021023
Transmission # 23895

I'm selling my 280SE 4.5 to make room for my newly-restored 300SEL 3.5. The car has been a fun rolling restoration project for the past 4 years with over $8,000 spent during that time. I have all service records since 2010.

Paint appears mostly original with dents, chips, marks, and light crazing in various spots. Shines up well and looks nice from a short distance. Minor rear-end damage on rear valance was poorly repaired and painted prior to my ownership. Minor rust-through on inner front rockers not visible from exterior.

Engine runs well and the car has made multiple long-distance trips without issue. A/C works great and cools the car well. Front end rubber parts need replacement as car wanders slightly at high speeds.

Sold new at Benzel-Busch Mercedes in New Jersey on 06-23-1973

Includes original data plate, pre-delivery inspection form, owners manual, and all original service booklets

Working A/C, power windows, and power locks

Factory details:
· 542 Dark Red over 251 Beige leather interior
· 401 single seats
· 420 Automatic transmission, floor shift
· 466 Central locking
· 491 USA version
· 513 Becker radio, Europa stereo, USA
· 524 Paincoat preservation
· 560 Seat height adjustment
· 589 Air conditioner/electric windows
· 593 Heat insulated glass heated rear pane
· 641 White wall tires
· 669 Mode of packing VE I
· 877 Reading lamp in rear

Recent Service history:
· New master cylinder and rear axle brake service at 87,033 miles (10/27/2010)
· New fuel pump, filter, and relay (05/05/2011)
· New water pump, flush and fill radiator (07/05/2011)
· New fan clutch, thermostat, auxiliary fan thermo-switch (07/22/11)
· New 560 SL auxiliary fan, new horns (08/13/2011)
· New rear muffler, auxiliary fan over-ride switch (10/14/2011)
· New speakers front and rear (11/01/2011)
· Recore radiator, replace shifter bushings (11/12/2011)
· New 3-point automatic seat belts front and rear (07/17/2012)
· Front center-link, left tie-rods, new front shocks, drivers door window regulator (04/02/2012)
· A/C system service (05/24/2012)
· New turn signal arm/switch (11/20/2012)
· New passenger side door rear view mirror, power lock vacuum switch (12/07/2012)
· New front windshield seal (04/24/2013)
· Center armrests and re-chromed supports added (July-August 2013)
· Refinished wood dashboard windshield bow (11/01/2013)
· Full engine tune-up (plugs, wires, points, cap & rotor, fuel filter, air filter, oil filter (01/10/2014)
· New hub caps (January 2014)
· Rear headrests added (01/17/2014)
· Cowl air intake filters (12/29/2014)
· New Becker Grand Prix auto-tune stereo and Hirschmann automatic antenna (04/13/2015)
· 5 New Hankook white-wall tires (including spare) (03/07/2015)
· New steering coupling, one new fuel injector (08/18/2015)
· Valve adjustment with new valve cover gaskets, oil change, new right front window regulator (03/11/2016)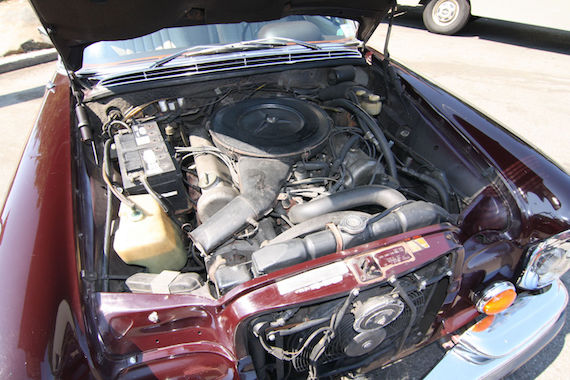 I'm not a large car person but I love a big Benz. There's just something about these cars that endears them to me. Maybe it's family history, maybe it's their imposing presence, but the S-class has continuously set the bar high for luxury vehicles the world over for decades. This car has had a good amount of work done to it but still has a few visible flaws that need to be sorted to really make it shine. Regardless, this would be a nice practical classic to tool around in which could certainly keep up with modern day traffic. We saw a very nice 1973 280SEL 4.5 come up for sale in the summer of 2013 that had 67,000 miles on the clock sell for $10,100. That's not much more than what is being asked here for a car which was in better shape with the long wheelbase. Still, time has moved on these late model W108s are not depreciating. If you want to get into a classic Mercedes for not much change, these are a great value.
-Paul