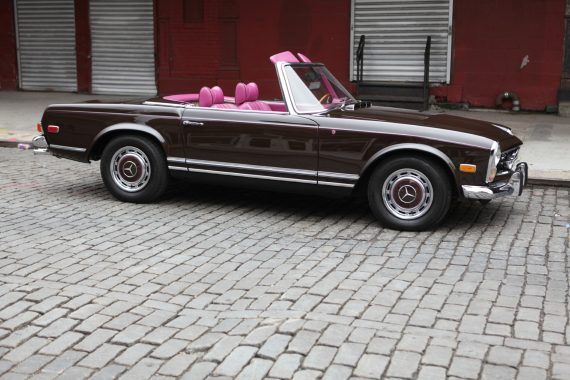 It's time again for Fail Friday! Welcoming you into July is a wonderfully horrible 1969 Mercedes-Benz 280SL. Normally I wouldn't speak such ill of the great Pagoda but I can't hold back on this one. It's not an outrageous price or aftermarket exterior modifications that qualify it for Fail Friday, it's the unspeakable acts of interior homicide that have been committed. Before you click the "Continue reading this article →" I need you to be prepared as to what lies inside this SL.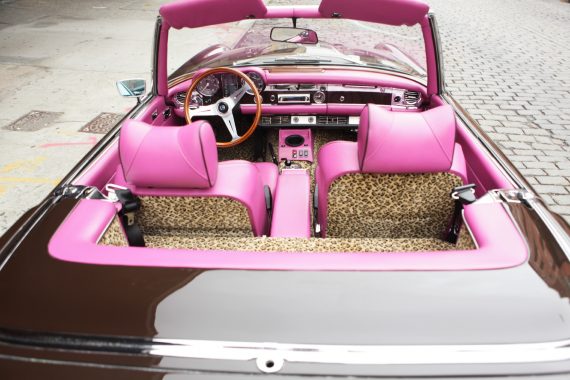 Year: 1969
Model: 280SL
Engine: 2.8 liter inline-6
Transmission: 4-speed automatic
Mileage: 56,000
Price: Inquire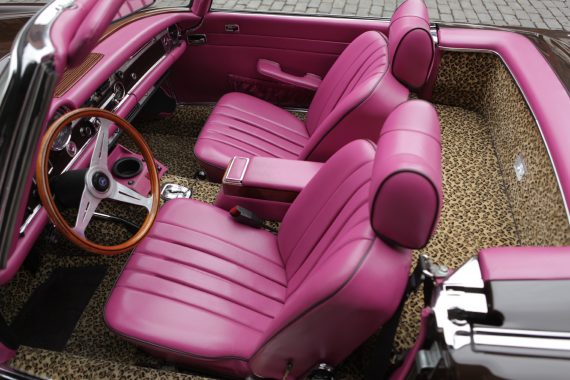 This 1969 Mercedes-Benz 280SL Automatic is Tobacco Brown with a matching Brown hard and soft top and an outrageous Fuscia and Leopard print custom interior. The hard top and trunk have a unique custom lining as well. This 280SL was specially designed by a high profile figure with a Betsey Johnson style interior for his wife in Beverly hills with no expense spared. The car is an Automatic with Air Conditioning. While in their possession the car recently underwent extensive upgrading. This included the custom interior, which was made with Ralph Lauren carpeting and the finest automotive Fuscia leather. It also included a Nardi steering wheel and modern comfort features such as LED lighting in the trunk and cabin, an updated audio system, automatic windows, remote control door locks, and a run flat spare tire. The car is an excellent rust-free California car that has only travelled 56,000 miles since new. It is one of the best driving 280SLs we have driven and performs as a well sorted 280SL should. The paint, wood, and chrome on the car are all excellent and the interior looks like new. For anyone looking to make a serious statement and still drive a desirable and collectible car in terrific cosmetic and mechanical shape, this car would be an excellent choice.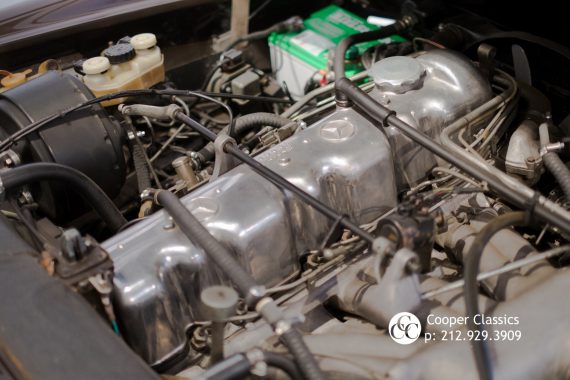 Now that your head has stopped spinning, let's try to to break this one down. I get it. This was the ultimate gift to world's greatest gaudy spouse. The kind of spouse who thinks pink and leopard is perfect combination for apparel, home decor and six-figure Mercedes roadsters. Not only was the interior color combo catered to the tastes of a 7-year old, modern features were added as well. The best stereo headunit and footwell speakers that 1997 had to offer, automatic windows and power lock and to top it all off a GIANT CUPHOLDER. On the exterior, the beautiful tobacco brown paint was tainted with pink pinstripes and monogrammed with a letter 'B' that looks like Homer Simpson's favorite donut.
I can understand why Cooper Classics took the risk on this car given their location. It's bound to be snatched up by a starving artist who lives in a Tribeca loft to drive out to the Hamptons on the weekend with designer dog riding shotgun. They probably snatched it up for a heavy discount and brought it to one of the most likely places it would sell. Let us pray that the someone who does buy this owns an upholstery shop to save this poor Pagoda from what it has sadly become.
– Andrew