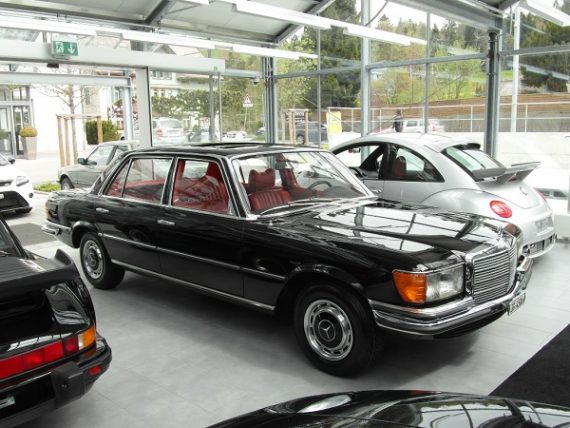 Last week I checked out a 1978 350SE that was chock-full of little goodies but didn't really past muster as a good buy. Today we have another W116 that seems to check all the boxes of of what a proper 1970's S-Class should bring to the table as a nice driver and possible collector car. Located in Switzerland, the black paint is only the tip of the iceberg as to what this 450SEL offers. So let's check out this blood-red big Benz.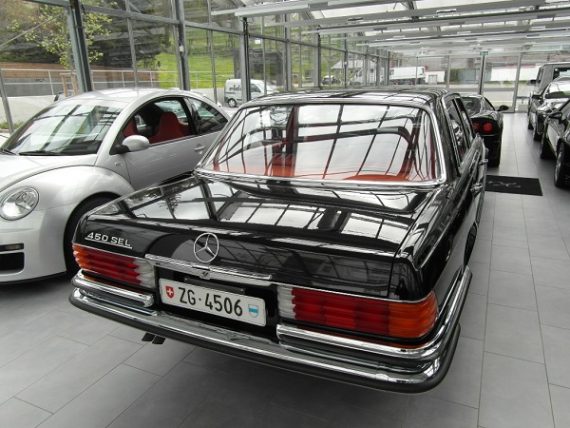 Year: 1973
Model: 450SEL
Engine: 4.5 liter V8
Transmission: 4-speed automatic
Mileage: 86,000 km (53,437 mi)
Price: CHF: 39500 ($40,548)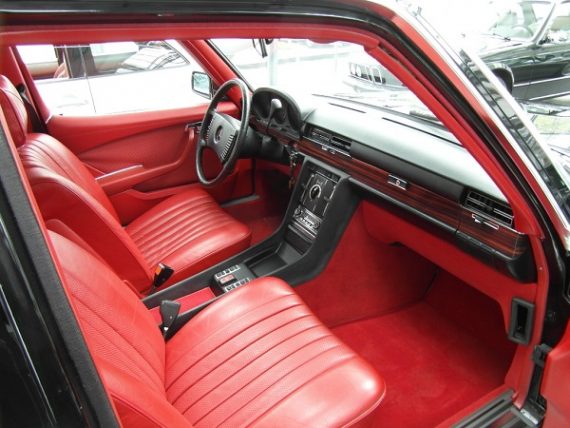 *Translated (poorly) from German*

"Life is too short for ugly, small plastic cars" was recently the line in the magazine about "classic cars". Since such a 116er's really something else! Especially if it is black / red is a like this, truly exceptionally well preserved specimen in the glorious 70s color combo. A long version secondhand, guaranteed only 86,000 km run and equipped with automatic and sliding the next exit is therefore nothing in the way!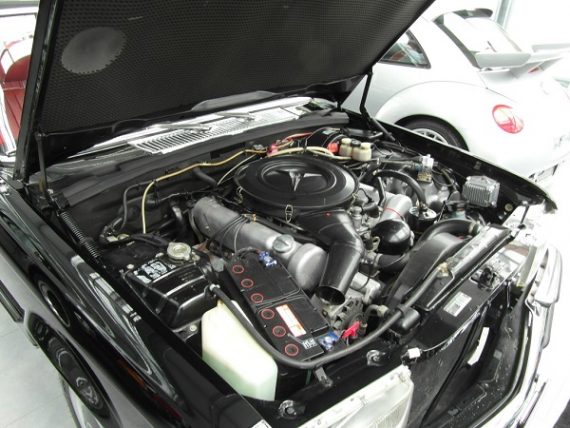 Let's get to the point on this car and head straight for the interior. The blood red carpet, seats and doors are all wonderful. Judging by the condition of the carpets, it's pretty clear that everything is new. MB Tex and the carpets hold up pretty well in the W116, but not at 53,000 miles looking brand new. The color isn't the only interior thing of note at this is a rare column shift car. Just to top it off, the wood is the great Ebony Macassar that has a darker finish compared to what you normally see in Burl or Zebrano. Under the hood the K-Jet M117 V8 looks great and I even spy a metal coolant overflow tank that is coveted by the W116 crowd. Outside the black paint is nearly spotless and it's something to note that you rarely see a black W116 anymore.
The price of over $40,000 is probably really high seeing you can snag a nice 450 for around $5,000 and numerous 6.9's for under $10,000. But I guess when you have a unique a car as this one you start really high and see what happens. I'm not exactly up to date on the Swiss car market but seeing as this same dealer is asking over $30,000 for a standard R129 SL320 I'm guessing their prices are a little inflated.
– Andrew