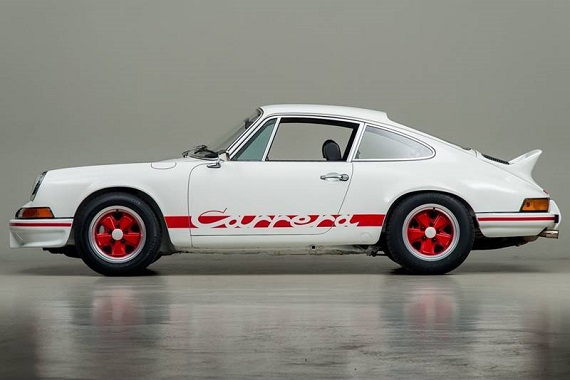 With the holidays approaching why don't we dream a little bit of those really special gifts. The Grand Prix White 1973 Porsche 911 Carrera RS Touring we featured back in the Spring remains up for sale. The asking price has dropped a notch or two (not that we'd likely notice given what's still being asked), but like any RS it remains one of the most costly 911s on the market. This one is priced more in line with what we see for a Sport rather than a Touring so it's going to be a tough sell. But for that money you get one of the best Porsche has produced and a car any 911 aficionado instantly will recognize and lust after.
The below post originally appeared on our site April 7, 2016: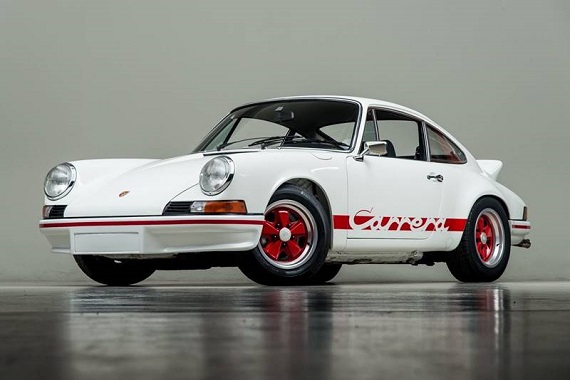 Well here's something we don't see every day: a 1973 Porsche 911 Carrera RS Touring up for auction on eBay. Given where the starting bid has been set, I suspect this auction is intended to serve more as an advertisement of this 911's availability rather than as a true attempt at a sale (though I'm sure if someone wants to meet the likely very high reserve then the seller will have no qualms selling the car). The Carrera RS is probably the most iconic 911 Porsche has produced and given the stature of the 911 itself that makes the Carrera RS one of the all-time greats in the automotive world. They were the first in what has become a long line of RS models produced to meet racing homologation requirements, all of which have been to the benefit of Porsche, and 911, fans across the world. It would be nearly two decades before Porsche released the Carrera RS again, this time as a 964, which provided the original RS a broad spectrum within which it could operate and attract attention. Naturally, they are highly sought after and very expensive. They almost never come up for sale outside of prestigious auctions so this provides us a rare treat.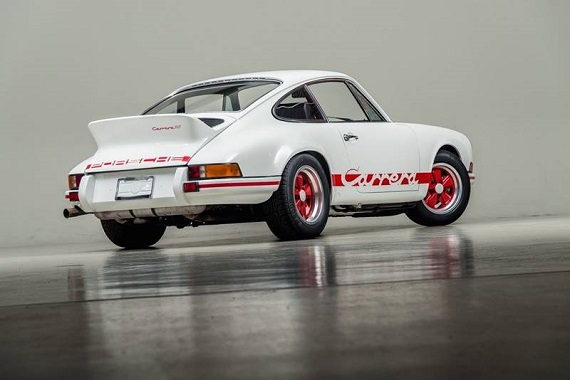 Year: 1973
Model: 911 Carrera RS
Engine: 2.7 liter flat-6
Transmission: 5-speed manual
Mileage: 65,000 mi
Price: $950,000 Buy It Now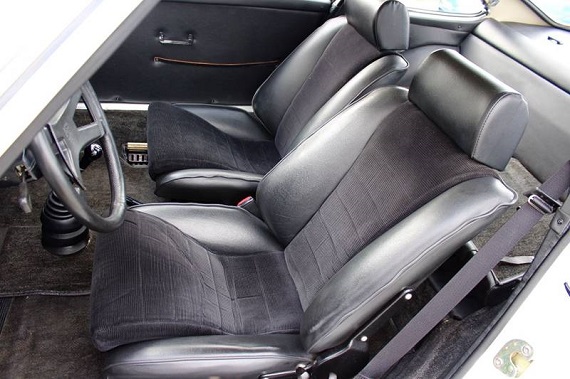 1973 Porsche 911 Carrera RS
VIN: 9113600595
Porsche is always at its best when met with a racing challenge. The immensely collectable 73 Carrera RS is the result of such a challenge. Built as a response to Ferrari's 365 GTB Daytona Competizione, Porsche created the light, nimble, and quick RennSport 2.7. Of course the new race car needed to be homologated for FIA Group 4 racing to take on (and ultimately defeat) the big Ferrari. According to the rules Porsche needed to build 500 road cars to meet the requirements. In 1972-73 a special production run of 500 cars handily accomplished the task. The car was so popular that two addition runs of 500 were made to fulfill demand for this street legal racecar. This car is from the beginning of the second run.
This Grand Prix White M472 Touring model was first registered on March 2nd 1973 by Roland Kistler of Switzerland. He would compete in local slaloms and competitions with the car until he sold it in July of 1981 to another Swiss gentleman, Arno Flach, with 107,615 km. Flach recalled having seen the car at the Porsche dealership 8 years earlier before Kistler picked up the car, and actually took a picture of it, which is included with the sale. Flach would also take the car out for a bit of competition from time to time, including a first place at the Automobil-Slalom Altenrhein in 1982. The RS would move on to another Swiss owner in 1986 with 145,000 km on the clock, and then shortly after it made its way to its first British owner in 1987.
Jim Ablett was an accountant at Cognos Limited in England, and he also fancied a bit of auto racing. In April of 1987 he first registered the car in the UK, and by July he was racing. From July 1987 to October 1989 he would enter the RS in almost 70 different events, including the Pirelli Porsche Club GB Championship, the Pirelli Autofarm Modified Porsche Championship, the 750 MC Racing Championship, and the Gordon Russell Intermarque Championship. The car would be managed by Porsche racer Neil Bainbridge, and Bainbridge and Canadian Jacques Robichon would occasionally co-drive with Ablett. All of his efforts with the RS are documented in 5 binders full of race results, programs, pit passes, and newspaper/magazine clippings.
In June of 1990 the RS was for sale at Dick Lovett Limited in Swindon, and on June 14th Simon White of Cheltenham put a £1000 deposit down on the car. He would end up owning the car for the next 16 years. During that time he would work at bringing the car back to use as a street car, spending vast amounts at Jaz Porsche, Legends, and Mech Repairs doing extensive mechanical and interior refurbishments, including a £8000 engine rebuild in 2001 and a new transmission in 2003. During his ownership the RS would be photographed byRobert de la Rive Box for use in his book, "Darf es ein Ferrari sein? Bugatti, Ferrari, Mercedes…" and would also be on the cover of ClassicCars magazine in May of 2006.
In November of 2006 the car would change hands briefly to Timothy Underwood also of Cheltenham. He would own the car for less than a year before the cars last owner, Anthony Lucas of Bristol, would purchase it in October of 2007. In January of 2008 he would have Autofarm of Weston-on-the-Green do a major mechanical service on the car, which would be follow by Lucas's participation in the Pomeroy Trophy the following month. Over the next few years he would have BS Motorsports Ltd do extensive work on the car including a full engine, transmission and LSD rebuilt. An interesting note is that BS Motorsports is owned by Neil Bainbridge, the Porsche expert that took care of the car during Ablett's racing days in the late '80s. At a dyno test in 2010 the car was putting out 216 hp @ 6450 rpm and 192 ft/lbs of torque @ 5260 rpm. Lucas would continue to use the car for touring purposes, including a trip to the Monoco Grand Prix in 2010.

Porsche options:
Electric Windows
Heated Rear Window
Headrests L&R
Sports Seats L&R
Sold as Is.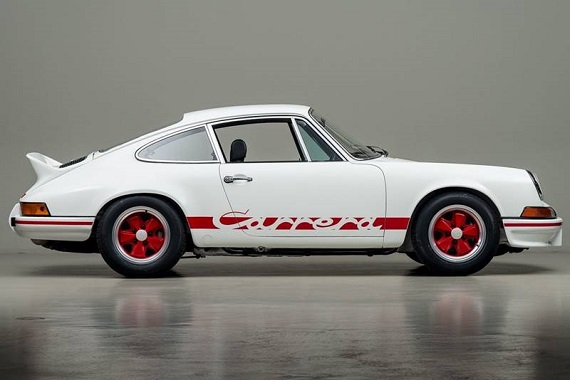 The seller has provided a reasonably thorough history of this RS's ownership up to the mid-2000s. At that point the history ends and we're left in the dark about how it made its way into the US. A quick VIN search in google shows a couple of times it has sold, but there's nothing to shed any immediate light on what the car has been up to. Also, the listed mileage seems off since it is said to have been at 145K kilometers way back in 1986. All of those items will have to be cleared up if this RS is to have any shot at meeting this sort of price. Still the early history is interesting and it's great to see that this RS was put to good use during much of its life. So how much is it worth? While there have been a few examples of the Carrera RS stretch well above $1M those have been almost exclusively the Lightweight, with values for the RS Touring tending to fall between $600K-$900K. That makes the asking price here seem well above what we'd expect, but as I said previously I suspect this listing is meant to serve as an ad for the car rather than a bona fide auction. Regardless, the selling price here will still be very high for one of the most desirable models in the Porsche stable.
Editor's note: When originally posted this auction had a starting bid set at $999,000. That has now been reduced to $699,000, which may be much more likely to elicit some bidding.
-Rob