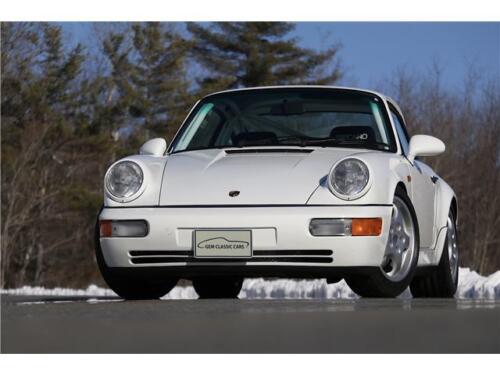 While the US market had to settle for the RS America, a lightened low-option version of the Carrera 2, other markets enjoyed the full-on Carrera RS. The Carrera RS used the tried-and-true method of more power/less weight, combining a higher output version of the 964's 3.6-liter flax-six with significant weight reduction (155 kg lighter than a standard Carrera 2) to provide the sort of no-frills performance that 911 enthusiasts had long craved since the original RS. Under the rear hood was the M64/03 rated at 260 horsepower, which doesn't sound like a lot by today's numbers. But the lightweight RS made good use of all of them, proving itself not only to be a class-leading sports car but also one adept at racing in keeping with the 911's heritage. Suspension was lowered half an inch and stiffened, while the limited-slip differential from the Turbo was borrowed. Power steering was dropped for a manual rack, the wheels where made of magnesium, and while there were packages to add back in road-going manners, this ultimately was a bare-bones racer at heart.
Some 2,276 964 Carrera RSs were made, with a fair chunk of those heading to the track. An even more hardcore model turned it up a few notches, too – the Clubsport, of which just 290 were made. These were effectively road-going Cup cars intended to compete in the N/GT FIA category, with a full seam-welded chassis, an FIA-approved cage, fire extinguishers, Recaro race seats, and harnesses.
As with anything Porsche followed by "Clubsport", you can bet these things aren't cheap.
Comments closed