Warning!
This post is in our archives. Links in this post may have been updated to point to similar cars available to bid on eBay.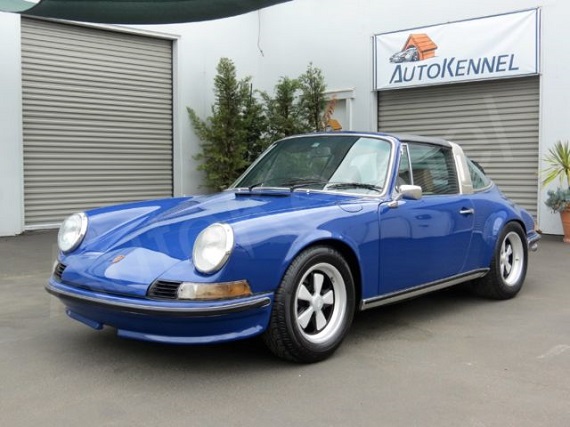 While I've always enjoyed the seat inserts we find in some vintage Porsches, over the years I've found myself becoming increasingly enamored with them. That Porsche has brought some of them back in recent years (even if just for special edition models) has been particularly delightful. While the tartan inserts that we many times see are surely somewhat more divisive, houndstooth and pepita inserts, as we see in this modified 1973 Porsche 911S Targa, find much greater favor. And for good reason as they provide such a wonderful contrast and appearance to the interior, but while remaining quite subtle. The interior of this 911S has been restored, though it sounds like it was the original combination. The same is true of the Oxford Blue exterior. It is at that point that originality begins to stop. The engine in this 911S is now a built 2.7 liter with mechanical fuel injection, a la the Carrera RS. That's given this 911 a healthy boost in power, up to a reported 206 hp at the wheels. While that non-original engine will keep the price down somewhat, it should make for a really nice performer.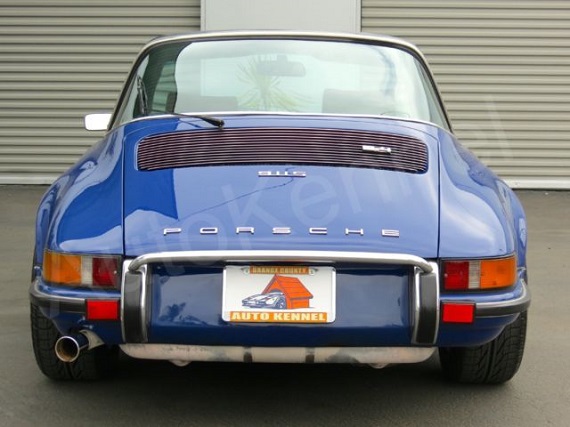 Year: 1973
Model: 911S Targa
Engine: 2.7 liter flat-6
Transmission: 5-speed manual
Mileage: 76,500 mi
Price: $139,990 Buy It Now
1973 Porsche 911 S Targa

Engine Built to 2.7RS Spec

Sport Seats/Rare Color Combo

Numbers Matching

Stock #0756

VIN # 9113310764

ENG# 6331788 (911/53) Original Case Included

ENG# 6369286 (911/86) Currently In Car (ROW 7R Case)

Numbers Matching
Less than 2,000 Miles/3-Years on Engine Rebuild

76,500 Miles on Odometer

Oxford Blue (4810) on Tobacco Leather with Pepita Inserts
5-Speed Manual Gearbox

Clean and Clear Montana Title

Porsche Certificate of Authenticity

PCA Member Owned

The recent demand for early Porsche 911s (commonly referred to as long hoods) has certainly been strong. However, the passion for these cars has never waned among enthusiasts. These are the best vintage sports cars if you really like to drive. However, as values have climbed, the opportunity to drive a true early 911 S has diminished. Between the time and money it takes to restore these cars, owners tend to leave them covered in their collections. However, examples like this make guilt free vintage motoring a possibility.

This Porsche 911 S was one of only 925 examples built for the world in 1973. It was produced on January 5th, 1973 and delivered to Porsche Cars of Great Britain. It was originally ordered as a left-hand drive vehicle (as you see here). Factory options included:

Special order color

Headrests

Rear apron

Collision bar rear

Furthermore, correct factory sport seats and a rear wiper appear to be original to the car.

Although not much is known about this 911s first decade of life in England, it was legally imported to the U.S. in 1984 by a Dr. Howard B. Johnson of Cincinnati, Ohio with just under 60,000 miles. Howard was a long-time Porsche enthusiast and while in the UK for business, he saw this Targa at a local dealership.

For the next 30-years, Howard invested a lot of time and money making this a wonderful driving early 911 that fit his tastes. One of the first things he did was repair rust that he found. He had the car stripped down, all the rust properly repaired/eliminated, and then repainted.

Initially, he used the car for fun weekend outings and daily driving. However, he got bitten by the track bug and ended up serving as a Porsche instructor for the next 22-years. He participated in driver's education events, autocrosses, and even a few years of club racing. During this tenure, he never had an incident or damage. He was fortunate to visit some of the best courses in the country with this 911; Road Atlanta, Watkins Glenn, Mid-Ohio, and Road America to name a few. Most of the time, he drove this 911 S to the track and home.

During his ownership, besides frequent services and repairs, he was constantly improving the performance.

Highlights of service/repairs include:

Chain tensioners and turbo tie rods (1987)

Rebuilt transmission (1990)

Replaced front suspension pan (1991)

Clutch and flywheel (1992)

Reseal engine (1993)

Rebuild motor (1996)

New gearbox synchros (2000)

Major engine rebuild with new case/2.7RS spec (2002)

Transmission rebuild and replace master cylinder (2005)

Rebuild MFI pump (2010)

Repaint car (2011)

Top end engine rebuild (2013)

Rebuild transmission (2013)

Fresh interior (2015)

Suspension rebuild (2016)

During the engine rebuilds, the MFI pump was sent to Gus at Pacific and throttle bodies, heads, etc. to Ollies. Some of the top local shops were used and the receipts documenting the work are extensive (see pics).

In 2002, Howard hired Steinel's Autowerks (a highly regarded local Porsche engine specialist shop) to do a complete rebuild on the engine. The original engine case had some internal damage due to a broken crank, so they felt it would be better to start with a fresh/better condition case. They used a '76 9117R magnesium case for the build. The case was cleaned and pressure tested to make sure it was in excellent condition. Highlights of this full build included:

New engine oil cooler and 964 oil pump

Titanium retainers

Valve job

Cam gear, chain guides, and chain

Ollie's line bore, timesert, shuffle pin, and boat tail mains on case

Ollie's also maniflux rods

Reconditioned replacement crank

2.7 high compression Elgin pistons and cylinders with lapped tops

Zr02 flame sprayed piston tops

Refurbish alternator

New oil lines

New injectors

Stock cams

Late model oil pump (3x output)

Upgraded fender oil cooler (see pic)

During this rebuild they also replaced the stub axles, design/fabricate RSR-style front strut brace, new clutch/resurface and balance flywheel.

In total, this build (done in 2002/37k-miles ago) cost over $20,000. Once break-in was complete, it was put on the dyno and it pulled 206 horsepower/177 lb. ft. of torque at the rear wheels. Crank power = 247hp/204tq

In 2003 and 2009, the oil was sent out for analysis and proven to be clean with minimal wear to the engine.

In 2013 (about 2k-miles ago), Howard's 30-year adventure with this car was winding down. So, he began another light refurbishment before selling it to the current owner. A very thorough engine inspection and top end rebuild was performed. The work was once again performed by Steinel's Autowerks, which included:

Valve job

Heads reconditioned/beveled by Ollie's

Replaced piston rings with 90mm RS

All new gaskets and seals

Remove pistons and cylinders to measure clearance

Decarbonize and clean pistons

Hone cylinders

Media blast fan, housing, and sheet metal

Machine turbo valve covers

Clean stacks

In total, another $13k was invested in the engine.

Also, Howard painted this Porsche on three separate occasions. He wanted it looking its best, so he hired one of the top local Porsche painters in the area: Bill Kemper of Panelwerk's in Mentor, Ohio. During one of their repaints, they replaced the rear fenders and also installed factory steel RS flares. A couple of years before selling the car (2011) Howard had the car repainted one more time and in 2013 he had some light touch up work done.

The current owner purchased this 911 S from Howard in 2013. He saw how well maintained the car was and thought it would be the perfect car to do his finishing touches and bringing the car a bit closer to original. For the next 3-years he invested nearly $30,000 on the following items:

Restored entire interior by Autobahn Interiors (leather)

New seals

Restore targa top

Recovered steering wheel

New muffler

Major service: oil change, spark plugs, adjust valves, new fuel filter, etc.

8×15 Fuchs for the rear

Restored all 4 Fuch wheels

Rebuilt brakes and lines

New spring plates

New front Boge struts/inserts

All new suspension bushings

Restored all the gauges

The end result is a very nice high-level driver with some subtle sport-purpose touches that makes this example a blast to drive and equally as nice to look at.

The exterior looks great. The Oxford blue is spot on. It's tough to tell in pictures, but it is similar to Dalmation blue with a hint of purple that shows up in the right light. There are some minor chips on the front end from normal light use. Also, there is a blemish on the driver side rear flare where the lip was rolled at one time. The wheels are freshly restored in a frosted RSR finish and wear fresh Pirelli tires (correct RS style for 7's and 8's x 15's). All the brightwork and anodized bits appear to be original and in very good condition. The interior is extremely nice and fresh. It has all been recently restored by Autobahn at a cost of $15k. All the gauges operate properly. The radio does not power up. However, the rear wiper does work fine.

This 911 S is a wonderful touring car with an extra punch in the power. The car starts easily and idles with no problem. It's a bit cold-blooded at first with the typical MFI popping. However, once the oil warms up, it smooths out and drives fantastically. Power is strong with great low-end torque usually missing from the early S cars. The steering is very tight and responsive. The brakes have excellent bit with no fading. This would be the ideal car for long distance vintage touring events or even daily use.

This Porsche comes with the original engine case, tool kit, jack (not correct), spare (15×7), owner's manual, extensive receipts, and Porsche Certificate of Authenticity.

If you have any questions, please do not hesitate to contact Paul at 714-335-4911 or paul@autokennel.com

For tons of pictures, either cut and paste the following URL into your browser, or click here: http://www.AutoKennel.com

This vehicle is sold "as-is" with no warranty, written or implied. In some cases, the vehicle does have the remaining factory warranty still in place and will be described above if that is the case. All taxes and fees are the responsibility of the buyer and are not included in the listed price. All vehicle sales will require a $65 document fee. The vehicle listed is described to the best of our ability. The information is based on our own research and statements made to us by the previous owner(s). To the best of our knowledge, the above information is accurate. We are not responsible for errors in our description of options or any other details. The above-mentioned vehicle is used and can be expected to show some wear and tear. It is not a brand new vehicle. We do welcome all local pre-purchase inspections on vehicles in order to verify condition.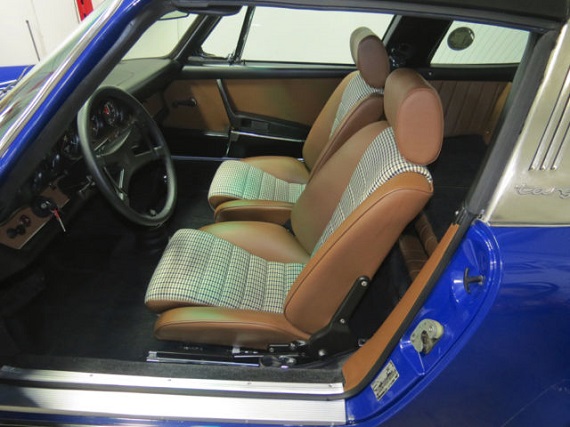 This is, indeed, a very interesting 911 and the seller has offered us a wealth of information covering its history since the mid-80s (though none of its prior history appears to be known). The color combination is great, the interior I find particularly striking and befitting of a vintage Porsche, and the stated engine work sounds like it has provided the extra power to turn an already enjoyable car into an exhilarating driver. On all of those points, this 911 makes a lot of sense. But I'm curious about the seller's comments relating this 911S to one that might attract a collector's notice. Part of the reason long-hood 911s remain hunkered down in a garage is because of their high prices and concerns over long-term value. The asking price here of nearly $150K really isn't creating much separation though. It's still very high priced and if buyers are willing to pay this high price then it stands to reason that its long-term value will remain equally as high. As high as a completely original 911S? No. Should we expect that buyers would be willing to pay this price? I suspect not, but I also would not expect to see this price lowered significantly, when we consider what it might cost to replicate a 911 of this nature. So I do see the appeal, I'm just not convinced that appeal lies quite so much in its "driver" nature as the seller describes. This 911 also provides a nice contrast to the many back-dated 911s that we see on the market, some of which come in with equally high asking prices.
Note: this 911S was originally listed with a BIN price of $149,990, which has subsequently been reduced.
-Rob