Until recently, BMW hasn't been one to embrace turbocharging as a means to squeeze extra power out of an engine. But, there were a few turbos scattered about in Bimmer history, most notably under the bonnet of that favorite icon from the 1970s, the 2002. This was Europe's first turbocharged production vehicle and it was short lived at that. Only 1,672 were produced from 1973 through 1975. While modern turbocharged engines work rather seamlessly, the power delivery 2002 Turbo was about as subtle as a Narc at a biker rally. Power output was 170 hp, which made for a run to 60 mph in seven seconds flat. Many reports recounted how around 4,000 RPM the turbo would cut in and rocket you forward towards the horizon at hyper speed…or towards the hedges, depending on which direction the steering wheel was pointed.
This Chamonix White 2002 Turbo is on offer in Freiburg, Germany.
Year: 1974
Model: 2002 Turbo
Engine: 2.0 liter four cylinder turbo
Transmission: 5-speed manual
Mileage: 149,112 km (~ 92,654 mi)
Price: €38,500 (~ $51,000 USD)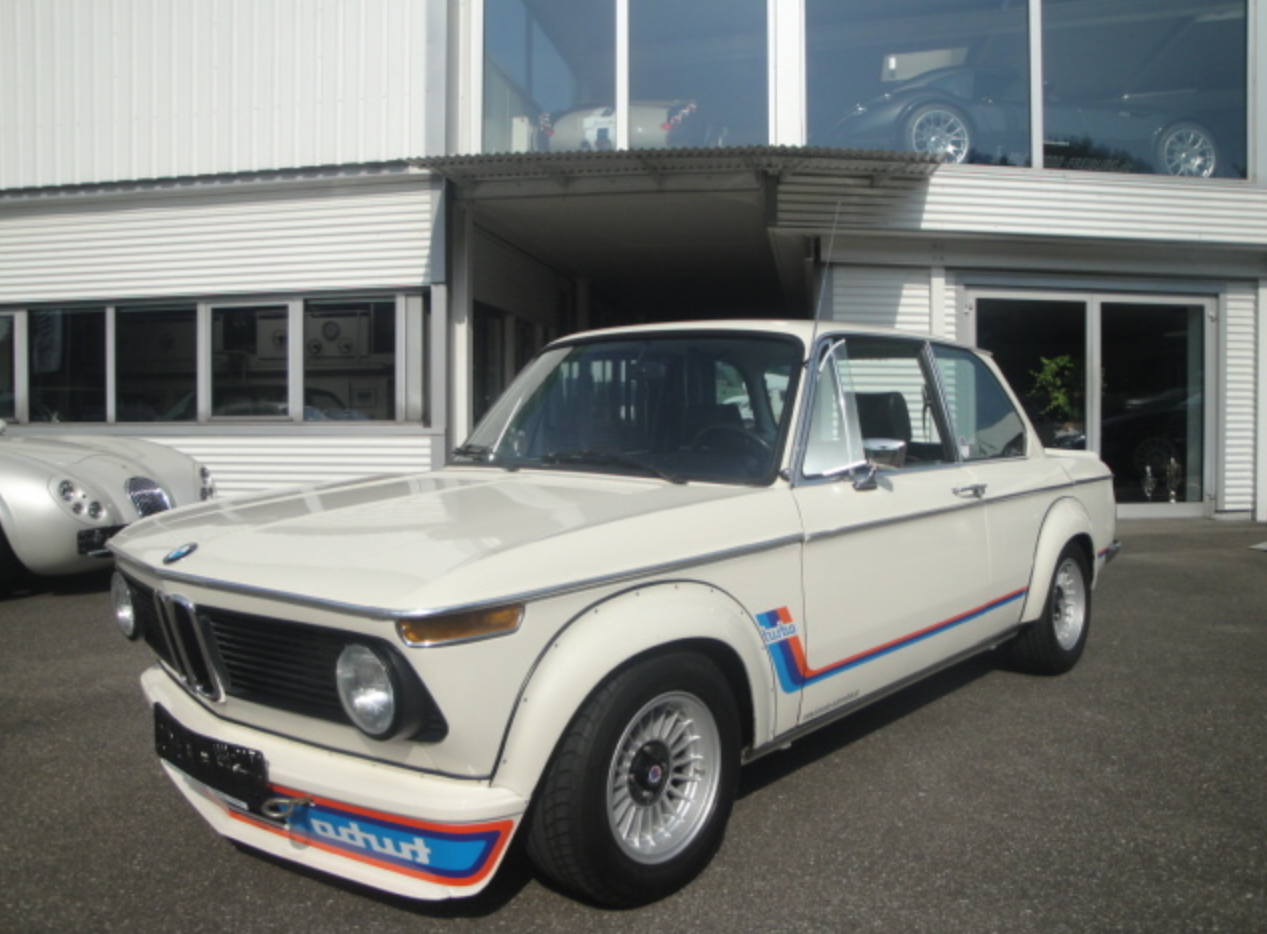 205 5-speed transmission, 209-slip differential, 311 passenger door mirror, 350 heat-insulating glass green, Becker Mexico radio, Alpina 61/2×13 LM wheels with 205/60×13 tires (new replacement engine with approximately 1,000 km). The car is one of only 1,672 units built. In very nice original condition with no rust and no damage, a car in this state gets offered rarely. The BMW 2002 turbo was the first production car with a turbocharger, at the time was a car with extreme performance, which today provides very enjoyable motoring and has a high potential for appreciation.
A 2002 Turbo is never going to be cheap and this car is no exception. Just this week, there was a restored 1974 2002 Turbo on eBay with an asking price of over $110,000, but that car was definitely an outlier. Considering the recent auction results and sales that I've seen, 2002 Turbos can range between $45,000 and $70,000. Given the mileage and engine replacement on this car, I'd say we're in the ballpark. I would, however, like to get more details on who did the engine replacement and why.
Over the past few years, we've seen the E30 M3 gain notoriety as the car that helped kick off BMW Motorsports popularity in the mainstream, but rarely is the 2002 Turbo mentioned in the same breath. This was a limited production car that was ahead of its time and should be given its due respect.
Since the 2002 Turbo is rarely seen in the wild, here's a video from the German program Motorvision showing this car in action:
-Paul