In this day and age of cars with ever increasing curb weight – even sports cars – it's nice to look back in the not too distant past and gaze upon what once was. While the original Porsche Carrera RS of the 1970s was never officially sold in the US, motorists stateside were given a treat in 1993 by way of the RS America. Fred Schwab, President and CEO of Porsche Cars North America put it rather succincntly:
"If you like to autocross, this is your car. If you are a time-trialer, you need this car. If driving is for fun, this is your car – the car that the Porsche Club of America built."
When the RS America went on sale, it was the cheapest 911 available and sold for $10,000 less than a fully equipped C2. Due to their limited numbers, it's not surprising that these lightweight specials are valued higher than the cooking variety 911s from the same period. This RS America for sale in New York has slightly less than 25,000 miles on the clock and is a nice piece for someone seeking the pure 911 experience. Nothing more, nothing less.
Year: 1993
Model: 911 RS America
Engine: 3.6 liter flat six
Transmission: 5-speed manual
Mileage: 24,531
Price: $69,900 Buy It Now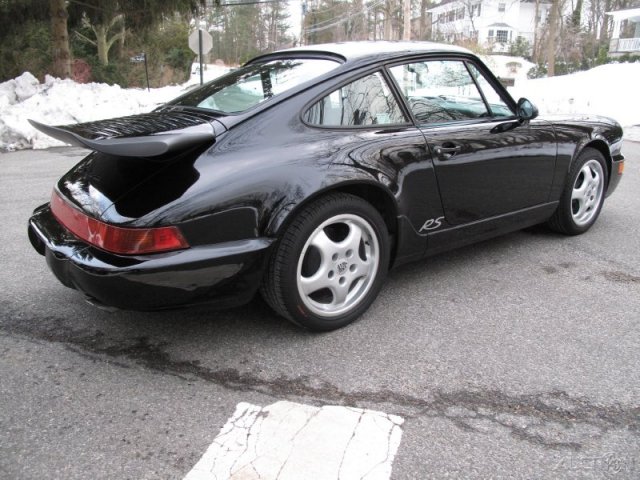 This is a 1993 Porsche Carrera RS America in Black with Black Interior. Only 602 of these units were produced (Worldwide). This car represents the 20th anniversary of the 911 going back to 1973. It has every option available at the time and Porsche of Roslyn just performed a full service on the car.
The high end of the range for RS Americas is around $50,000 to $70,000, so we're right at the top when it comes to values, which isn't surprising given this is a dealer offering. As usual, I would prefer a car that was a bit more used and not a garage queen, but it's nice to know there's a few of these rare 964s lurking about out there, waiting for a new generation of motorists to experience the original, air-cooled formula at its peak.
-Paul