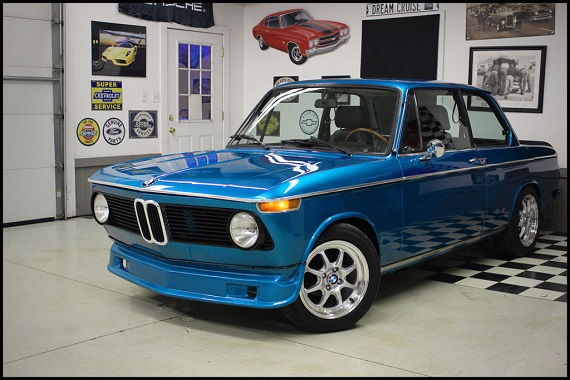 Atlantis Blue. It's probably a color that at least one person – probably many – at BMW hate. Why? Well, it was the color that was involved with perhaps one of the biggest PR mistakes in the automotive world in 2013. It was in that year that a BMW enthusiast had saved up to finally special order a new M3 from BMW's Individual program in the shade. However, somewhere along the way the order was translated incorrectly and the M3 was produced in the Individual shade of Atlantic Blue. Predictably, the enthusiast (who, incidentally, had flown to Germany for European delivery of his prized M3) was immediately not pleased that the presented M3 was in the wrong shade. Complicating the matter was that BMW had ended the E92 production line, so no new M3s could be built to replace the incorrectly-colored car. The fora lit up with punters on both sides flinging insults at this enthusiast and each other; perhaps it was a perfect example of a first-world problem as some claimed, but personally I don't think I would have accepted the car, either.
Regardless of your opinion on the outcome of the situation, the story instantly popped into my head when I saw this 1976 2002 that was repainted in the shade the above described buyer wanted – the beautiful shade of Atlantis Blue, which replaced the car's original Fjord Blue: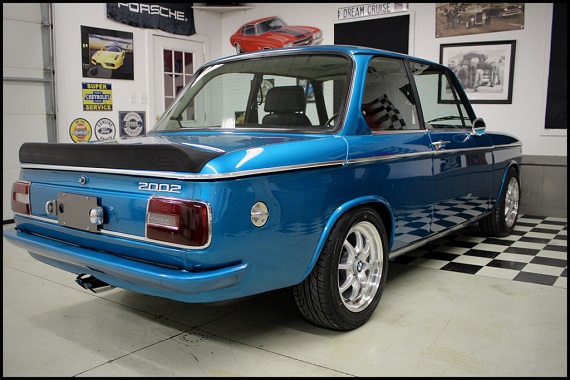 Year: 1976
Model: 2002
Engine: 2.0 liter inline-4
Transmission: 4-speed manual
Mileage: 95,433 mi
Price: No Reserve Auction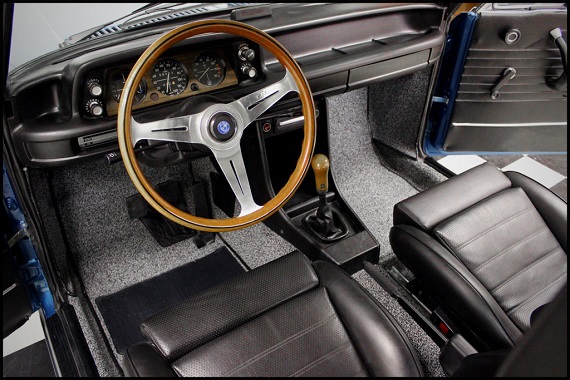 For sale is my 1976 BMW 2002, certainly a collectible car and one of the faster appreciating vintage BMWs to date. Purchased from the family of the second owner, who had it in his possession for close to 20 years. Original owner was from Colorado. Extremely solid example, no Midwestern rust, clean floors, trunk, shock towers and spare tire well. I have along with the car all original owners manuals, as well as the original owners maintenance log indicating all mileage and repairs during his ownership up to 1987 with 71000 miles at that time. I also have a stack of misc. receipts and repairs form the second owner. Description as follows:

Exterior:
* Original Fjord Blue car, recent repaint to 'BMW Individual' Atlantis Blue.
* Zender turbo style front fascia and fiberglass Euro style rear bumper.
* Turbo style trunk spoiler
* Flush fit Euro style front side markers
* Factory sunroof car
* New Enkei J speed 15 x 7 wheels mounted on Dunlop Direzza DZ 101 tires

Interior:
* Very clean interior, factory BMW Recaro bucker seats
* Hard to find Vintage Nardi Torino wood wheel with matching shift knob
* New salt and pepper style carpet, from Esty carpets, great fit and finish
* Original headliner, still presentable but shows some discoloration. Typical crack in dash.

Drivetrain:
* Prior owner indicated less than 5000 miles on rebuild, I pulled the valve cover and it is extremely clean.
* New Weber carb with electric choke 38/38
* Header with new rear center exit exhaust (sounds great)
* Battery relocate to trunk with rear strut brace
* New front brake calipers, rotors and pads
* 4 speed manual trans

To summarize, great looking and a real head turner. Good ownership history. Solid car, still retains the original jack assembly and tool bag. Nicely detailed trunk area and engine compartment. Great investment and a fun, easy to drive car. Please take the time to review all the pics and dont hesitate to call with further questions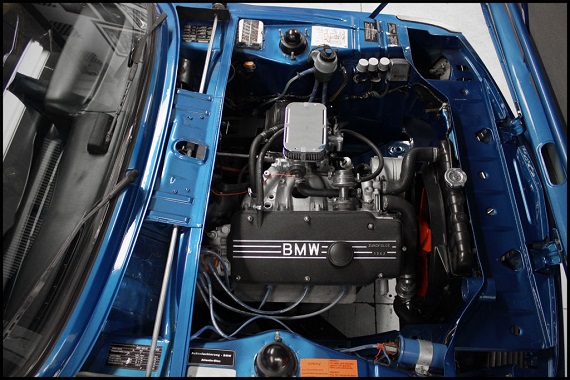 Obviously this 2002 has been a labor of love and there's a lot to like. The repaint seems to be very good quality from what's shown, and the interior and engine bay seem to be equally impressive. It's a claimed rust-free car that appears to be complete and has undergone some nice driver updates. However, there are two things that give me pause about this example; one is the Enkei wheels which really seem poorly matched to the shape and era of the '02. That could be pretty easily remedied with some Rota Panasport replicas or some refreshed BBS Mahle wheels. However, the second problem is that several items – including the color – have deviated from the original specification. Now, I don't think that hurts the overall aesthetic of the car – to the contrary, I think the look overall is great. However, presenting the car as a collector-status example now is an issue since the modifications mean it's far outside the norm. Perhaps that helps set it apart in the '02 world which increasingly is full of restored to original-spec examples, but I'd wager that it limits the market slightly. Personally were I looking for a really clean 2002, I'd have preferred this car in its original shade. As with the E92 story, perhaps this is a first-world problem; but as nice as this 2002 appears it's not the one I'd accept after having saved up.
-Carter