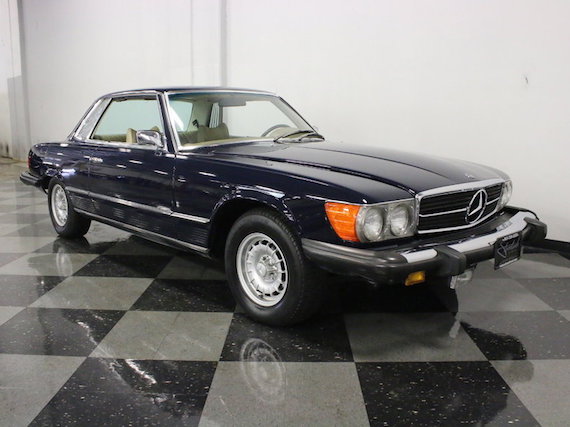 Produced between 1971 and 1981, the C107 was a fixed roof, four seater coupe based on a longer version of the R107 chassis. Badged as an SLC, it was effectively an SL in 2+2 configuration, with a modest amount of room in the back for a couple of (small) adults. The 4.5 liter V8 in the 450 put out a meagre 190 hp, so it wasn't all that fast. But it was, and remains, a gorgeous and classy cruiser whose looks neatly capture that moment at which the design language of the late 1960s began to give way to that of the 1970s. Even in elongated form, the car retains the timeless good looks of the SL. Those pleated, curtain-looking louvres behind the rear windows? I always thought they simply gave rear passengers a bit of privacy while also letting in some light. But a bit of internet research reveals they have another purpose. They allow for shorter rear windows that can slide downwards into the body without hitting a wheel arch. This means the car can retain a completely pillar-less look. A typically German solution to a problem: practical and elegant at the same time.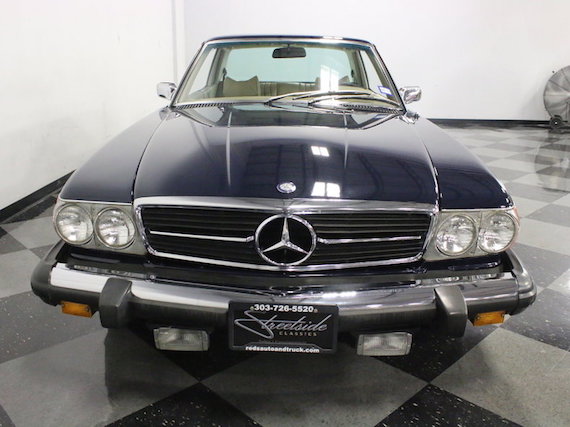 Year: 1974
Model: 450SLC
Engine: 4.5 liter V8
Transmission: 3-speed automatic
Mileage: 84,178 mi
Price: $12,995 or Best Offer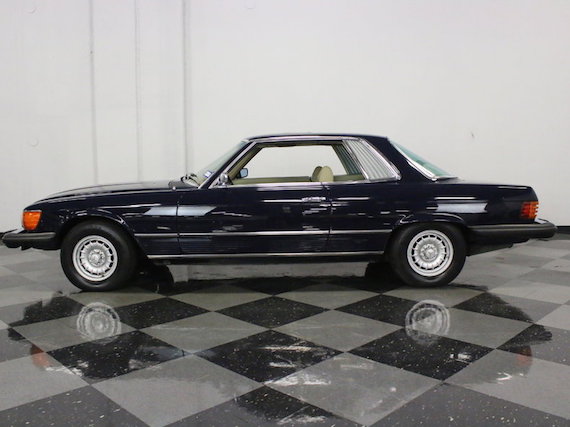 Everyone is familiar with the Mercedes SL roadsters of the 1970s and early '80s. But not everyone realizes that at the same time they were also building a hardtop 4-seater SL called the SLC. Built on a slightly longer wheelbase, these handsome coupes were luxurious sport-touring cars with admirable performance and typical Mercedes luxury.

The dark blue finish is sophisticated and entirely appropriate on the sleek 4-seater, and while the paint is showing only very minor signs of use, it still looks surprisingly good. There's a distinct lack of ornamentation, and the muscular shape seems stretched taut over the chassis for a classic look that will never go out of style. At a glance, it would be OK to mistake it for the smaller SL, but when you notice the cool quarter window treatment, the longer quarter panels, and wrap-around rear window, you quickly realize this is a horse of a different color. Standard US-spec bumpers are a familiar look, as are the ribbed taillights that defined Mercedes-Benz automobiles for a generation, but you can bet on a few double-takes whenever you take this big cruiser out for a spin. A bit of chrome here and there makes it look expensive, but it's not ostentatious, suggesting that the Germans knew how to make their cars look expensive without trying too hard. This car totally nails it.

The beautiful tan leather interior has obviously received some attention in the not too distant past, with attractive seat covers and a dash pad that really brighten up the driver's compartment. The condition of the carpets and door panels suggest that this car was nicely maintained all its life and there are now sisal mats on the floor that will make true Mercedes aficionados smile. That giant Mercedes steering wheel connects to a nicely weighted power steering system that makes this coupe track like a cruise missile at highly illegal speeds, and gauges are big, bold, and highly legible. Power windows, a sunroof, a 3-speed automatic transmission, and a factory Becker AM/FM stereo system make it a very comfortable place to spend some time. Even today, it would be a great daily driver that requires no sacrifices compared to a new car. There's also a decent back seat and a good-sized trunk with a full-sized spare, making this a great vehicle for long-distance, high-speed touring.

The 450SLC is powered by a single overhead cam 4.5-liter V8 making 222 horsepower and 278 pounds of torque, which were impressive figures in 1974. With Bosch fuel injection, the engine has a bubbly, friendly idle, and smooth power delivery that feels like the engine will pull forever. A dual exhaust system with a single muffler and resonator delivers a pleasant, muscular idle and a rich full-throttle growl that is perfectly appropriate to the sport/luxury mission of the SLC. The 4.5-liter engines are typically Mercedes reliable, and with a long production run, parts are still plentiful and easy to find and if you take care of it, it should run forever. Underneath, it's clean even though it remains completely unrestored, but you can see how nice it is just in the photos. Braking is via 4-wheel discs and it wears a set of Mercedes "pie crust" alloy wheels, which are perhaps the period's most distinctive look and they carry 205/70/14 Michelin radials all around.

These remain great-driving, fun, comfortable cars, even forty years later. If you're looking for something a little out-of-the-ordinary that can still be driven and enjoyed like a modern car, try this 450SLC on for size. Call today!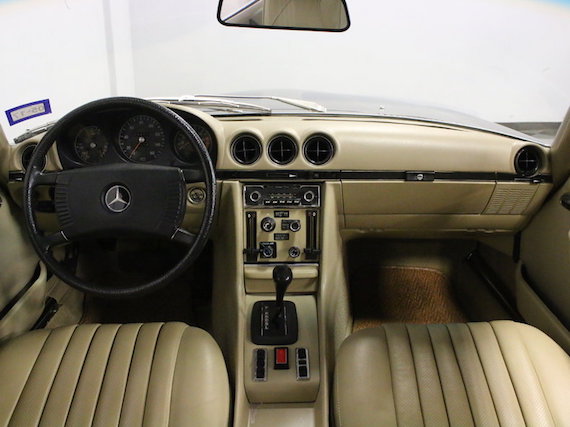 This particular example has only 84k miles on the odometer and presents wonderfully in what looks like midnight blue over a mushroom beige leather interior. The interior and exterior appear close to mint condition, though I'd like to see some more pictures in natural light to confirm this. The car rides on 14″ Bundt alloys, the interior appears well preserved, no problems with the electrical accessories are noted and the photos show a clean underside. A video clip in the auction shows the engine start and settle into a nice steady idle and authoritative hum.
The $13k asking price is a little on the high side; these SLCs tend to lag behind SLs in terms of desirability and therefore value. I think somewhere a bit closer to $10k would be a bit more reasonable, provided the car checks out in person.
– Craig