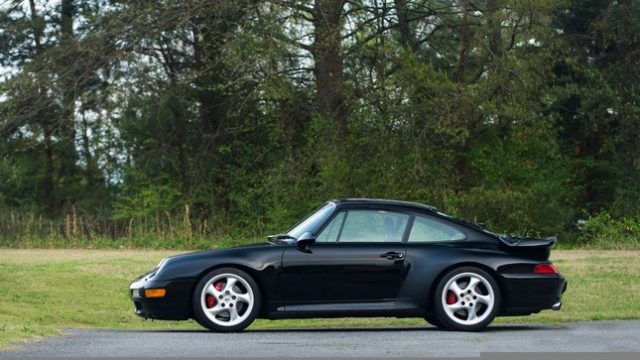 I don't see a 993TT very often. That is, on the streets, at least. I see them for sale all the time. A week or so ago I was sitting outside enjoying the weather and one drove by. I had forgotten just how stunning these cars could be in the flesh. There is a fluidity to their shape that is best seen when they are on the move. Pictures simply do not do them justice. I sometimes find the standard 993 to be almost boring, or too pretty (I will freely admit this is a stupid criticism), so I get pulled to the earlier 911s with more severe lines. That tends to apply to whether I see them in pictures or on the street. While the Turbo has never really fit within that criticism I have at times thought it was overly elegant compared with a 930.
I have now been returned to sanity.
Here we have a very nice example of these great machines: a Black 1996 Porsche 911 Turbo, located in Atlanta, with matching Black interior and 64,613 miles on it. Of particular interest among the options is a nice set of hard-back sport seats.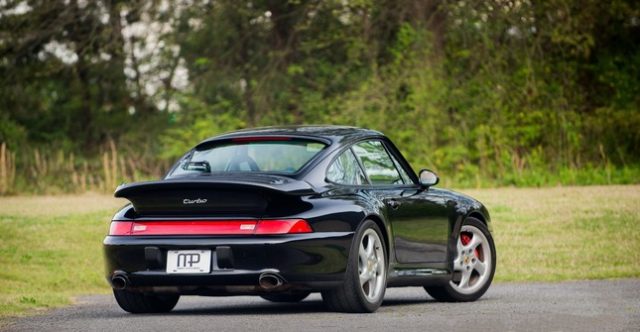 Year: 1996
Model: 911 Turbo
Engine: 3.6 liter twin-turbocharged flat-6
Transmission: 6-speed manual
Mileage: 64,613 mi
Price: $134,500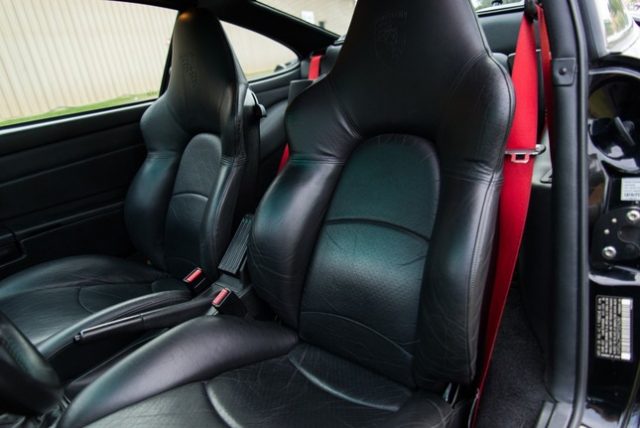 The 911, with the internal design number 993, remains the one true love for many Porsche purists. Being the fourth-generation 911 design and the last 911 equipped with an air-cooled engine, it embodies what many Porsche drivers consider to be the heart of Porsche.

The 993's integrated bumpers and pleasing design underscore the smooth elegance of its styling, including its new polyellipsoid headlights along with the beautifully sculpted curved flanks of the widebody. The 993 was produced from 1993-1998 and remains highly desirable today.

Launched in 1995, the exceptionally agile and powerful 911 Turbo set a range of new benchmarks in supercar performance. In a June 1995 review, Motor Trend magazine proclaimed, "To beat this Stuttgart screamer into submission requires a force no less wieldy than the million-dollar 627-horsepower V-12 McLaren F1."

As the last 911 Turbo to have an air-cooled engine, it offered maximum output of 400 hp from a 3.6 liter displacement engine, and featured a notable new "tray-table" fixed rear spoiler. With four fat wheels propelling the car forward, its 0-60 mph time registered a blistering 3.7 seconds, and 0-100 mph ticked by in 5.7 seconds, with the forward progression continuing until the speedometer crossed 180 mph. Beyond brutal acceleration and sheer speed, however, with its larger brakes, the turbo could stop from 60 mph in just 111 feet. It could also pull up to 1.00g on the skidpad.

Among the new features on the 993 Turbo was an electronically controlled viscous coupling all-wheel drive system – something Porsche had not offered on a turbocharged model since the 959 supercar, and a system that greatly improved the active safety and driving dynamics of the Turbo. Twin KKK K16 turbochargers, each featuring integrated wastegates and two charge-air intercoolers offered better response and a more linear power delivery.

As one of 1,297 examples shipped to the United States in 1996, the 911 Turbo represented the ultimate 911 variant in the Porsche model range.

This two-owner, shows 64,613 miles from when it was purchased new from a Porsche dealership in St. Petersburg, FL. The production completion date was 06/11/1996. Documentation for this spectacular Turbo includes all books, full and detailed service records and key sets. The car also comes with the original factory tools, tool bag, jack tools, tow hook, 12V air compressor and spare tire. The certificate of Authenticity from Porsche is also available.

The exterior is Black with a Black Full Leather interior. This car came ordered from the factory with substantial optional equipment including:

Seat Belts in Guards Red
Footwell Lighting
Digital Sound Package
5 Open CD Storage on Console
Porsche Floor Mats – Black
AM / FM Radio w/ CD Player
Gear Box Tunnel and Extended Center Console Covered in Leather
Racing Style Sport Seats w/ Electrical Height Adjustment – Driver's and Passenger Side
Heated Seats
Porsche Crest Stamped on Headrests
Door Sill Panels in Metal Embossed with Porsche insignia
Oval Stainless Steel Exhaust Pipes
Ornamental Rim Caps with Porsche Crest

The interior quality and in particular the leather seats and bolsters are exceptional, showing like new. All interior buttons and controls are pristine and fully functional.

The Carfax only shows one owner and was purchased Certified Pre Owned in summer of 2001 from Porsche North Orlando at 35,784. This 993 has been owned, carefully driven and maintained by a fastidious Porsche enthusiast. The service history is completely documented with all records. Below are a few service highlights with all normal maintenance attended to, a full detailed report can be provided:

37,190 miles – replaced fan belts, installed alternator pulley upgrade, cleaned throttle body
42,080 miles – replaced struts and suspension
48,000 miles – replaced Air conditioning evaporator
53,275 miles – New hybrid K16/20 Turbochargers installed, engine sealing
54,563 miles – replaced Flywheel Clutch Assembly
57,000 miles – replaced front/rear brakes rotors and pads
59,200 miles – replaced 4 tires
64,057 miles – oil and filter change, performed brake bleed and flush

It is a well documented 993 Twin Turbo that has been unusually cared for and naturally shows a clean vehicle history report. All records are up to date with a recent service.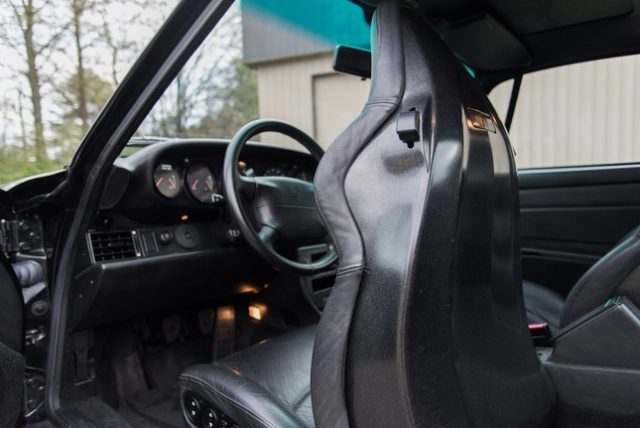 This 993 checks almost all of the boxes: the condition looks great inside and out, it comes with full documentation of its ownership and service history, and comes equipped with some nice options. Collectors probably would prefer a more unique color combination, though black always has its fans, and the mileage, while perfectly reasonable, isn't the sort of super-low mileage that really sets buyers' hearts aflutter. Those "flaws" should be to the benefit of most as this 993 can be driven and enjoyed.
So what about the price? At $134,500 it's priced somewhat high. Given the overall quality and level of documentation this 993TT should still garner some interest even at that price. I do think it'll have to come down some, though we've certainly seen plenty of 993 Turbos above this. Overall, though, the asking price is workable and this is a really nice looking example.
-Rob