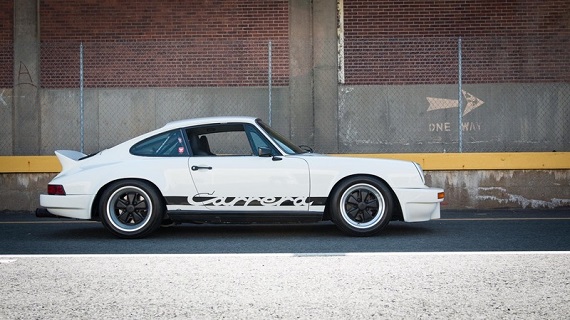 This one is fun. Not that the other cars we feature aren't fun, but there's a little more going on with this 911 to provoke levels of interest that may rise above the norm. What do you do when you build the follow-up to a fantastic car, but have decided not to ship that new model to one of your important markets? Well, for Porsche it meant making use of your racing prowess, and team associations, to undertake a conversion that would transform a standard car into something far greater. Following upon the success of the 1973 911 Carrera RS, Porsche continued to produce a mechanically similar version of that car for the 1974 model year that differed only from its predecessor in its redesigned impact bumpers. However, the US market never was intended to receive that car, but rather received a Carrera that used the standard 2.7 liter engine found in the 911 and 911S produced at that time. The two models are generally distinguished by their injection with the European version known as the 911 2.7 Carrera MFI for its use of the Bosch Mechanical Fuel Injection of the '73 Carrera RS and the US model referred to as the 2.7 Carrera CIS utilizing the Bosch Continuous Injection System that Porsche used on the 911 up until the introduction of the 3.2 Carrera in 1984. All of which brings us to the car we see here. It appears that an early example of the 2.7 Carrera CIS was sent to Peter Gregg of Brumos Racing where they converted the engine to the MFI set-up used in the European Carrera. Presumably later in its life, the interior and suspension of the car also received attention to leave us with this: a vintage 911 both lightened and lowered that possesses one of the most iconic 911 engines Porsche produced during that period.
Year: 1974
Model: 911 Carrera
Engine: 2.7 liter flat-6
Transmission: 5-speed manual
Mileage: 52,172 mi
Price: Reserve Auction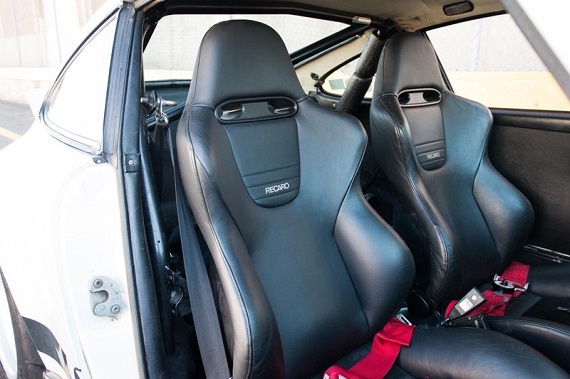 1974 MFI Eurospec RS 911 by Brumos Racing

I purchased the car about four years ago from a PCA instructor who sold it to me to fund his sailboat project. I purchased it because I was on the hunt for the ultimate drivers car. I was looking for no creature comforts, just something light, mechanical and well sorted. Good looking too. For the four years I've owned it, the car has been safely stored at Classic Car Club and was never subject to cold weather, street parking or rain. Same holds true for the car under the previous owners ownership. He would use the car on vintage PCA meet ups and otherwise, it was stored in his barn.

HISTORY

This 74 was among the first 911s of the year shipped to America. It was sent out early to be delivered to Peter Gregg of Brumos Racing. Gregg was a 24 Hours of Daytona and Sebring winner and Brumos founder. Gregg was a fan of the 73 RS cars. They continued to make these in 74 – same underpinnings and running gear, just on new body, but they did not make them for the US market. To overcome this, the Porsche factory sent this car to Gregg, and the Brumos Racing team did the EurospecRS MFI conversion to it. Peter Gregg drove the car for a year as his daily driver. I believe I'm the 4th owner, but am not sure about that. I'm selling it because my motorcycle fixation requires me to buy a pickup truck and it just feels like it's time for the car to have a new owner.

The conversion was done by Brumos to the specifications outlined by Porsche legend Bruce Anderson.

SPECS

The car is matching numbers. VIN 9114400034 2.7L MFI RS spec. Engine (number 901 106 101 5R) is fitted with RS cylinders and pistons. A rebuild was done by HC Motorsport in Florida prior to my purchase. It has gone through a serious weight reduction, has a five point harness, cage, adjustable recaro race seats, 17 inch Fuchs wheels, race cam, Fuel Safe fuel cell, Wevo shifter, lightened flywheel, oil cooler, Bilstein suspension by Musante Motorsports, RS bumpers, tunable Supertrapp exhaust, ducktail spoiler, vintage, period-correct Tag Heuer rally timer set up and fresh tires. The car has a low 52,172 original miles on it. A dyno run done just before I purchased it shows the car delivering 214bhp at the wheels.

IMAGES AND VIDEOS

a gallery of photos and the dyno sheet can be viewed here

Last week while giving the Supertrapps a fresh coat of heat resistant paint, we started it up without the cans – thought you might like to hear what that sounds like here.

Here it is running with a few other lightweights around Bear Mountain

Here's an in-car ride along from that same day

Me stretching her legs in an autocross event

A run to Caffiene and Carbs, where it always gets a lot of love

HIGHS AND LOWS

The car runs very well. I think the power to weight ratio is perfect for the car. It has enough power to be a lot of fun in the back roads and enough to get in trouble, but not enough to overwhelm the chassis. The steering is sublime with great turn in. The power comes on very nicely too. The mechanical fuel injector sends the fuel into the cylinder at more than 250 PSI. The throttle feel from that is glorious. The engine is bright and lively. At around, 5,500rpm, the cam kicks in and the power delivery gets more aggressive. The body has no rust that I've found.

It's very good looking too. The car has been featured on youtube.com/DRIVE, Bloomberg news for the 50th anniversary of the 911, Jalopnik, Club Racing News, Flatt magazine and PCA magazine.

Two of the valve seals are a little warn, so if the car sits for a month or so, it will blow a little oil. Second gear has a little crunch at certain RPMs. Both are relatively easy fixes and as the guy that drives it most, neither issue is much of a bother.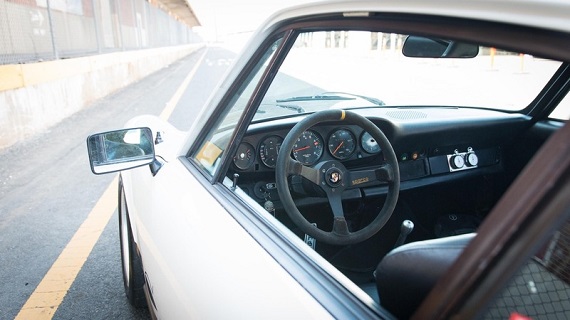 The one thing I don't like about this car is the seats. I really wish it had a pair of period-correct sports seats, rather than the more modern looking Recaros currently fitted. Otherwise, I love it. This is a difficult car to value, but purely from a coolness and performance standpoint I gather that this converted Carrera MFI offers serious potential. A true '74 Carrera 2.7 MFI is a very expensive car. They aren't in '73 Carrera RS territory, but good ones are priced in the $200K-$300K range. We even see the US market 2.7 Carrera priced above $100K from time to time, though those can be a tougher sell. Those prices, of course, are for original cars with low mileage and in very good condition. So what do we do when the originality is removed, but then factor in significant provenance? The price certainly will be lower, but figuring out just how much lower – and that doesn't even get to determining where the seller himself might set a reserve – probably relies a lot on the likelihood of the right buyer coming along. I think this could sell for a good bit of money, perhaps around the price we would normally see a US market 2.7 Carrera, though at the moment bidding remains pretty low at $45,000. For someone in search of a really interesting 911 that would make for an excellent driver, this definitely offers a unique opportunity. It's not likely to be inexpensive, but it will surely come in far under the price of the real thing, while offering an experience not far from the real thing.
-Rob