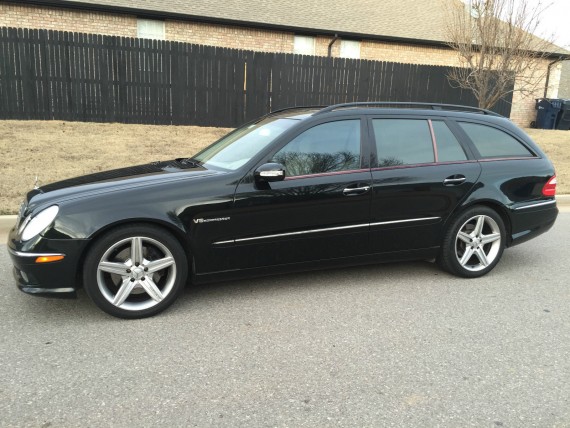 When I first came across this listing I thought I had found an E55 AMG Estate at an incredible bargain, but after reading through the details (and a heads up from out trusty editor in chief) I found that this car is in fact an E500 wearing big brother's name tag. I've seen E500 AMG Sports before but not ones doing a full on E55 impression. At first I was annoyed and was going to skip writing it up but then after thinking about the rarity of the Dark Green over Tan color way, the great sound of the AMG exhaust hooked up to any V8 and the low mileage, I decided this car deserves a helping hand in its search for a new home. The seller notes that it had  "very interesting prior ownership" and while that may sound ominous to some, I'm actually quite curious to know what it means. Maybe this was a Mercedes Benz exec's weekend warrior, maybe the previous owner was a celebrity or maybe the car belonged to Guy Fieri. Hard telling not knowing I suppose, though I highly doubt it was the last option, I don't think Dark Green is his color.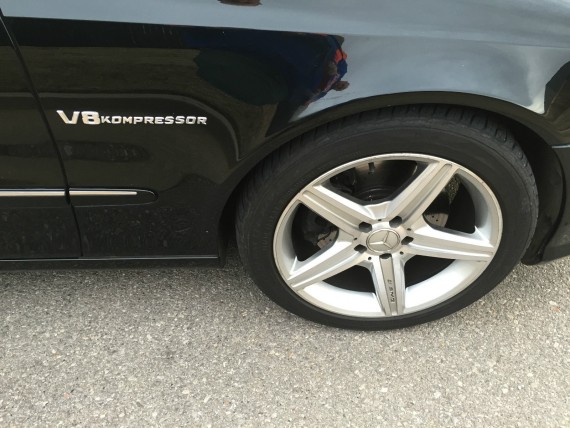 Year: 2005
Model: E500Â Estate
Engine: 5.0 liter V8
Transmission: 5-speed automatic
Mileage: 73,000 mi
Price: No reserve auction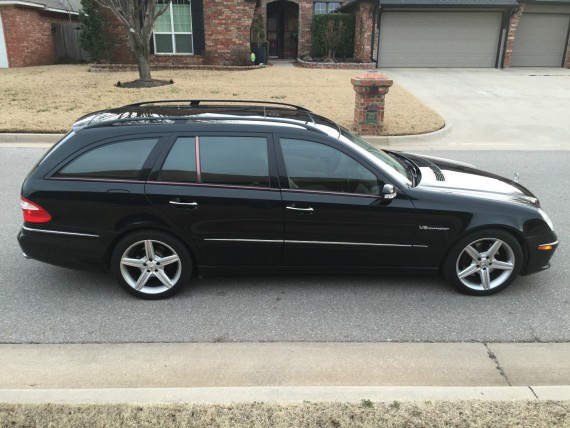 2005 Mercedes AMG Wagon. This is an E500 4 Matic, with AMG 18″ wheels, AMG exhaust, AMG Rear bumper, Updated front spoiler. Very Rare, Dark Green Metallic, looks black. Drilled rotors and more. 245/40 x 18″ tires, Heated seats, sunroof, Harmon Kardon stereo, Navigation, and I believe every option for that year. New complete Air suspension completed last year.$400.00 Coco Floor Mats. 73K low miles. Powerful and practical, Third row seating for two. Great looking. Very interesting prior ownership. Half the price and most of the power of a real E55 Wagon. Priced below Kelly bluebook not including all the tasteful upgrades. Please feel free to call with questions. 4053136894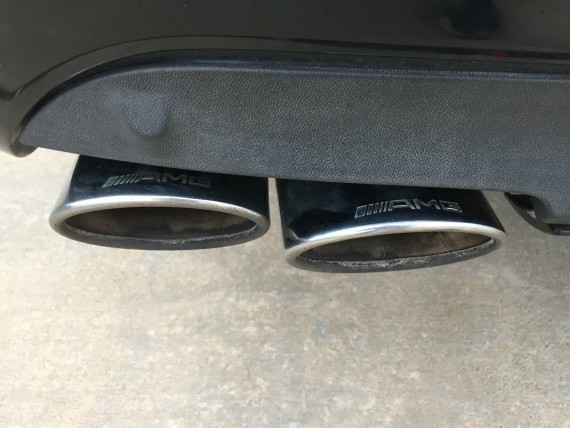 The overall aesthetic of this vehicle is what allows me to look past the incorrect badging and remain interested in it. If I were to take it home I'd be sure to remove the E55, AMG and V8 Kompressor bits because it's much better to have people guessing what you're driving rather than lying to them about it. The 5.0L V8 makes a respectable 302hp and 339 lb-ft of torque, not bad for a mid-aughts family hauler. Of course when compared to the numbers produced by the hand built AMG 5.4L supercharged V8 in the E55 estate, the E500 stats are far less attractive but hey, the fuel economy is marginally better.
This particular example appears to be in solid condition, some wear on the seats is visible but nothing that cries out for immediate attention. The seller notes the air suspension has already been replaced which is a major plus and he mentions a number of other tasteful upgrades but doesn't go into detail about them so I'd be sure to ask for receipts were I considering being the custodian for this vehicle. While this car is very attractive and a relatively good value with bidding currently at $13,500 I'd pass on it and keep squirreling away my dollars until the real deal AMG models depreciate a bit more. If I'm going to get myself into another V8 powered wagon with an automatic transmission, it's going to be as bonkers as they come and this car ain't that crazy. Comfortable yes, powerful, sort of, high performance destroyer of the tarmac, no.
Cheers,
-Andrew