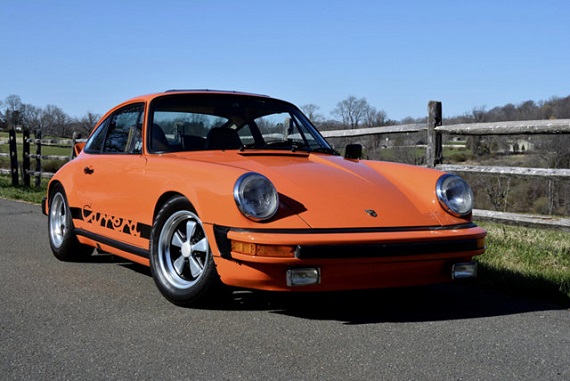 I will get this out of the way from the jump: it's unlikely I can do justice to this 911. I love the color combination and its overall appearance from the contrasting orange/black exterior to the ducktail to the contrast of the tan and black interior. The entire package fits my tastes particularly well and the more I look at it, the more I like it. I'm strongly attracted to orange cars, a color that certainly does not suit everyone. But when I first came across it I wasn't sold on the interior. I tend to prefer a black interior on an orange car, but I've turned 180 degrees from that initial impression and now prefer this over an all-black interior. It's vibrant, it's aggressive, it's got classic 911 lines. The model itself is a US-spec 1974 Porsche 911 Carrera 2.7 Coupe. Were this the European Carrera 2.7 featuring the MFI engine of the Carrera RS then we'd be looking at a seriously hot commodity. As it stands, the US model comes at a significantly lower price point, though the Carrera still commands a good deal more than a similar condition '74 911 or 911S.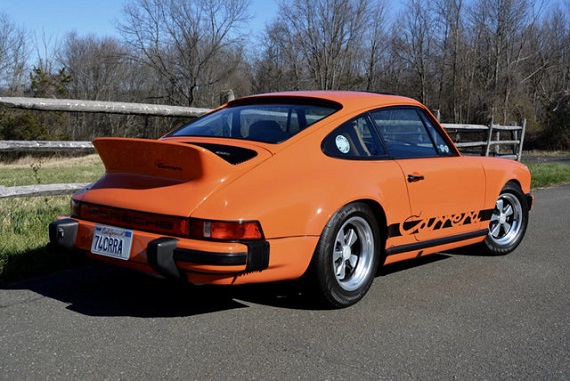 Year: 1974
Model: 911 Carrera 2.7
Engine: 2.7 liter flat-6
Transmission: 5-speed manual
Mileage: 66,245 mi
Price: Reserve Auction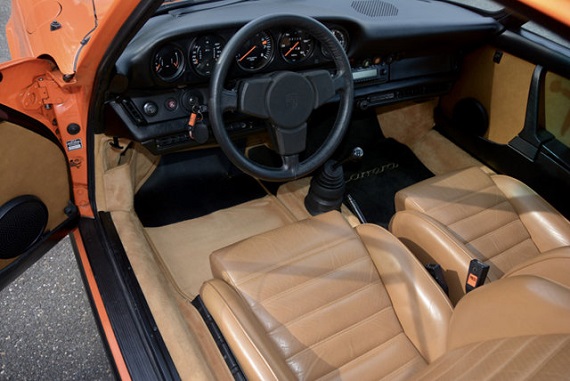 For more than a quarter of a century, Hunting Ridge Motors and Mark Starr have built a reputation as one of the country's premier new and pre-owned luxury and exotic automobile dealers. It began in 1980 when Mark began importing Mercedes Benz, Porsche, Ferrari and race cars from all over Europe, and has now expanded to include many other makes such as Land Rover, BMW, and Audi.

A proud and well respected member of the Lotus community, Hunting Ridge Motors has become one of the most respected performance car dealerships in the Northeast. The organization's reputation for providing quality vehicles and top- notch service is the reason why Hunting Ridge Motors continues to be at the forefront of the automotive enthusiast and collectors market.

You deserve only the best should not expect anything less. We promise to provide you with the best buying experience available. Feel free to call one of our sales associates with any questions. We are here to make your automotive dreams come true.

1974 Porsche 911 2.7 Carrera Coupe brilliantly finished in Orange with complimentary Tan leather Sport seats. Driven just 66k documented miles since new. Limited in production numbers, the 2.7 Carrera has become one of the most coveted of all 911's. This US version Carrera with CIS injection is finished in it's original Orange color and comes equipped with a factory electric sun roof, factory air conditioning, 7 and 8 inch wide Fuchs alloy wheels, power windows and factory Porsche classic Duck Tail spoiler.

The car has been lowered to European ride height specifications giving it an aggressive stance. Equipment also includes a sport exhaust and European H4 headlamps.

A spotless example that has spent the majority of it's pampered life is California. The dashboard, original carpets, seats and headliner are in as new condition. Upon a detailed examination of this car, it becomes apparent that it has been well cared for and has not been substantially altered from it's originally delivered specifications.

The engine bay is highly detailed and there are no apparent oil leaks. The front trunk area is immaculate and the car comes with it's complete original tool kit, jack and air compressor.

This unique Carrera provides a visceral driving experience that will please even the most discerning driver. The car is totally rattle free and drives as tight as the day it was delivered.

It is priced to sell! All serious inquiries should be directed to Mark Starr @ 914 217-4817.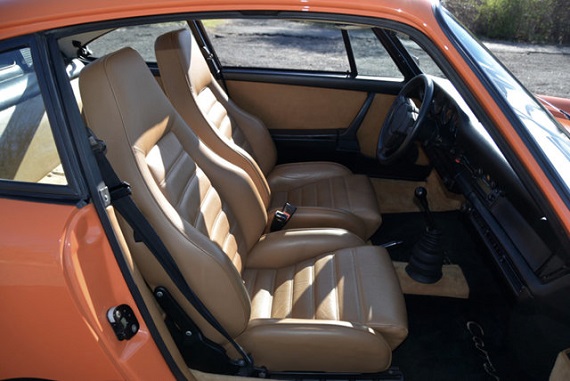 My love of the car aside, the value of these Carreras always perplexes me relative to their peers, but the market has shown a good deal of love for them so it is what it is. The current bidding of $79,900 has us a good distance from the seller's asking price so without a serious uptick in bidding action we can expect this auction to end without a sale. The seller claims the car's color combination is original, but documentation of that fact will be essential. It isn't presented here, but perhaps the seller will provide it for serious inquiries. It does look well cared for and mostly original. And then there is that orange exterior. I think it'll always be a tough sell, but for the right buyer should make for a prized addition to a Porsche collection.
-Rob