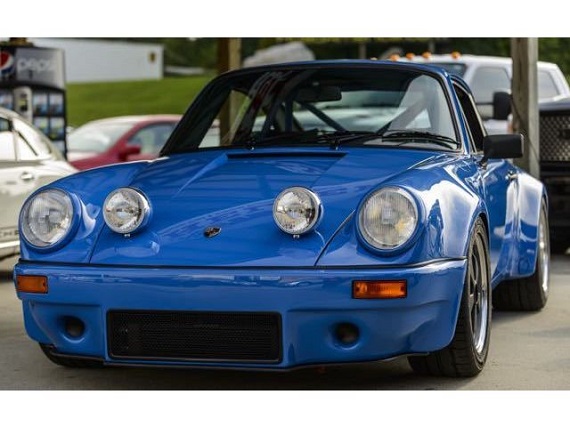 We've featured a few cars of similar intent to the one we see here and they are always difficult to gauge, but one of the persistent criticisms of those cars, especially considering the asking price many sellers seek, is that most of them have retained their stock drivetrain. Given the 911 market, there are cogent reasons for those build decisions as cosmetic details can be reverted to their stock configuration, whereas a car without its engine will never be wholly original again. One solution is to use a 911 with a relatively unloved drivetrain and replace it with something more desirable. This build followed that route utilizing a 1974 911S as its foundation and replacing its 2.7 liter flat-six with the 3.6 liter engine from a 993. Transmission, braking, and suspension received similar upgrades and the interior has been stripped and rebuilt with only the essentials leaving a spartan environment that appears bare but well sorted. With a reported 2550 lb weight this is sure to be screamer and for the well-heeled might make for a very interesting track car.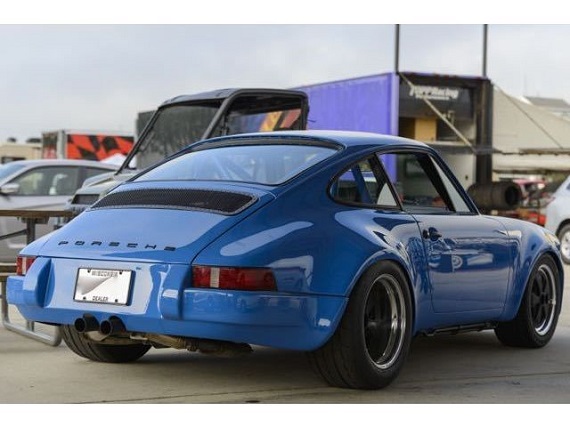 Year: 1974
Model: 911S
Engine: 3.6 liter flat-6
Transmission: 5-speed manual
Mileage: not listed
Price: $136,000 Buy It Now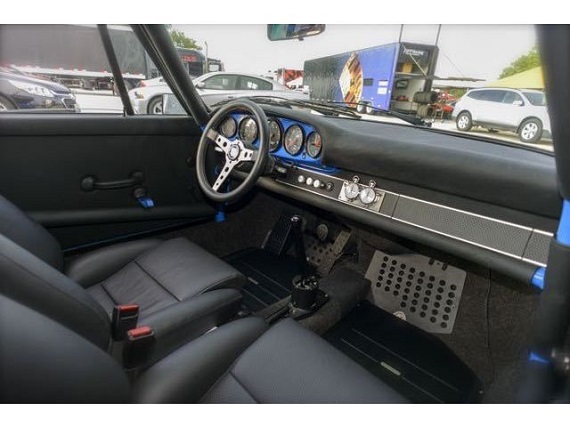 This is a great previously owned vehicle.This is a smoke-free automobile.There is no damage evident on this vehicle.This is a garage kept vehicle.The engine on this vehicle is running properly.This vehicle has no known defects.The exterior of this vehicle is extra clean.Extra clean interior. Absolutely no rips, odors or abuse.There is a set of brand new tires on this vehicle.There are no signs of prior damage on this vehicle.There are no noticeable dings on the exterior of this vehicle.This vehicle has a smooth shifting transmission.All power equipment is functioning properly.If you have any questions about this or any of my other auctions please feel free to contact me via e-mail or you can call me at (608) 354-6787. Thank you for your interest and I look forward to hearing from you.

1974 Porsche 911 Light Weight Outlaw Has appeared in Total 911, and European car Magazine, and then we put double to work into it, after those articles. Making what we believe is the nicest retro-mod Light Weight Outlaw on the planet!

Interior

Rennline adjustable pedal set, track mats, floorboards, shift knob, e-brake handle, shift linkage cover, quick-disconnect steering wheel, firewall block-off plate, heater motor cover, smuggler box cover, door lock pins, lower dash, flocked upper dash, RS door cards and pulls, Status carbon/kevlar seats, custom brackets, Momo Portotipo steering wheel, OMP steering wheel hub

Engine

3.6-liter six-cylinder (993) with 1 5/8″ headers, custom Magnaflow exhaust, MSD Ignition, Clewett plug wires, Rennline alternator strap, stainless engine brace and solid engine mounts

Brakes

993 four-piston calipers f&r, 993 304mm f rotors, 930 304mm r rotors, modified hubs and adapters

Suspension

Bilstein struts, Turbo tie rods, raised and gusseted front spindles, Sanders 23mm front and 32mm rear torsion bars, Polygraphite torsion bar bushings, Tarett Engineering drop links and sway bars, Rennline rear trailing arm, monoballs and steering rack spacers

Exterior

steel widebody, non-sunroof welded roof, IROC bumpers, Getty ducktail spoiler, shaved jack points, washer nozzles and badge, custom front brake ducts through tub, resprayed Porsche Arrow Blue

Coach Works

– All steal wide body non-sunroof coupe
– Media blasted and finished in Arrow blue base and clear coat
– Shaved jack points, washer nozzles and antenna
– Accumoto lightweight custom rear and front bumpers
– Accumoto custom aluminum and stainless steel rear deck lid and front bumper grills.
– Integrated front brake cooling ducts and Elephant oil cooler
– Accumoto polamer front splitter
– Cibie driving lights

Chassis
– 10 point cage (body colored)
– A and B pillar gussets
– Reinforced rear shock towers
– Raised and reinforced front spindle mounts
– Front camber boxes
Suspension and Brakes
– Tarrett front and rear sway bars and drop links
– Polygraphite bushings
– Bilstein struts
– Turbo ti rods
– Sanders 23mm front and 32mm rear torsion bars
– Rennline rear trailing arms, monoballs and steering rack spacers
– 23mm master cylinder
– 993 big red brakes (4 corners)

Wheels and Tires
– Rear
– Accumoto 911, 10×16, 3 piece wheels
– 275/45 R16 tires
– Front
– Accumoto 91, 8×16, 3 piece wheels
– 245/45 R16 tires
– Engine and Transmission Axle
– 3.6 ltr 993 air cooled
– Performance E.C.U. chip
– Custom stainless steel headers and exhaust
– 993 stainless steel caps heater boxes
– Sachs lt. wt. clutch pack
– 5 speed magnesium case transmission
– G-50 limited slip differential
– Carrera axles
– Wevo shift gate

MoreInterior
– Accumoto leather dash (with ashtray and radio delete) and leather basket weave lower dash panel
– Custom leather door card pulls and roll bar pads
– Accumoto custom leathers seats with basket weave inserts
– Power door windows
– Momo prototype steering wheel
– Wevo shifter
– Dynomat sound insulation
– German charcoal loop lt. wt. carpet
– Rennline adjustable pedal set, floor boards and track mats (custom colored)
– Push button start and custom dash knobs
– Porsche Hanhart shockproof Stopwatches
– Front bonnet smuggler box and heater covers in leather

Misc.
– All new seals
– Hardware powder coated, anodized or zinc coated

– 2550 lbs soaking wet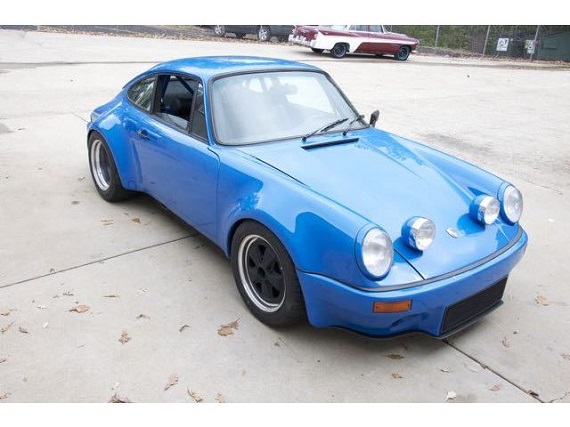 Like with most of these builds value is very much in the eye of the beholder. The asking price is very high, but at least in this case we can surmise that the replication of such a build would likely exceed the price being asked. It goes without saying that a car like this is not for everybody, in fact it probably will have little appeal to the vast majority of 911 owners. But for those immersed in 911-Outlaw culture, or who simply desire a 911 that is outside the norm, these sorts of builds at the very least provide an alternative, even if they do come at a very steep price.
-Rob