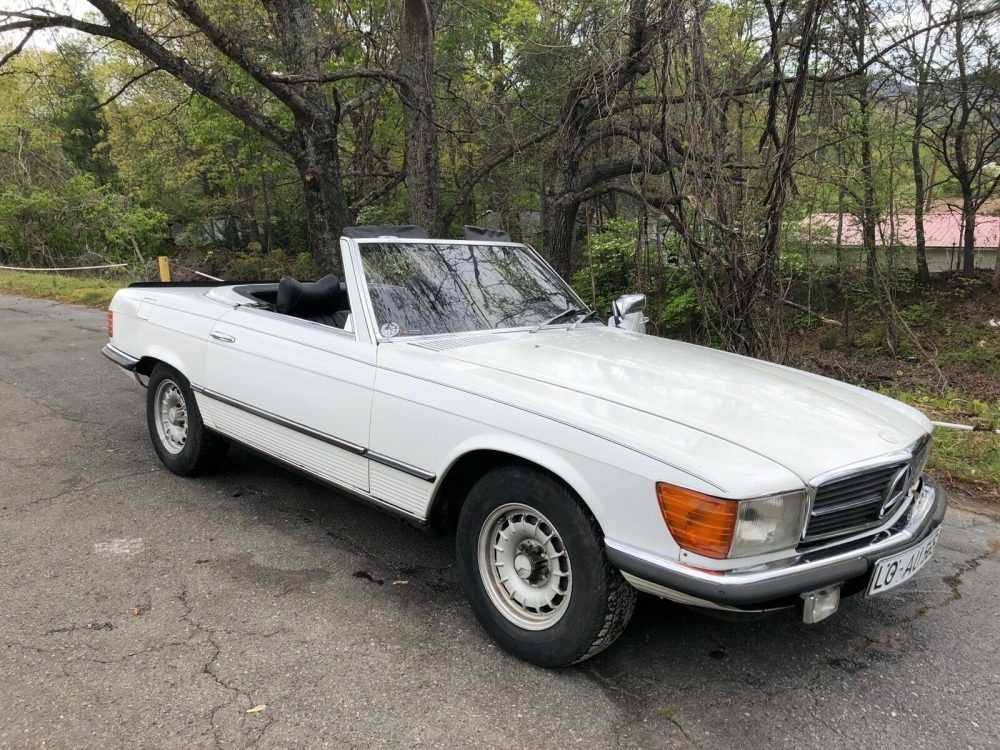 At some point, you have to throw in the towel. A car that gets too far gone and well past the point of mathematical sense to fix, or try to dish it off as a parts car. Ideally, you are never faced with the situation, but when you are, you probably have to take a real hard look from an outside perspective. I think today's car, a 1975 Mercedes-Benz 280SL, is one of those situations.
This is admittedly a rare Euro car with the slim bumpers, nice headlights, and M110 inline-six engine. Other than that, it is a typical R107 that there are more than plenty out there at every price level. The problem is, the condition is not good – not good at all. Is it worth saving?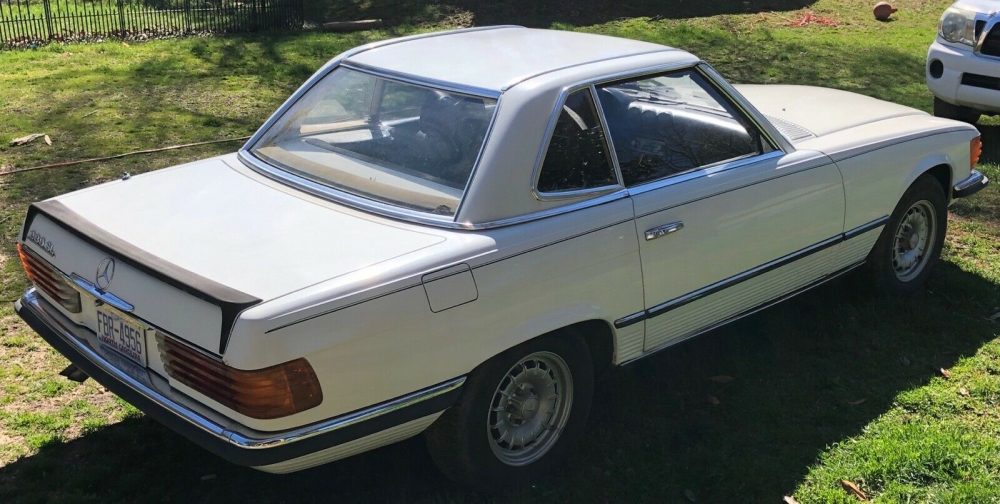 Year: 1975
Model: 280SL
VIN: 11102112055423
Engine: 2.8 liter inline-6
Transmission: 4-speed automatic
Mileage: 158,500 mi
Location: Black Mountain, North Carolina
Price: $12,800 Buy It Now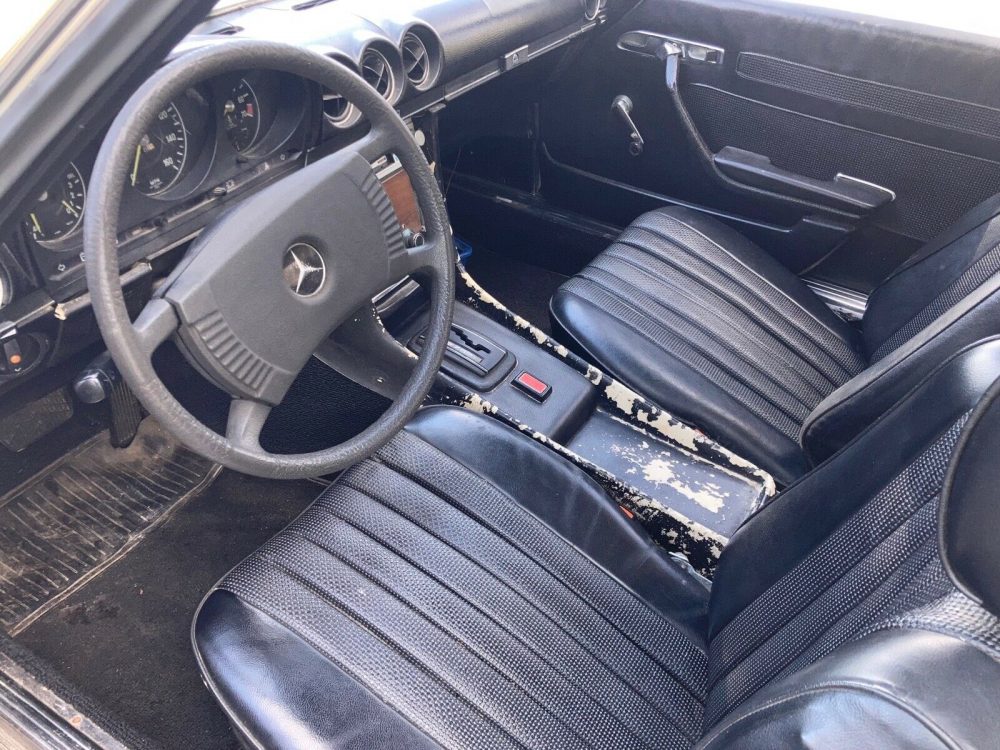 1975 Mercedes Benz 280 SL. This is a gray market Mercedes. It was brought from Germany to the US in the late 1970s. Mechanically: gas engine, automatic transmission. The car drives as it should and is driven several times a week. It has new shocks, new tires, and plug cables. It is consistently maintained to remain road worthy.

Cosmetically: please look closely at the pictures. A few rust areas and a couple of dings. It had the removable hardtop which is pictured. It also has the ragtop which is used in warmer months. Convertible. Apparently the car was originally brown as you can determine from paint flaking off in the door jam

I have owned the car for over 5 years and am the third owner. I am selling because it is not driven enough to warrant keeping it. In addition, I don't wish to have it restored.

I have described this to the best of my knowledge. Will be happy to provide the name of the Mercedes mechanic who has maintained this car. It is a 47 year old car. It runs and it looks ok, but there are things that could be done to improve it cosmetically and mechanically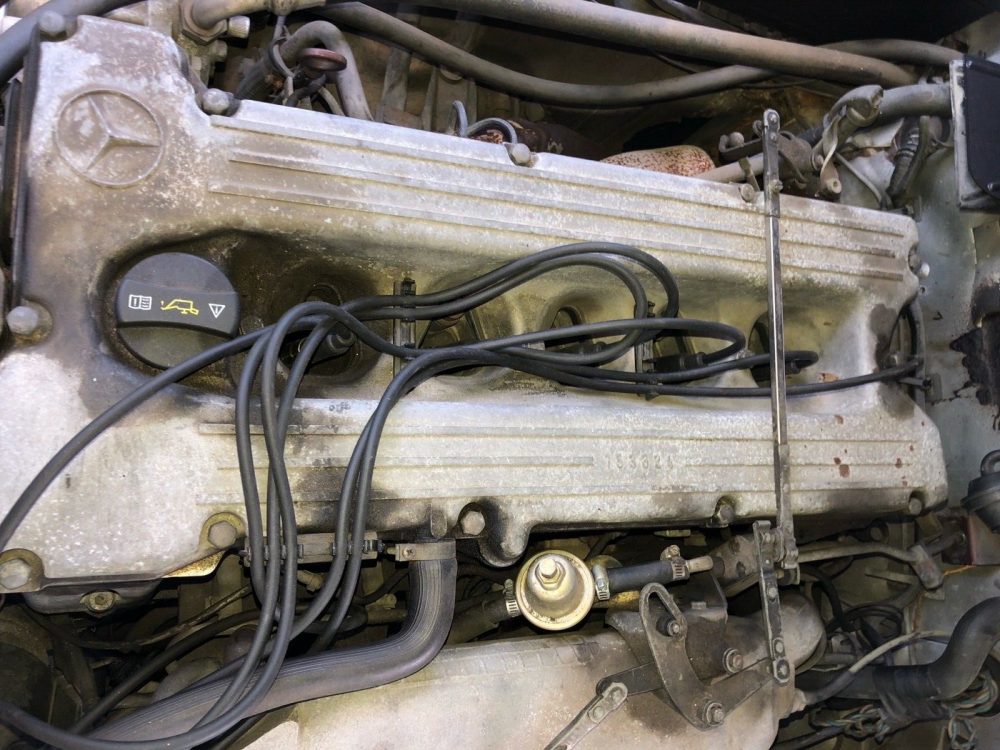 While it might run and drive, cosmetically this car is a mess. The rock panels are totally rusted and jack points blown out. There is a giant dent in the rear quarter panel. Rust bubbles are too many to count. And to top it off, there is no mention of the soft top. I am going to assume it is not good. Inside it's not much better. Someone tried to paint the center console previously and it is peeling rapidly. The dashboard is totally trashed with cracks and splits, and for some reason, the door jams are peeling to show some other color. Add all of this up to remedy and you are quickly into five-figures. Here is where the math comes in.
The seller is asking for nearly $13,000. You can buy a decently nice Euro 280SL in the US for $20,000. See the problem here? There is no glory in driving around in disrepair. This isn't "patina" from vintage SCCA racing or gentle wear from single-family ownership. This is dirt and rust from neglect. That is fine, as long as you are realistic about your value. $13,000 isn't really realistic for this car in my opinion. It likely won't pass a mechanical inspection in most places. The value here is a supposedly good running engine, the headlights, and bumpers. Everyone else can be found cheaper and in nicer condition. I have a prediction this one will sit for a while.
– Andrew