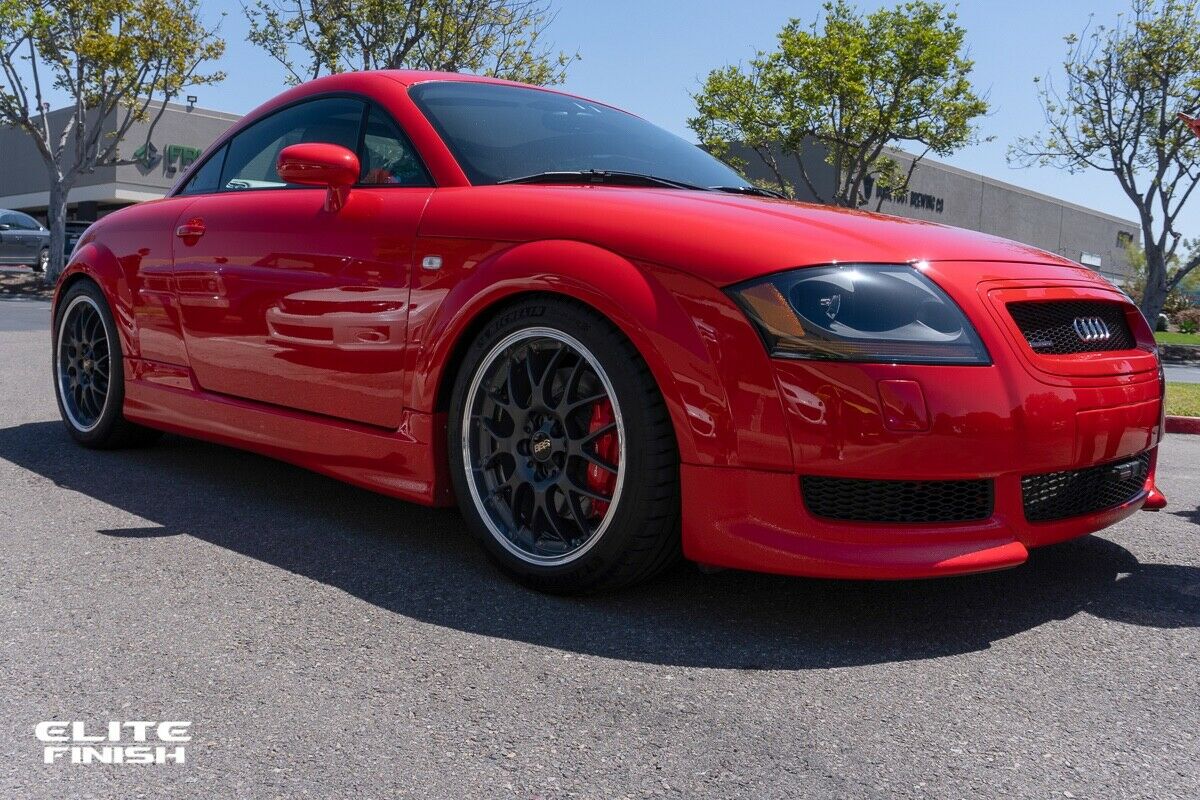 Back in November, I took a look at one of the more slick 8Ns out there – the ALMS Edition:
Today we're back with a similar model, but this one has been turned up quite a few notches with some high-dollar parts from a veritable who's who in the Audi/VW tuning realm. Does it retain the great aspects of the original?
Year: 2002
Model: TT Coupe 225 Quattro ALMS Edition
VIN: TRUWT28NX21026248
Engine: 1.8 liter turbocharged inline-4
Transmission: 6-speed manual
Mileage: 96,000 mi
Location: San Diego, California
Price: No reserve auction (sort of…)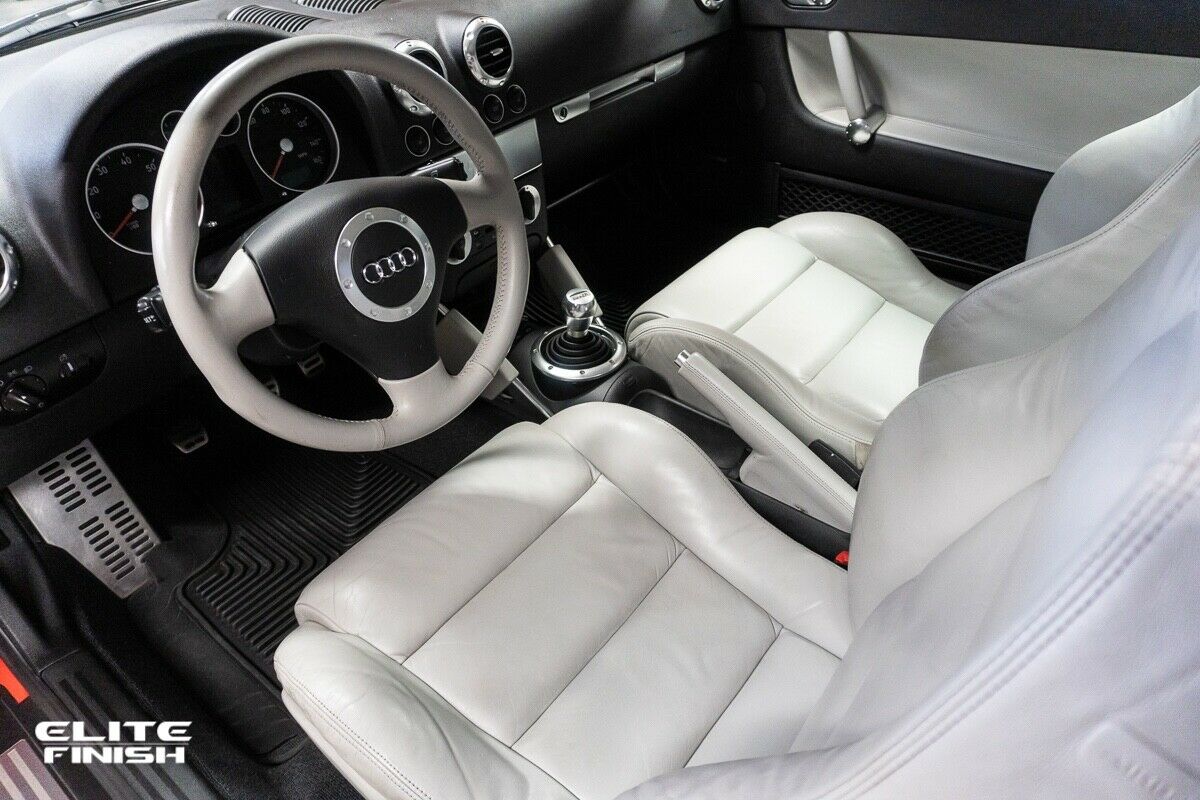 If you are looking at this auction, then you know this is not an ordinary Audi TT Mk1.
True Audi aficionados will appreciate the value of this period correct, one-of-a-kind, collectible 2002 Special Edition ALMS.

This ALMS was equipped with Misano Red with Nappa Silver Leather Interior (1000 total ALMS in the USA, 500 red, 500 grey). The body is finished in Misano Red Pearl Effect and features a rear spoiler, xenon headlights, an aluminum fuel filler lid, power-adjustable heated side mirrors, and dual exhaust outlets. The seats are upholstered in silver Nappa leather, which extends to the door panels, center console, shifter, and handbrake lever. Equipment includes heated front seats, automatic climate control, cruise control, and a factory CD stereo with Bose premium sound and a six-disc CD changer. The silver leather-wrapped steering wheel frames a tachometer with a 6,600-rpm redline, a 160-mph speedometer, a digital display, and auxiliary gauges for coolant temperature and fuel level. Very low miles with only a average of 4,800 miles per year! Original configuration of the turbocharged and intercooled 1.8-liter inline-four was factory rated at 225 horsepower and 207 lb-ft of torque. It has never been dynoed, but I would guess its somewhere around 250 whp. At present the in-vent boost gauge shows between 15-20 pounds of peak boost compared to the stock boost of 8-10 pounds. The car is equipped with four-wheel disc brakes and electronic stability control. Power is delivered to all four wheels via a six-speed manual transaxle, an electronically-controlled center differential, and Quattro all-wheel drive.

In preparation for sale the car has undergone extensive and expensive freshening. Receipts available for inspection document all of the following work:

1) Exterior and interior detail by Elite Detail including a perfectly matched front end repaint including the hood to eliminate bumper paint stone chips. The front lower bumper is now covered with clear protective film. Calipers repainted. BBS wheels disassembled, centers repainted, rims polished. Full detail inside and out. Cost over $8,000. See photos. This car attracts attention and compliments everywhere it goes. People frequently ask if it is a new car. Everyone agrees it looks incredible.

2) Turbo replacement with rebuilt OEM unit by SV Motorsport. Cost over $5,000

3) Full major service including timing belt, tensioner, water pump, and Haldex fluid flush and refill By Secor Automotive. Cost over $2,000

4) Custom headliner replacement to match the Nappa Silver interior (see photos ). Cost over $500.

Please see below for the modification upgrade and option List

Engine Work and Suspension:
APR Stainless Catback Exhaust (Audi Performance Racing)
APR Stage II Chip w/2nd Program (Audi Performance Racing)
Forge Motorsport TT 225 HP Front Mount Intercooler
Dahlback Racing Custom Manifold
Stoptech Audi TT Big Brake Upgrade
Koni Shocks (lowered 1.5 inches)
Neuspeed TT Springs
Cold Air Intake
K & N Filter Upgrade
Evo Heatshield
B & M Short Throw Shifter
HT 3.2 mm Silicone Vac Hose
Samco Hose Kit (6 piece)
Replace Mass Airflow Sensor
Awe Tuning Turbo Boost Gauge
N75 ECS Tuning waste gate
Dahlback 1.8T Open Kit
Dahlback Racing Diverter Valve
Cold Side DV Relocation Kit

Body Work:
Reiger Tuning Side Skirts
JE Design Front Spoiler Air Dams
JE Design Sport Grill
Mattig Rear Window Valance
Osir Design Rear Spoiler

Wheels and Tires:
18″ x 8″ BBS 2-piece Wheels
18″ Koni Tires
14 x 1.5mm Cone Seat Lug Nuts
H & R 12mm Spacer Kit w/Ball Seat Bolts

Other Options:
K-40 Front/Back Radar Detector w/ Radar Blocker (twin LEDs built into dash)
All Weather Deep Dish Black Mats
Trunk Liner

Original upgrades exceeded $25,000, not to mention the recent services listed above that add up to $15,000. Simply put, you will not be able to find another Mk1 TT like this in the world in terms of cosmetics, modifications, and mechanical excellence.

I have owned this car for over a dozen years and have enjoyed it immensely. I simply have too many vehicles and need to consolidate. This car is NOT a museum piece, but intended to be driven and enjoyed. Trust me when I tell you there is no doubt that the buyer WILL enjoy this beautiful and rare example. Happy to answer questions through eBay messaging and will post relevant questions/answers on the listing. A low mileage ALMS recently sold on BaT for over $40K. A Google search for "Audi TT collectible" will show you multiple weblinks to sites explaining the future desirability of the Mk1 TT. The starting bid price may seem high but if you do your research you will understand this is a reasonable ask, if not undervalued for what is being offered. In person evaluation welcome for SERIOUS buyers. Thanks!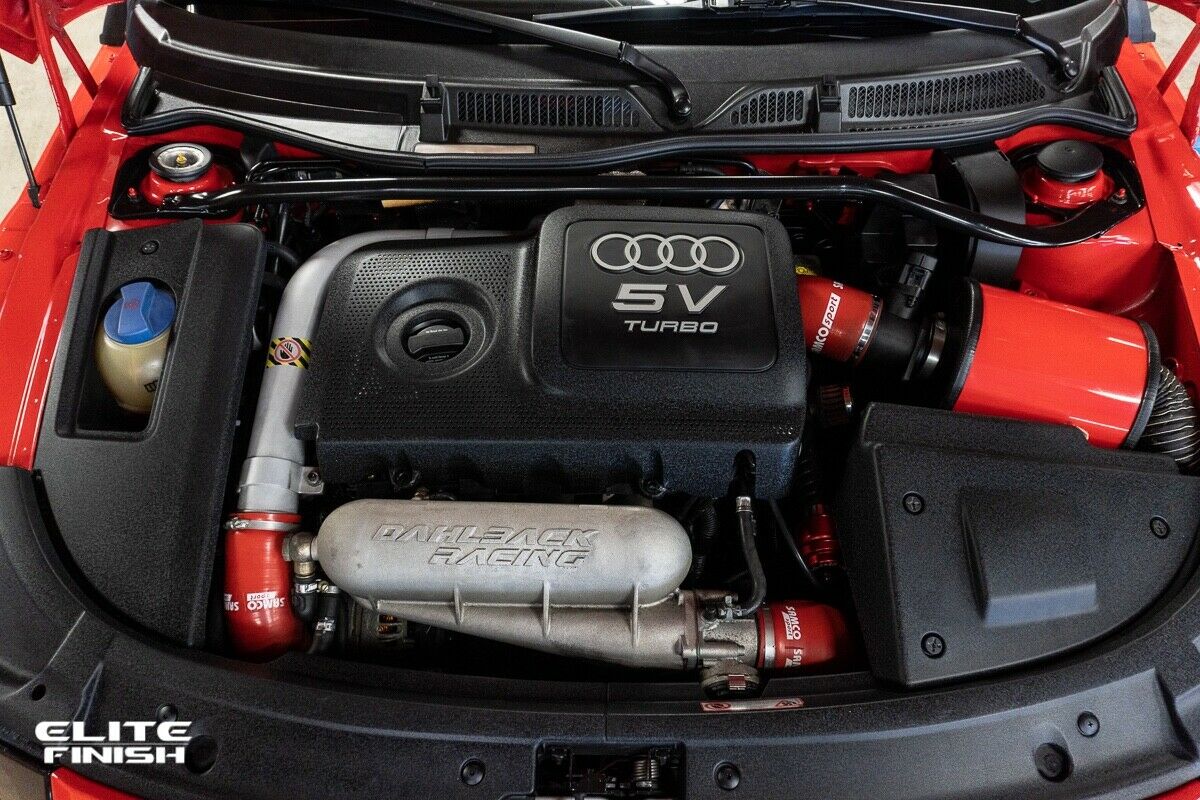 Boy, it really feels like there weren't too many more period pieces that you could throw at this car, and most of them are quite desirable. Do they pull together well? Well, I really do like the BBS design on the car, which makes it look much more sophisticated. To me the body pieces mostly go the other direction; they don't really add to the clean looks of the 8N. The engine and suspension mods are all pretty good bits, and they really should make it scoot. The detailing work that was done sure does make this car look a lot newer than it is (how is it almost old enough to legally drink already!), and the mechanical work should provide a reasonably trouble-free introduction to your – gulp – near antique Audi. The seller is asking for a $21,500 opening bid, which is a little over double the price that the ALMS I looked at in November sold for. Which would I rather have? Probably the lower-mileage one in its original configuration. The TT isn't a Porsche, so making it go faster seems to be not necessarily the best plan. It's a fun and funky-looking coupe. Just enjoy it for what it is!
-Carter