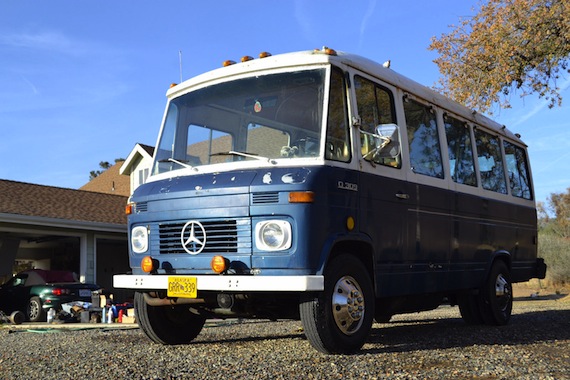 Here's a new one to add to my growing list of possible vehicles for when I forsake this overly-busy life and decide to strike out on the open road indefinitely. Someone in Alaska has apparently already done it in this car, but was of the (proper) mindset that big repair bills would were just part of keeping it in great running order. That doesn't mean beautiful – this proto-Sprinter O309D has a few blemishes and some needs – but the right care has been to taken to keep it ready for what I see it as made for: living in and covering tons of miles. It won't get there fast with a terminal velocity of 65 mph, but it returns an alleged 24 mpg on average from the 3.8l turbodiesel 4-cylinder, which is insane for a vehicle of this size. With Westfalias commanding insane multiples of $10k, this is priced right for someone to start/make/restart a life in.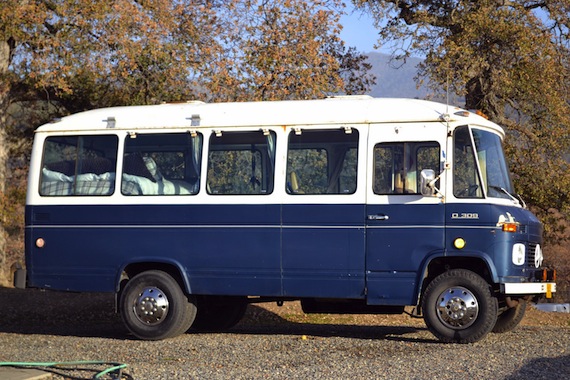 Year: 1975
Model: O309D
Engine: 3.8 liter turbocharged inline-4 diesel
Transmission: 5-speed manual with 3-speed secondary
Mileage: 91,960 mi
Price: $14,950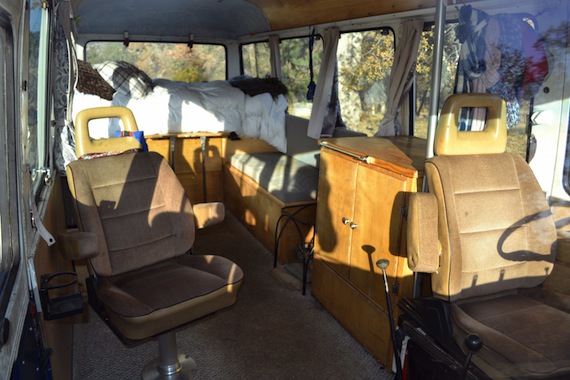 You are looking at one of the rarest mini buses found on the roads in the United States today, and it is safe to say you probably have not seen one of these on the road. Not only is this bus an outstanding piece of history, but it is also very functional for all different purposes. These buses hit the market in 1967 with a life span of almost 20 years (the last one produced was in late 1986). Today, it is very hard to even find pieces of these buses left, let alone a complete bus, and one that runs and drives. This is a fully functioning piece of history that has been babied since day one, and it shows. They are commonly found on the west coast because the city of San Diego, CA ordered a massive amount of them for city transportation. They were only used for a short period of time because of the then, less commonly sought after four cylinder diesel motor; if only they knew how highly sought after this motor would become.

There is no need for me to explain how rare this bus is, because if you are reading this listing, you already know. The list of things this bus could be used for is literally never ending. You could completely restore it making it hard to even put a price on this bus. You could drive it exactly as it sits for hundreds of thousands of miles. You could build whatever type of vehicle you would like out of it be it a fully self contained motor home/RV, party bus, stationary living facility, and so on. If you are trying to compare this bus to something such as the Volkswagen Westfalia or the more common Allegro motor home, you might as well stop reading here. This is one of a kind. They do not get better than this! If your mind is not already fantasizing about the endless adventures you could take in this bus, it should be.

The absolute best part about this bus is its originality and personality. The exterior of this bus screams "original!" The blue and white are what make this bus stand out. If anyone knows these buses, they know this color scheme. You find buses all over the road that have been highly modified taking away from its original character, but not this one. From the massive Mercedes emblem on the front of the bus to the round taillights mounted flush on the rear of the bus, it says "1975" all over it.

This is NOT a show bus nor has it been restored, although, it has had several thousand dollars invested just in maintenance alone. Oh yeah, and ALL those maintenance records for the last 13 years are included (with some receipts totaling over $11,000 per visit just to keep this bus in perfect running condition).

With that said, below you will find an abbreviated (yet still rather long) list of what makes this 1975 Mercedes Mini Bus such a great vehicle:

THE GOOD:
– 1975 Mercedes O 309 D MB (Mini Bus)
– VIN: 3093821002525252
– Engine: Industrial 3.8L 4 Cylinder Turbo Diesel (the turbo is not a factory option but is a factory Mercedes part)
– Mileage: 91,960
– Transmission: 5 speed manual with 3 speed secondary transmission (the secondary transmission is not a factory option but is a factory Mercedes part)
– Wet and dry air filters
– 13 years of service and maintenance records included
– Many different gear configurations and options for every type of weather condition and terrain imaginable.
– 3 ton pay load
– Great in the city or open country
– Loves to climb hills and mountains
– Lots of power
– Would have absolutely no problem pulling a trailer
– Fuel Filters: Inline glass bowl site filter, primary and secondary Baldwin filters
– Averages around 24 miles per gallon
– Top speed is approximately 65 miles per hour
– Dually rear end (four tires in the rear)
– Tires are in good shape with ¾ tread remaining
– Tires are bias ply
– Wheels are steel Mercedes wheels
– 7.50" x 16" (wheels and tires)
– New Mercedes steel wheel spare
– New 4-way heavy duty lug wrench included
– Roof: Welded three seam with two emergency exit hatches (currently not operable). Insulated and form fit wood
– Windows: Driver and passenger half sliding glass. Rear includes six gull wing removable windows. Far rear has two half sliding windows (currently not sliding)
– Seating: Front driver and passenger captain's chairs. Padded rear bench seats with optimal storage compartments underneath.
– There is a slide out table from underneath the bed that slides between the bench seats
– Full size bed with storage compartments underneath. (7'x3'x4')(accessible from inside as well as the two rear exterior doors)
– Stainless Steel motor home/RV 2 burner propane stove and oven with on-board propane tank and professionally installed lines
– 3 way for heater or another type of propane accessory
– Carpet flooring
– LED interior lighting
– 110v battery charger
– Set up for inverter (inverter not included) wiring panel for interior and exterior accessories
– Custom 4×4 ¼ inch steel wall bumper (original chrome bumper is included)
– Two BRAND NEW 850cca batteries (NAPA warranty included)
– BRAND NEW KYB shocks all the way around
– Original Mercedes horn (sounds awesome and shows it's character)
– CB Antenna (CB is included but not yet installed)
– All headlights, taillights, turn signals, marker lights, and accessory lights are in great working order
– Oil pressure gauge works as it should
– Temperature gauge works as it should and has been checked with a laser thermometer
– Frame and under body are all in very good condition with little to no rust
– GVWR: 10,580
– Front: 3,970
– Rear: 7,275
– Model: O 309 D
– Air assist brakes with chuck for air hose off air tank and PSI gauge
– Start pilot
– The following are some of the bigger items (would take pages for everything) that have been replaced with FACTORY OEM GENUINE Mercedes parts: Front brake lines, wheel cylinders, starter, master cylinder, exhaust manifold and gaskets, clutch, slave cylinder, steering system, oil pan, rear main seal, transmission input seal, throw out bearing, pilot bearing, clutch disc, clutch pressure plate, dust cover, side cover gasket, valve cover gasket, air intake system, leaf spring bushings, input seal, all u-joints, rubber spring stops, turn signal assembly, all fuel injectors (with o-rings, gaskets, and line clips), heater fan, dash lights, coolant system, fuel tank, belts, hoses, and much more.

THE BAD:
– The speedometer and pyrometer are currently not working
– Pyrometer fitting is leaking oil
– Leaks (does not burn/use) about ½ quart of oil every 1,000 – 1,500 miles (if an used older diesel engine does not leak oil, then it probably does not have any oil in the motor)
– Passenger door gusset is beginning to rot
– Driver and passenger's wide windshield frame perch are both beginning to rust
– Passenger's side door has one small spot that is beginning to rust
– Driver's side leaf springs need to be replaced in the near future
– Sway bar bushing will eventually need to be replaced
– The windshield has approximately a four inch crack on the bottom of the driver's side along with two other small chips (all other glass is in perfect condition)
– Some of the front and rear marker lights work on and off (bulbs may need to be replaced)

I know I am forgetting a few things, but I have done my best to list everything that this bus has or includes. You will be very pleased with the attention it gets! There are endless possibilities with this bus. You could literally leave it exactly as it sits, and drive it for years. You could invest thousands in order to make it the fully restored piece of history. You could install your choice of replacement parts to have the bus meet your preferences. The list goes on and on forever. This is a 1975 Mercedes Mini Bus! There is no other vehicle like it!

Please, keep in mind this vehicle is considered an antique. It is by no means a show vehicle or a "perfect" condition bus. You absolutely must see it in person to appreciate it! I will not haul nor drive the bus for you to decide if you like it or not. You are the buyer; therefore, you are responsible for all parts on your end of the sale (i.e. shipping, title transfer, registration, insurance, inspection, and so on).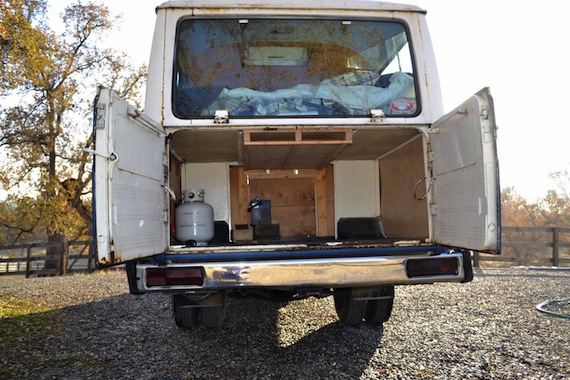 The pictures clearly show someone HAS been living in it, meaning I COULD live in it. I might still go for something more compact, as even the modern Sprinter takes up less space than this behemoth "minibus," but Sprinters are also outrageously priced. Less than $15k for this would be an outstanding life choice. Someone go there!
-NR