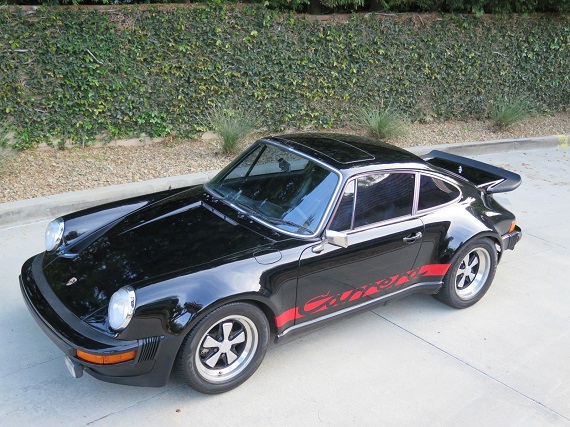 As interesting as they might be, some cars probably aren't meant for eBay. I think this 1975 Porsche 911 Carrera Coupe may be one of those cars. The intriguing thing about this 911, which also happens to be the aspect about it that will take the most time to figure out, is that it has the body of the Porsche 930. While the 'Turbo look' would become a factory option on the 911 in the mid-80s, in 1975 this wasn't the case. As such, this is said to be a dealer installed option requested at the behest of the first owner who was unable at the time to import the 1975 Turbo Carrera. In line with these desires, the engine is also said to be tuned, though exactly what that means isn't made clear, and it has received upgraded brakes. That makes this 911 one of the first true Turbo-look 911s to be produced.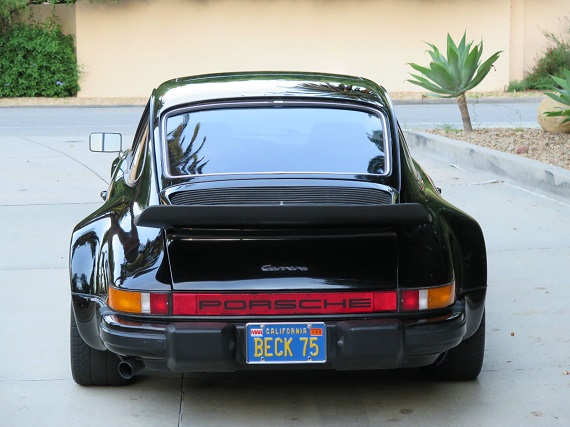 Year: 1975
Model: 911 Carrera
Engine: 2.7 liter flat-6
Transmission: 5-speed manual
Mileage: 51,554 mi
Price: Reserve Auction ($69,500 Buy It Now)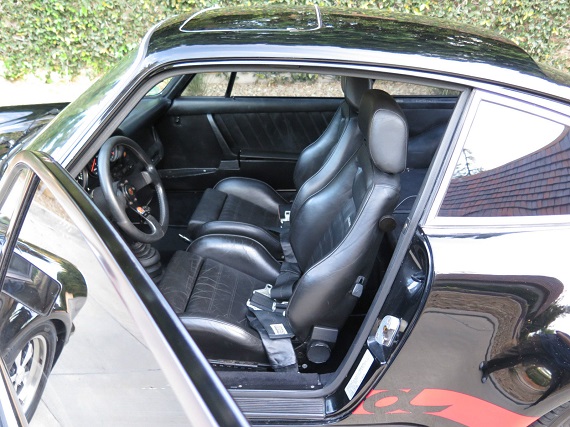 1975 Porsche Carrera Turbo Look

I bought this wonderful Porsche Carrera a little over 3 years ago, and it is one of the crown jewels of my collection of Carreras.
# 312 of 395 Factory original Porsche Carrera finished rare Factory black, 700-9-2.
It is a California car from new and shows only 51.554 signed off as original by previous owner!.
Although the service history and records were misplaced by the previous owner when he moved out of State, I did find a receipt in the glove box dating back to from June 3rd 1999, showing the mileage at the time to be 49.502.
I have covered only a little more than 1k miles in my time as custodian. The car runs, feels and drives incredibly well, is faster than any of my other CIS Carreras, is totally sorted and needs nothing, recently Serviced at The Auto Gallery in Woodland Hills, it passed a comprehensive safety inspection.
It is genuinely a drive anywhere car.
The backstory on the car is that the original owner was Dan Peek of the Band America, who unable to import the then new Porsche Carrera Turbo, ordered this Carrera to this specifications, and it was sold through Steve Taub Porsche in Santa Monica, who installed the Dealer option Air Conditioning.
The car has an original all steel 930 body, upgraded cross drilled brakes, a tuned matching numbers engine with Turbo red shroud.
My contact in Germany supplied me with the following information from the
Factory build sheet:
Chassis # 9115400312 and engine # 6551423 are original.
options codes:
102 rear window heater
197 larger capacity battery
401 Fuchs wheels
402 Koni shocks
429 fog lights white
441 radio preparation
443 tinted glass
469 black roof headliner
473 front and rear spoilers
481 manual 5 speed
484 US lettering and symbols for switches and instruments
561 Electric Windows
650 Electric Sunroof
981 leather dash board and door panels

Dealer installed options:
Carrera Turbo Bodywork
Air conditioning
Cross drilled brake discs
Tuned engine with Turbo Shroud

Personalized period updates:

Recaro leather sport seats
Fittipaldi steering wheel
Kenwood stereo
Lap belts
Clifford alarm with pad, micro switches and tremblor
CB radio.

My modifications:
Headlights upgraded to European Cibie H4s, originals kept and included
Red Carrera side decals.

This an amazing car that denies it's 41 years of age.

The bodywork is exceptional condition with no dings or scratches
and still sports it's original shuts, engine decals and emission control sticker
and the paint has a deep luster.
The interior is excellent with no rips or tears, the carpets are as new, with no visible signs of wear, dash is excellent with no cracks.
The mechanicals are beyond reproach, the engine is tight, has lots of power and low end grunt, it leaks no oil and the exhaust is clear, even at start up after several weeks of inactivity.
The engine pulls very strongly and is a very willing power plant.
The gearbox is a delight and shifts up and down smoothly and quietly, with no final drive whine.
The suspension and brakes are beyond reproach and function as they should.

This is an excellent car in every respect, and is a unique highly desirable commodity.
The private number plate is not included in the sale.

As with all the cars in my collection this Porsche Carrera is titled, registered and insured in my name.
In the last few months I have sold 4 Carreras from my collection on Ebay, and they have all been snapped up by well known Dealers from Saint Louis, New York, England and Switzerland.
This only confirms that my cars are very reasonably priced, so don't let another good deal slip through your hands.
As always have realistic expectations and you will not be disappointed, ask all questions and have all inspections completed prior to Bidding.
Email me for my number, so I can share my experience and knowledge of this Carrera in more detail.
Bid with confidence.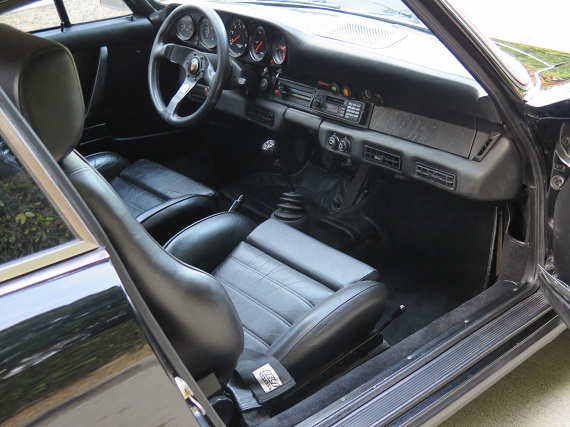 I'm not entirely sure where we would value this car. Since its unique features are dealer installed rather than factory installed then that does hit the value somewhat relative to a standard '75 Carrera. Or taken further, we'd definitely see different valuation if this were a factory produced Turbo look. However, these also aren't modifications thrown together with a variety of aftermarket parts so I'd guess we'd value it higher than a modified Carrera as well. The seller appears to have priced it in just such a manner, but thus far isn't seeing any action. But I think that's ok. As I said I'm not sure this is a car for eBay. An interested buyer will need to put in a good bit of work to verify the options and come to terms with the car. Some clarity on the "tuning" of the engine would help quite a bit as well. At the end of the day, this is a fairly interesting example of these mid-year 911s and certainly one that few will ever otherwise come across. I'm sure its unique qualities will eventually attract the right buyer, just so long as the seller can be patient.
-Rob