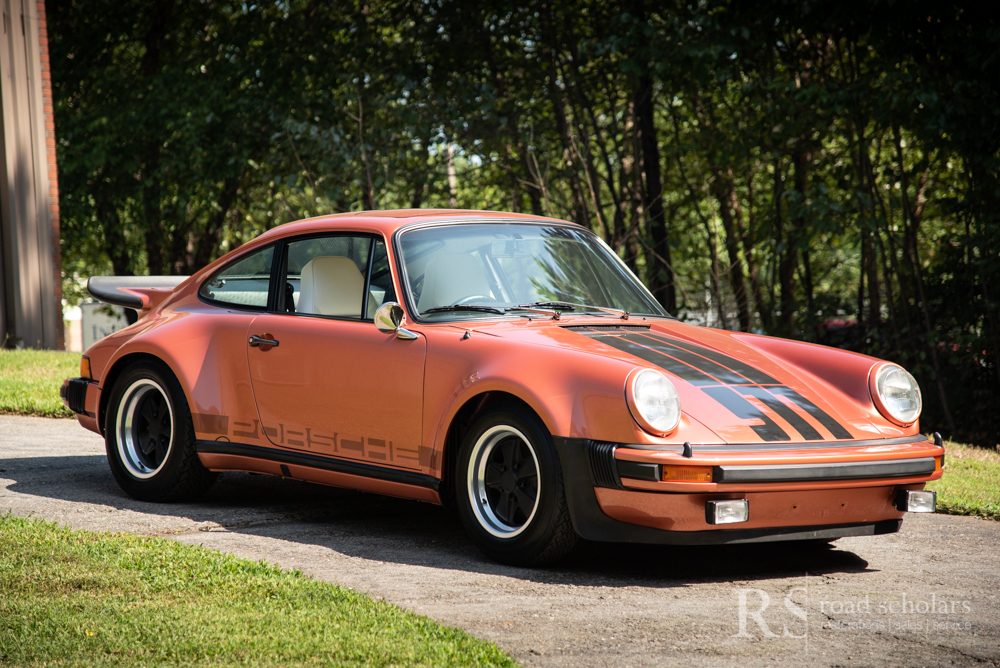 Anytime I feature one of Porsche's early 3.0 liter 930s I mention that 1976 was their first year and as such tend to be the most valuable. But in the back of my mind I know that's only partially true. 1976 was the first year the 930 came to the US market, but it was not the first year of production overall. A relatively small number, 284 in total, were produced for various markets in 1975. It should go without saying that it is very rare for us to see one come up for sale. Even more rare is to see one come up for sale that already has been imported into the US. That's exactly what we have here:
A fully restored Salmon Metallic 1975 Porsche 911 Turbo Carrera with an "interior to sample" stated to be in Linen that sits with 67,440 kilometers on the clock. As if this were not enough rarity, this also is one of just 31 right-hand drive examples and was originally delivered to Hong Kong. I don't know that having a RHD 930 is necessarily the thing you need on US roads, but it does add an extra cool factor to just about any imported car.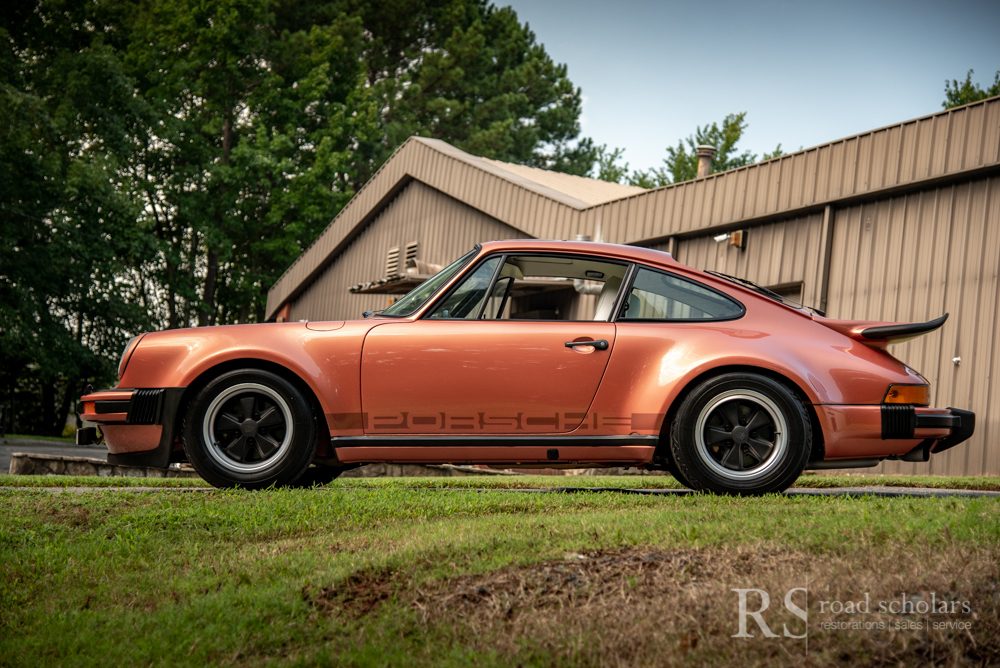 Year: 1975
Model: 911 Turbo
VIN: 9305700274
Engine: 3.0 liter turbocharged flat-6
Transmission: 4-speed manual
Mileage: 67,440 km (41,905 mi)
Price: Price on Request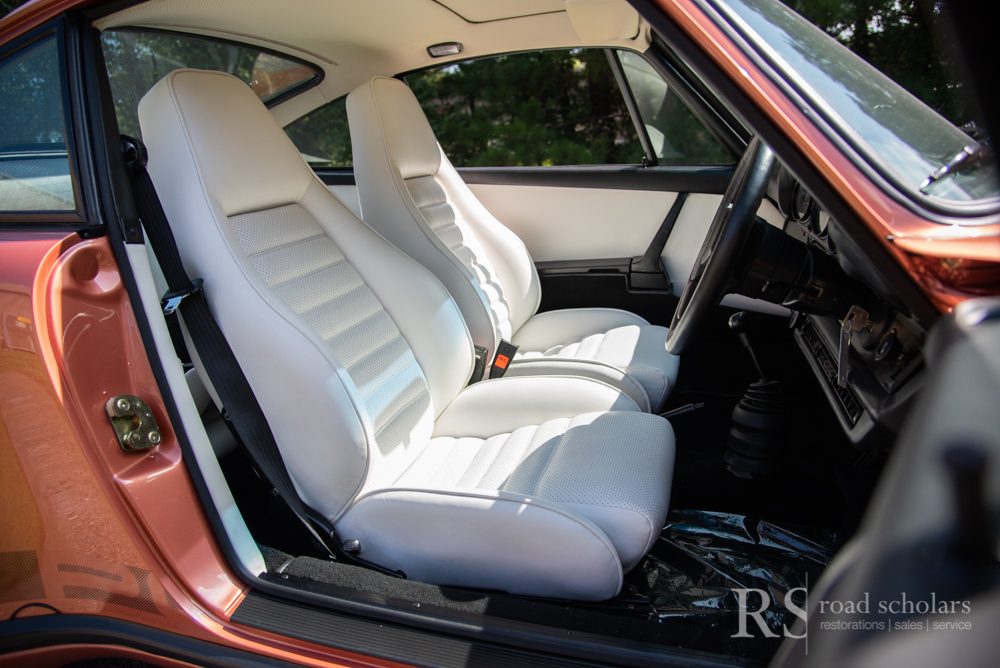 HIGHLIGHTS
1 of 31 RHD ever made
Delivered new to Hong Kong – Imported to US in 2002.
Special Ordered Color in Salmon Metallic
911 Safety Stripes
3 Owner Car

The year 1975 was a game changer for Porsche with the introduction of its Carrera Turbo. After a year of being bogged down with newly enacted emissions standards and horsepower diving to new lows, the performance car market was about to get its last rites. Porsche's solution single handedly breathed new life into sports car market by a kind of enhanced CPR: Force air in and push it out. The Turbo era had arrived.

Assembling only 284 examples for the world meant only the well heeled needed to apply and it didn't hurt to have a close connection to the folks at Stuttgart.

The example here is nearly unique! This 930 is right hand drive! Porsche built only 31 RHD turbos for the world and demand definitely outpaced supply. Our Turbo Carrera had been fully restored in its original Salmon metallic with white leather interior. The 911 "Safety Stripes" and the "Porsche Script" were re-applied exactly as they were when the car was new. A good friend brought the car to us after restoration and he asked us to sort it and "nail" the details. The car was shown at the Quail Lodge event in Monterey last year and it is now available in our showroom.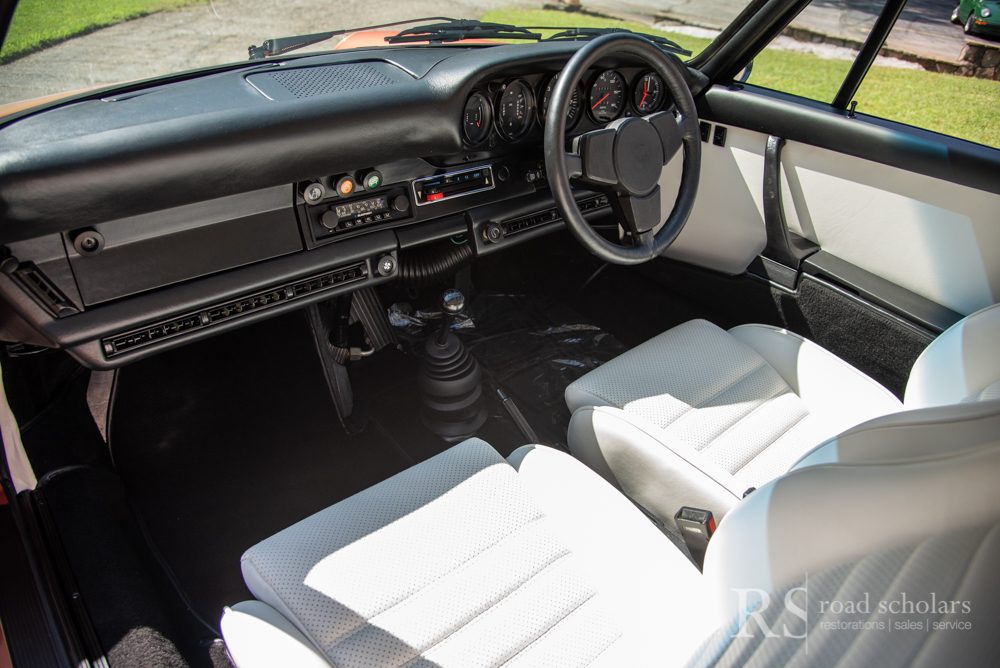 This is a pretty stunning 930 that looks to have been very well restored and cared for since restoration with a color combination that I don't think I'd ever have considered. Linen interiors are somewhat common on the 3.2 Carrera and some later 911s, but on one as early as this 930 they are a very rare thing to behold. Here the contrast with the orange/brown of the Salmon exterior is very striking. Is the color combination for me? Well, as I said I don't think I'd ever have considered it myself. It's definitely unique though.
In addition to that interior we get some interesting details on the exterior. The 911 Safety Stripes, which always are a peculiar looking feature, and because this 930 is RHD it is one of the very rare examples sporting a single side mirror that is on the right side of the car. For those of us in LHD countries it's a kind of jarring configuration.
Naturally, with a 930 like this, and given the very high values commanded by a '75, you're going to need to do a lot of homework to assess everything. For instance, regarding the side mirror, the black and white photos provided show two different configurations: one is as we see it here, but the other has flag mirrors on each side. Which is correct? I'm also curious about the mileage. If you'll pardon my (potential) ignorance here, the seller lists the mileage in kilometers, but why would the speedometer show M.P.H. while the mileage is recorded in kilometers? Is that normal for a car originating in Hong Kong? This 930 does appear to come with a sizable binder of documentation so a lot of potential questions should be answerable. Nonetheless, there will be questions.
Still I don't want to quibble too much over what looks to be a really nice 930 and one that would be a prize in just about any Porsche collection. The details are very important, but this remains a valuable and highly desirable 911.
-Rob