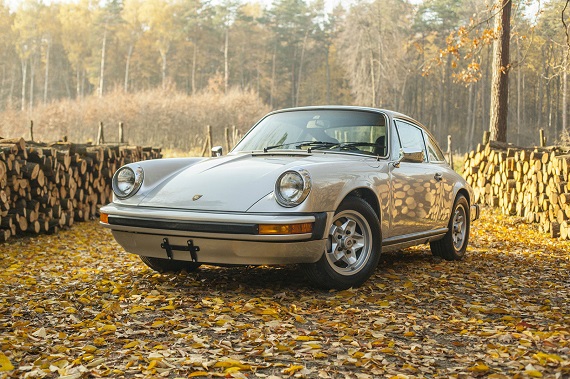 By now, Porsche has become pretty well known for producing commemorative edition models to celebrate a variety of milestones. Mostly they are differentiated by unique interior and exterior combinations and built in pretty low production numbers. The one we see here, a 1975 Porsche 911S 25th Anniversary Edition is, I believe, the first commemorative edition Porsche produced, and it's the first time I've come across one. First, we must distinguish this from the 25th Anniversary 911, which was produced in 1989 as a means to commemorate 25 years of 911 production. Those were available as a Coupe, Targa, or Cabriolet, and came with either a Satin Black Metallic or, more commonly, Silver Metallic exterior and Silk Grey leather interior, along with a host of interior upgrades. The model we have here, on the other hand, was to commemorate 25 years of Porsche production in general. 1063 were produced as either Coupe or Targa and each came with a Diamond Silver Metallic exterior and Blue tweed interior. Mechanically there were no changes from the standard 911 as they featured a 2.7 liter flat-six delivering 165 hp through a 5-speed manual transmission.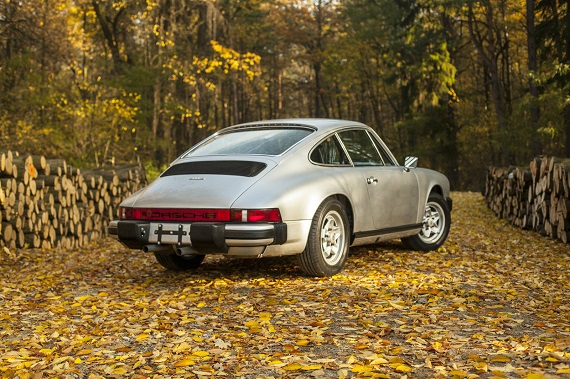 Year: 1975
Model: 911S 25th Anniversary
Engine: 2.7 liter flat-6
Transmission: 5-speed manual
Mileage: 56,869 mi
Price: Reserve Auction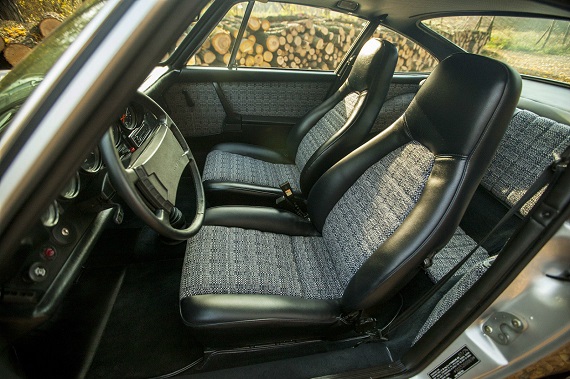 Hello

I have for sale 1975 PORSCHE 911 S 25Th SILVER ANNIVERSARY EDITION. Model Nr.64

To my knowledge there were 1063 cars built, all of them were finished in Diamond Silver color (936 paint code), blue tweed interior, and carry a Ferry Porsche Signature Plaque on glove box.

Car was shipped from USA to Europe for restoration process, which started from sand blasting whole body and repainting. All new interior includes correct color of tweed material on seats and door panels, dark blue carpet set and headliner. Dashboard was upholstered by previous owner and is in very good condition, no cracks. The steering wheel and shift knob were upholstered in leather. Brake calipers were rebuilt with new seals, new brake lanes, new brake pads. Front and rear suspension completely rebuilt. All new rubber seals were installed. New tires DUNLOP SP SPORT 205/60/15 were installed for better handling. New battery. All hardware is new or replated. Handles, headlights bezels, door and quarter window frames are original and have signs of age but are in good condition. The engine runs very well, compression test show 13.5-14.3 psi on all cylinders. We changed all filters, oil, valve clearance were adjusted, new gaskets on valve covers. The car runs and drives smoothly with no issues.

The car is currently garaged and stored in Europe and if need be we can assist the new Owner with the transportation process across the Europe or shipment back to the US.

Please note that the car is also advertised locally so the eBay auction might end early.

Link with several additional pictures evidencing the detailed restoration process is available upon request so please contact me if you wish to receive it..

If you have any questions please contact me at 17736006079.6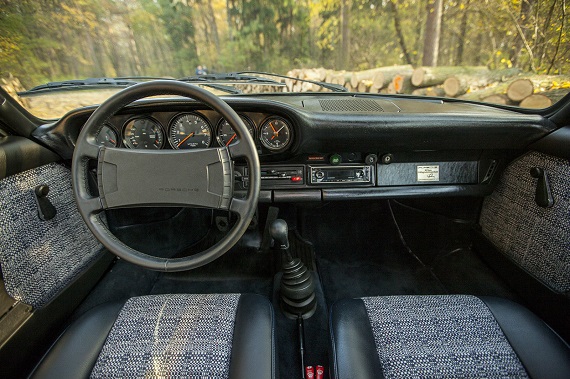 For me the interior is the best part of this 911. While not very common today, the '70s showcased a number of 911s with cloth inserts in a variety of forms and in most cases I always really enjoy them. Some of them can be a bit garish, but the blue tweed on the 25th Anniversary Edition just looks great. The rest of this 911 looks in good shape as well and it appears that the restoration work performed was to a high standard. All in all this is a really pretty 911. As we come across these so rarely it is tough to know where it will be valued. Typically the various commemorative editions have been valued a little higher than standard models, but not significantly so since the changes are entirely cosmetic. While the mid-year 911s have long been lower on the value scale relative to their peers, and I think that especially applies to models from '75-'77, we have begun to see those values move upward as pretty much every other air-cooled 911 jets off into the stratosphere. Even with that rise, these remain some of the least expensive 911s on the market. Bidding currently sits at $27,400 and I expect that will climb quite a bit more before auction's end, probably somewhere in the neighborhood of $40K though given the explosion of some other models I'll be interested to see just how high it can go.
-Rob