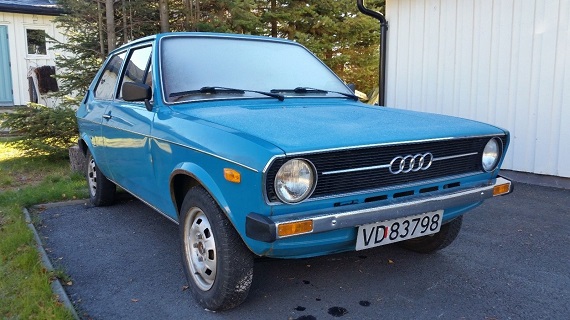 The Volkswagen Golf was a revolutionary design for the company. Dynamically, it took the Wolfsburg firm into the modern era, ushering in a period of compact front-drive, front-engine, water-cooled designs. That was a big step for a company which – to that point – had only produced rear-drive, rear-engine, air-cooled models. So, where did the technology to make that impressive (and successful) leap come from?
It came from the engineers at a recent acquisition of Volkswagen – Audi. We won't go through the politics in this post of how that came to be, but in 1972, a completely modern design was launched replacing the DKW-based F102 chassis. The new B1 featured (you guessed it) a front-engine, front-drive, water-cooled motor. That motor – the EA 827 – would then find its way into the Golf, and the Golf's transverse engine design would find its way back into Audi two years later in the Audi 50. The 50, while looking a lot like the Golf, actually was a different platform which then traveled back to Volkswagen in the form of the Polo. Confused? Well, you probably wouldn't know much about this model, since it was never produced in great number, nor was it ever imported to the United States. But, as we know, models that never came here have a cult following and one has popped up for importation: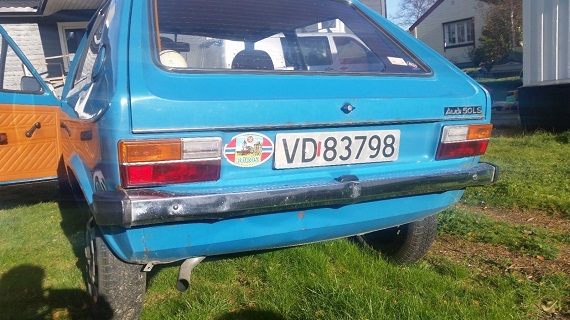 Year: 1976
Model: 50LS
Engine: 1.0 liter inline-4
Transmission: 4-speed manual
Mileage: 72,000 mi
Price: $15,000 Buy It Now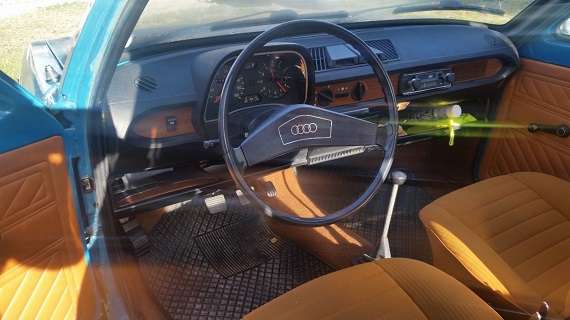 Very rare worldwide, Audi 50 hatchback. This is a one owner car sold new in Norway. Car is in excellent original condition, as seen in pictures. Not driven in the winter, it has remained in storage in the cold months and driven only 116K kilometers, which is 72,000 miles. The car is the possesion of family members in Norway now waiting to load out the balance of a container and will be in Florida, USA by mid December on the current schedule. I have imported over a dozen classic VW's and Audi's since 2004 from more than 3 countries in Europe. This is the first Audi 50 I have been able to secure and the only one-owner version I have ever seen.

I will accept a 25% deposit of the final value price at the end of the auction, balance due within 7 days of the car arriving to me in Florida and available for inspection. Buyer is responsible for freight from Jacksonville, Florida to final destination (or I would encourage coming to pick it up in person). Car is delivered with an open and clean title from the State of Florida. Very simple and clean process which I've done many times in the past.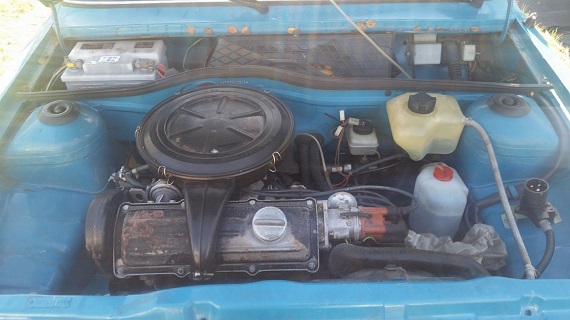 The LS was the base model of the 50, and is one of the few Audi models that followed the original source of the naming convention based upon power output. The 1.0 inline-4 produced 50 horsepower in LS form, and this super-mini was a pretty basic model. It appears to be painted Ocean Blue, and though little history is offered, at first glance it appears to be a pretty decent survivor. However, contemplation of the $15,000 asking price then turns towards condition – which is far from perfect. The car is quite salvageable, but does have rust showing and is not in pristine condition. Now, admittedly, it's a rare car to see at all, and the cult following boosts the value slightly in the U.S.. Additionally, the seller is offering importation fees being covered and a valid registration – neither of which are cheap. But back out those fees and you're still paying prime money for a survivor that needs work. Is it worth it? I very much doubt anyone will take the plunge, but the Audi 50 is nonetheless a neat page in the company's history that is fun to look at and a pretty design in its own right.
-Carter