I think I'm going to lose some credibility in my declaration of rarity of Type 43s, because for the third week in a row we get to view a very nice example. Unlike the previous two, today's 5000 is one of the last Type 43 Turbo models to make it to these shores. Moving to the turbo model didn't quite get you the power of the Quattro; without an intercooler, these cars only had 130 horsepower. However, that was a substantial bump over the standard 100 horse normally aspirated model, so they were reasonably quick for the time. The Turbo also featured upgraded 280 mm front brakes and 240 mm rear discs – other 5000 models had only drums. Holding those brakes up were 5-bolt hubs and Ronal R8 wheels shared with the Quattro, giving the 5000 a much more sporting presence. Usually these Turbo models were loaded, too – leather, air conditioning, and automatic transmissions were the norm. Pathetic residual value of the Type 43, though, ensured that very few have survived until today: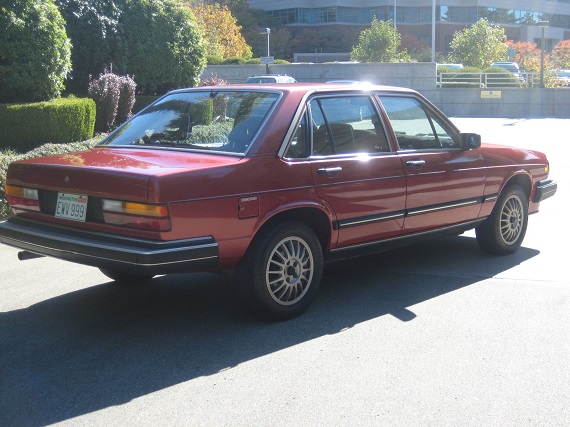 Year: 1983
Model: 5000 Turbo
Engine: 2.1 liter turbocharged inline-5
Transmission: 3-speed automatic
Mileage: 110,743 mi
Price: Reserve Auction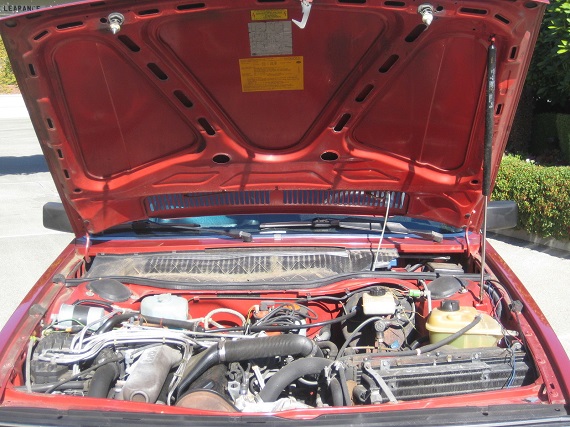 Offered for Sale!!

This rare opportunity to own a 1983 Audi 5000 Turbo finished in Bordeaux Red Metallic over brown full leather interior. This is a fully loaded Audi with all power options: Power Windows, Locks, Seats, Cruise Control, Sun-Roof and so forth.

HISTORY: Purchased new in Bellevue, Washington at Interlake Porsche Audi on November 23, 1982 by the McCaw family, heirs of the McCaw Cellular Business in Seattle. This car is an icon and owned by one of the wealthiest families in Seattle. Then 11 years later it was moved their thei Sun Valley, Idaho Estate and Vacation residence, where is was licenced with plate # 5B-7011. A very low number plate for Blaine County. This Audi served a great purpose as a 2nd vacation vehicle and perfect for running around small town Idaho. Then, years later it was offered for sale while I was in Sun Valley at my vacation residence and I purchased the car. I purchased thar car somewhere around 82,000. A total and RARE FIND at this time.

I purchased the car sometime in 2005 for my personal collection as a fully documented car. At that time I had 5 type 43 Audi's and now I only have two. I am a total Audi Enthuiast and had a few of these Turbo's over the years. After a few years of having this particular Audi in my collection, I then sold it to a friend of mine in California, also an Audi Enthuiast at 93,443 Miles in Augist 2008. Then, after 4 years of him having the car as a daily driver, I was offered it back to me after a very minor incident happened. As it was parked on a public street in Santa Monica, California and a driver lightly hit the car on the front left bumper. It was very very minor damage. Just pushed in the bumper strut and broke the headlight bezel and dented the left fender. Nate my friend called me, totally upset about the Audi and asked if I know of anyone whom would have parts, or atleast access to the parts to repair the front left bumper strut and head light bezel. I said I did, but the insurance company would not repair such an Old Audi and did not purchase used parts. At this time, the insurance comany provided Nate with a Check for Payment of what the repairs might cost and he kept the car. Hence, it was marked on the Carfax as a Loss vehicle in 2012, but never received a title branding it as such. This should be taken up with CarFax to remove it.

Nate had every intention of repairing the vehicle with my parts contact in Seattle. Instead, he was in the middle of a divorce, had no time to deal with the situation, and called me to see if I wanted the car back. Without hesitation, I said "Absolutely" and purchased the vehicle and put it back into as perfect condition as possible for the year. For the repairs, I repainted the front hood and two fenders along with the rear trunk lid, in an effort to make the car perfect. Paint blends very well to the original and it was panel painted and not blended. It is very very hard to notice and many enthusisats comment on how nice and original it look. Paint was matched perfect in my optinion.

I purchased the car back with 107,xxx ish and to date there is 110,429 on the odometer, as original mileage. I licensed the car at my Vermont Residence end of December 20013 as I was intending to send it there to replace a much older car our family uses. however, after 3 years plus – I never did ship the car there as is remained in Bellevue, and I re-licensed and titled it at my house in Bellevue, Washington. So, it has a Clear Washingon State Title with current registration. I included a copy of the Washington Title, please note on the left side is states "Brands, " there are no comments in this field as it is a "Clear Title." All documents were not supplied back when I purchased the car from Nate, as most everything went missing in the divorce. That was a shame. But thank goodness I kept the original Idaho plates.

Now ready for the new owner for purchase, this is a RARE find and Turbos are nearly impossible to acquire.

Here is the opportunity. Mechanically a well respected car. Back in 2005 before I sold the car, I had the transmission completely rebuil and also installed many other parts and repairs that I cannot totally remember. Nate maintained it perfectly during his ownership. There are no drains on the battery as it can sit for months on end and start right up. Engine runs strong, and drives nicely. Turbo boost is not as strong as I remember, but still gets up and goes. I guess I cannot compare the power to my 1991 Audi 200 Turbo Automatic front driver, as its more powerful. As far as the interior is concerned, the items that do not work are the Sunroof, the drivers side window, and cruise control Air-Conditioning was charged and appears to blow cold & heater blows warm & hot. There are no rips, tears, or holes in the Leather. The rear seat is not torn on the top edge as they most all area. Head rests are perfect. Dash has very minor cracks. I think because its has a carpet on it for years and car has been garaged by all 3 owners. Never really sat in the absolute cold or hot weather. That is why the interior is as nice as it it. There is a small tear in the sunroof head liner, but I do have a different panel for the exchange. There are extra window switches and misc. parts that will go with the car. The aftermarket stero was removed. All speakers are removed. Factory Audi tape deck sits in place, but is not installed. Power antenna is also included but not installed. This is a Rust Free Car, or as close to it as you would ever get. I do not see any on the body. Under carriage is nice as it the engine bay.

Overall, this Rare Find is a nice Example of what a 1983 Audi 5000 Turbo should be. Every time I take it to local Audi Meets, it gets a lot of attention. I am a member of the local Audi Club here in the Northwest and they all love my rare Audi's.

I would prefer this fine example of an Audi to be purchased by someone who really appreciates the car; the type of car it is, the meaning of the car and what it meant in the world of motor sports. Hopefully a total Audi enthusiast and collector.

I can help arrange overseas shipping as well in North America. Will ship out of the Port of Tacoma for overseas on Wallenius Wilhelmsen and they Serve Ports in Germany and many other places around the world.

Please e-mail with your name and phone number via Ebay, and I will gladly call you! Or feel free to call me. Curtis at 206-849-7001

Please Bid with Confidence!!!

Cheers and Thanks!!!!

VIN WAUHC0431DN024747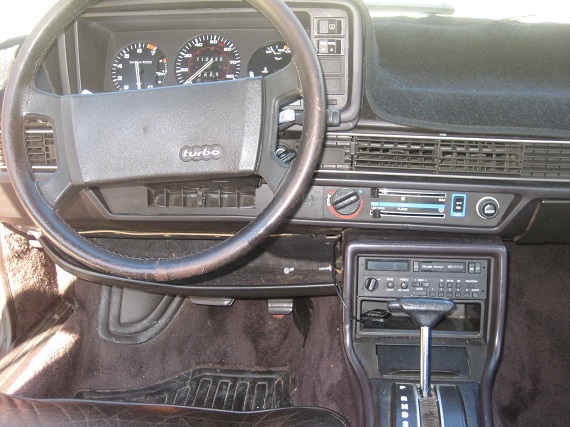 I remember when I ran across my first 5000 Turbo. It was at a junkyard, and the silver over zebra cloth 5000 had suffered the ignominious fate of what I must presume was a transmission failure, since there was no body damage and the motors can basically run without oil. It seemed very old at the time, but I have to catch myself because when I saw it, it was only about 12 years old. That's 3 years younger than my current daily driver. But early 80s cars lived hard and short lives, and it was the norm to see these 5000s dead in the water after a very brief time on the road. Thankfully, not all died, and this Bordeaux Red Metallic example is still shining away despite an attempted assassination. The paint likely suffered typical clearcoat damage and so this one has a partial and good looking respray. Inside the interior shows plenty of wear that early plastics do; the radio appears to be a later Blaupunkt Rothenburg unit from the subsequent generation, and there are some non-working items. Sourcing parts for these things can be pretty tough today, but there are still a handful of fans keeping these luxury Audis afloat, and shipping parts from the similar 200 5T European model is a bit easier thanks to the internet. The reserve is still on, but active bidding has so far only reached $2,200. I'm not sure what the seller is hoping for, but I'd wager that the market value on this car (factoring in some history issues and non-functional items) is around $4,000.
-Carter