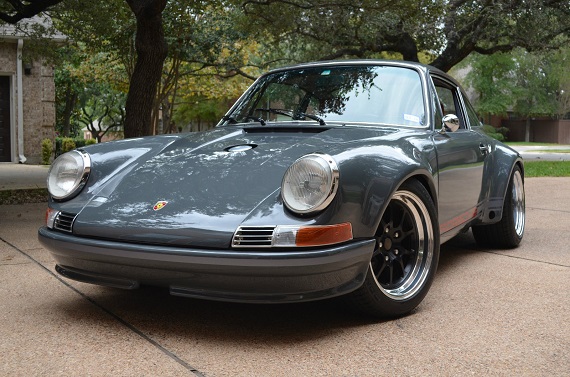 We've seen cars like this before. An impact-bumper Porsche 911 that has been backdated to the look of a long-hood 911, but all the while retaining its higher output engine. These 911s come in all sorts of builds, but I think this one stands out for two reasons. First, I find it incredibly striking. The Slate Grey paint looks wonderful and works well on the widened rear. It also works really well with the red accents that are eye-catching, but do not overpower the overall look, especially of the interior. The second factor in this car's favor is that it lacks the typical six-figure price tag we see with many such builds. One of the most common criticisms of these cars is that the sellers simply are asking way too much money. Not only does this one not have a six-figure price, but the reserve on this auction has already been met so it looks like it will be going to a new home. It still isn't cheap – bidding currently sits at $60,300 – but at least the market is having a chance to establish the value rather than an overly ambitious seller.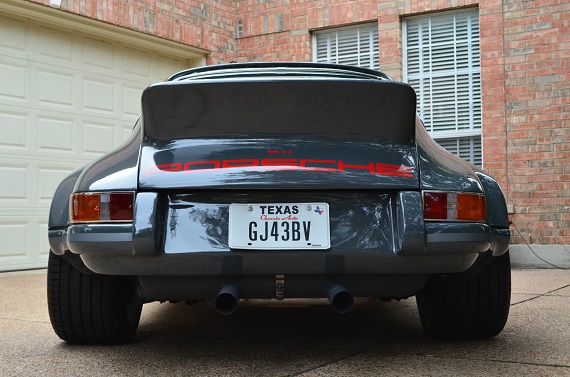 Year: 1976
Model: 911S
Engine: 3.2 liter flat-6
Transmission: 5-speed manual
Mileage: 124,000 mi
Price: Reserve Auction (reserve met)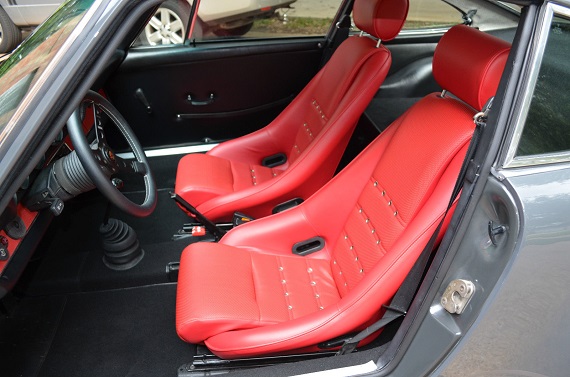 Up for auction is my beautiful Porsche 911 backdated Hotrod. This car has undergone a complete transformation during a two year labor of love renovation. The goal of the car was to create a lightweight car that was capable of performance but also looked great and was civil. The car was purchased by me from the previous owner out of Arizona. The car started out life as a yellow 1976 911S. Before my ownership it was painted a pearl white and converted to a Steel widebody turbo look car with a 3.2L engine swap from a 1988 Carrera. Overall it was in pretty good shape but I had a plan to make it what it is now.

The Restoration:

Once I received the car it was completely stripped to the bare chassis. All panels, glass, headliner, sound deadening, rubber seals, etc were removed. I sent the car to a Porsche specialist, Werks 11, where they completely stripped all the paint down to bare metal and fit and installed the new Rennspeed Fiberglass hood, fenders, front and back bumpers, and ducktail. The rear steel flares were left on the car. Werks 11 built and fitted a Center fill gas tank for a sportier look. They also removed the existing sunroof and surrounding roof panel and bonded in a strong, lightweight, and very beautiful carbon fiber roof panel made by Helion composites.

Once all the bodywork and Fabrication was completed the car was shipped off to paint where the painter laid down a very nice paint job done in Porsche non-metallic Slate Grey(6801). The car was then reassembled and all seals and weather stripping was replaced.

The interior was also backdated using an RS carpet kit, door panels. Amazing custom period seats were made by GTS Classics, the dash Facia was also backdated using the same material from the seats to bring it all together. A new custom alcantara style headliner was installed and a MOMO prototipo steering wheel was installed. The dashboard and other pieces were also reupholstered in black german vinyl. A custom OEM replica rear seat delete was built finish off the rear and conceal the engine ECU and small Bluetooth component Stereo system. Completely stealth with no speakers visible. Synch to your handheld and stream your itunes, Pandor etc.

To finish it off we lowered the car, installed new Bilstein coilovers from Rebel Racing, and went with Custom 17" Fikse Mach V's wrapped in Continental DW's. An OEM muffler was modified to resemble and RSR style muffler. Lastly vinyl graphics were installed (completely removable)

Mechanicals:

Brakes: Carrera brakes in great shape. Stops amazing especially with the lightweight body

Suspension: Oem suspension in front, new Bilstein coilovers from rebel racing in Rear

Chassis: apprx 124K miles

Electrica/Lights: All gauges, lights, electrical work. I actually went through the entire wiring harness and soldered/heat shrunk every wire that wasn't securely connected. Car starts every time with no hassle.

Engine/Transmission: 3.2 Carrera engine from an 88'. I was told the engine only had apprx 60K miles on it but cant confirm. It runs very strong. We removed the Engine and transmission to fix synchros in transmission. It's the original 915 unit. 2nd and 3rd gear synchros were replaced and the the rest checked out ok. While the engine was out it was cleaned up and detailed. The spark plugs, plug wires, distributor cap, rotor, motor mounts, and starter were replaced. Also did a valve adjustment and replaced the valve cover gaskets. Did an oil change using Brad Penn and refilled the tranny with Swepco. Replaced all the bushings related to the shifter and readjusted clutch and shift coupler.

Overall:

The car has been driven maybe 500 miles since the restoration was completed. Its in fantastic, like new shape, with most of the major components fixed or replaced. The car drives great, sounds great, shifts great, and stops great and has been extremely reliable. The car is at a stage where it can be enjoyed by the new owner for years to come with no hassle. On top of that, it looks amazing and gets LOTS of attention. IF you're not a social person you may want to avoid this car because people WILL want to talk to you about it.

Please feel free to email me with questions if I missed anything or you want to ask any additional questions. Thanks for looking!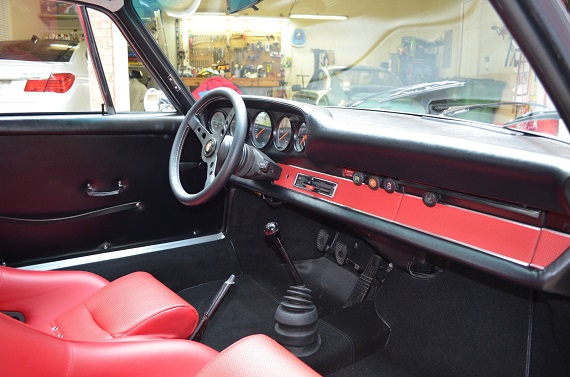 Let's get to what we have: this 911 began life as a 1976 Porsche 911S Coupe. A previous owner added the widened rear and swapped the original 2.7 liter flat-six for a 3.2 liter from an '88 3.2 Carrera. From there it sounds like the current owner took over to restore it and to backdate it to the look we see here, which included the selection of exterior and interior colors to go along with the front and rear bumpers, hood and ducktail, as well as the exhaust and minimalist interior. The mechanical components appear to have stayed pretty much in stock configuration from either the 3.2 Carrera or original '76 911S. So it should have a bit better power to weight than either of the original 911s from which its parts were sourced, but it probably isn't going to be mind blowing. This 911 should be loads of fun though and at this kind of price you'd be hard-pressed to come close to replicating the build. Still, it isn't cheap and we shouldn't necessarily expect these types of cars to continue to appreciate the way originals have. If the market begins to struggle these are likely the first to drop in value. If viewed as a fun alternative with vintage styling and a more modern drivetrain a 911 like this certainly can provide its own level of thrill and for the right price can make a lot of sense!
-Rob