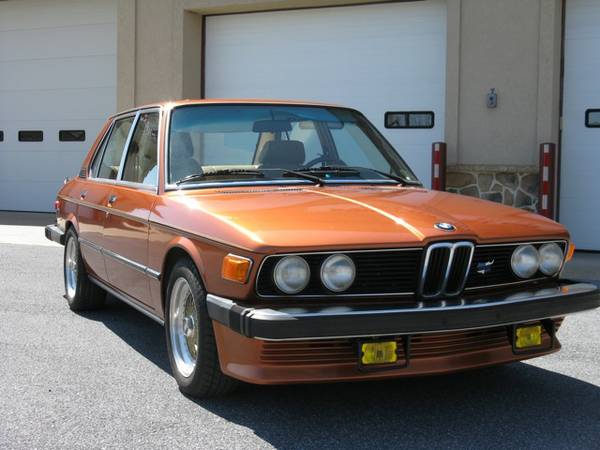 If the E28 defined BMW as the defact mid-range sports sedan manufacturer, it was the E12 that established the trend. There's a beautiful simplicity to the original Paul Bracq design; it is both stately and organic, subtle and understated but strong and elegant. The 5-series announced that you had arrived in a distinctly more sporty manner than the Audi 100 or Mercedes W123. Unfortunately, unlike the W123, it's become exceedingly difficult to find good examples of the E12 – especially when you wind the clock back to the U.S. thermal-reactor 530i. Many suffered death by mechanical disregard or worse yet the ignominious death by tin worm. That's why it's especially awesome to see one pop up in fantastic shape, such as this 1977 Topaz Brown model that was spotted by our reader John via Daily Turismo.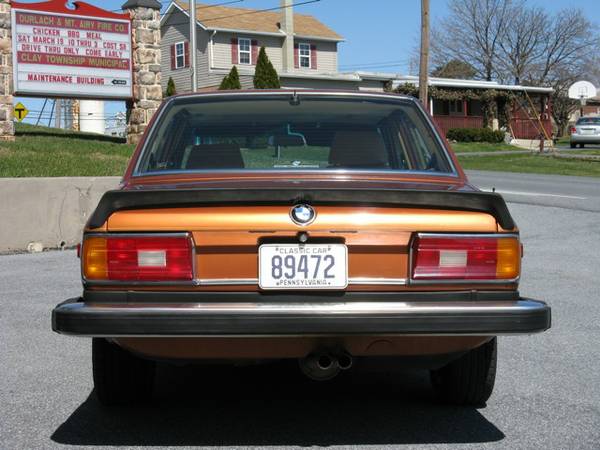 Year: 1977
Model: 530i
Engine: 3.0 liter inline-6
Transmission: 5-speed manual
Mileage: 81,000 mi
Price: $6,900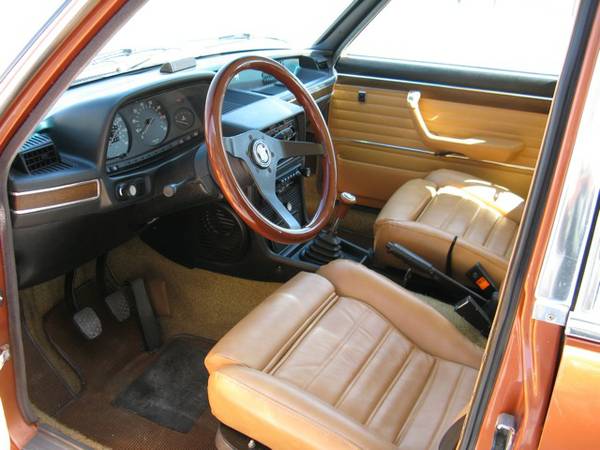 This is an exceptional example of an E12 530i. It spent most of its life in CA and UT. It has not been in rain or snow since I have owned it (7 years) so it is a rust-free car– rare for pre-1982 BMW's. It was painted once in the late 1990's in the factory topaz braun metallic. The interior color is neon braun, an unusual shade of yellow. The car was owned for 30 years by an aircraft mechanic which is indicative of the care and maintenance this car has received. There are no mechanical problems with the exception that the electric windows move slowly, and the sunroof cable needs to be replaced. The R12 A/C blows cold. There are no significant dings or scratches on the exterior, and the interior is perfect. I upgraded the front seats, wheels and radio, but have all of the original equipment which will go with the car.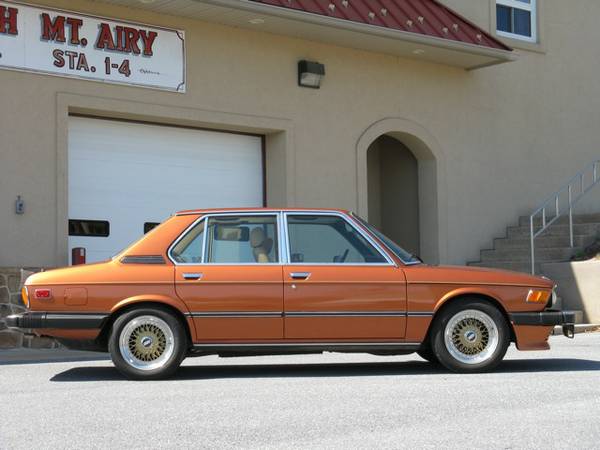 The E12 may not be quite as fantastic to drive as the E28 but it was certainly above par for the period; but that said, it never makes any pretensions about being a canyon-carver. The E12 was a sedan which combined sport and luxury for a budding executive market – something we've come to expect and was really well defined in the 1980s. This particular example seems very well cared for overall. The BBS wheels and what appears to be a BBS chin spoiler give a more aggressive look to the E12, but the Topaz Brown Metallic really is what sets the '77 apart. It's a color which wasn't offered on the E28 to my knowledge but somehow suits the design on the late '70s, early '80s BMWs really well. It looks quite special, and that look is mimicked inside with a great looking yellow-tan leather interior. The seller is right that rust-free pre-1980 BMWs are rare, and an E12 with as few needs as this one has is exceedingly so. Despite that, this beautiful Munich creation won't break the bank as it's offered for a quite reasonable $6,900. That seems to be about condition 2 by Hagerty's price guide, which seems quite appropriate for this particular example. It looks grand and offers a tremendous amount of classic BMW character for a much lower price than a clean 3.0CS or 2002 would be these days. Someone will be very happy with this well-priced and very sharp looking classic BMW!
Thanks again to John for the great spot!
-Carter