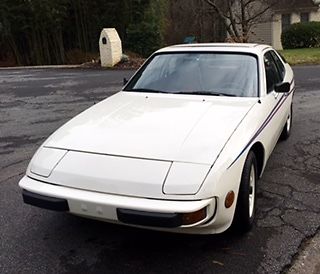 Continuing on my theme of watercooled transaxle Porsches in famous livery, in 1976 Porsche won the World Sportscar Championship primarily with its 935 and 936 models in Martini Racing livery. To commemorate this achievement, in 1977 if you walked into your Porsche dealer and selected option M426 (Code E19) on a new Porsche 924, you'd be handed the keys to a uniquely colored coupe. The outside of each was Grand Prix White, and along the side were triangularly shaped stripes in the now famous Martini Racing livery. The "Tarantula" alloys were color-matched white as well. Underneath, the Martini cars were equipped with front and rear sway bars – the only real performance option. Inside was what really set the car apart, though, with scarlet carpet and seat centers, contrasting piping, a leather steering wheel and of course a commemorative plaque to let you know you were in the house of a World Champion!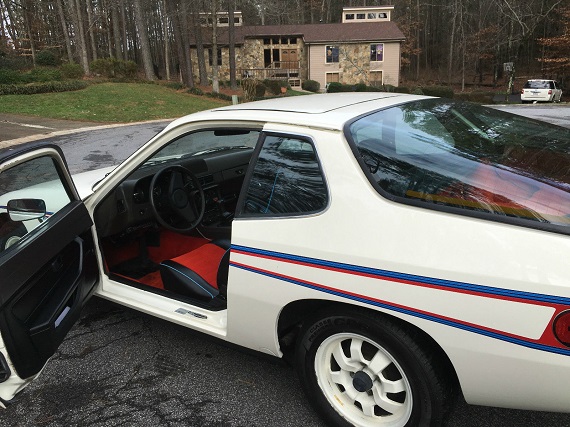 Year: 1977
Model: 924
Engine: 2.0 liter inline-4
Transmission: 4-speed manual
Mileage: 51,600 mi
Price: No Reserve Auction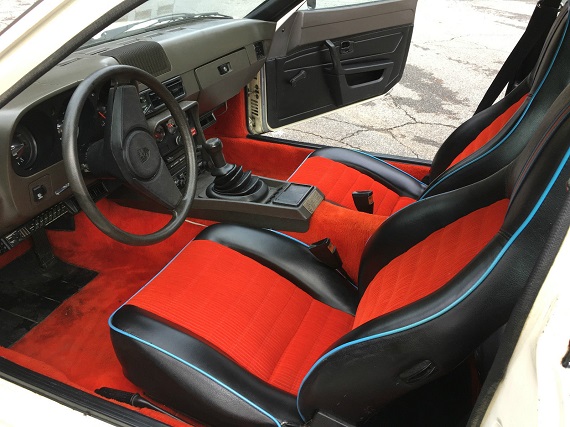 1977 Porsche 924 Martini & Rossi Edition

Our car is once again up for auction for the following reason…We had the car for auction last week and it sold for $7200. The top bidder had created an ebay account in Jan 2016 and had zero reviews. Needless to say that individual never paid or responded to our emails. The 2nd highest bidder had bid $7100. He was legitimate as he had over 360 reviews. Unfortunately ebay doesn't allow us to notify the 2nd highest bidder.

Up for auction is an original Martini Edition 924. Porsche's first limited edition 924 was the Martini Rossi. The cars were built from December 1976 till March 1977. It started selling in the spring of 1977. The car still has the original console plaque celebrating the victories of 69, 70, 71, and 76 Martini Rossi 935 and 936 racing cars. Only 2,000 examples made their way to the United States.

Exterior:
The exterior shows in good condition. The body is extremely straight. The car was re-painted in its original white and the factory Martini decals were replaced with a new set. Aside from a slight dent in the top of the car near the center of the manual sunroof, the exterior is in excellent condition.

Interior:
The interior is all original. Dash has three cracks. Original head liner shows in excellent condition. Both original door panels are in excellent shape. Driver side door handle does not open the car door from the outside. All seats are original. Back seats are slightly warped. The trunk is in great condition. The hatch cover is in good condition and is fully functional.

Mechanical:
The car runs well. The 4-speed transmission shifts smoothly with no grinding. The car has been in storage for 10 years, however, I have used the car as my daily driver since October. There is a small exhaust leak that I'm currently working on.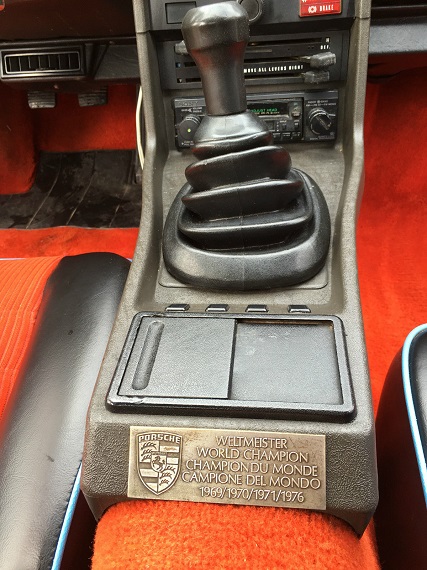 Generally these cars come to market in either "survivor" condition or as complete wrecks. This one has had some restorative work though it's not pristine outside, but I'd say that overall the interior of this car shows above other examples I've seen. Make no mistake, this Martini isn't much of a driver's car – but as with the Rothmans Cup 944 from earlier, it represents the absolute cheapest way to get into the factory race colors and this was a limited edition car, making it at least somewhat appealing as a collector. It should still remain relatively cheap; we've seen asks for these cars tread into the high single digits but it looks like the seller of this car is looking for somewhere around $7,000. For a collectable Porsche, even though it's more of a curiosity than a championship-winning rocketship, that's very inexpensive and properly presented these Martini cars can look lovely. On top of that, these 924s are increasingly being tipped as increasing in value and Hagerty places Concours condition values at nearly $15,000 today. Perhaps it's not a bad time to consider one of these affordable and good looking Porsches!
-Carter