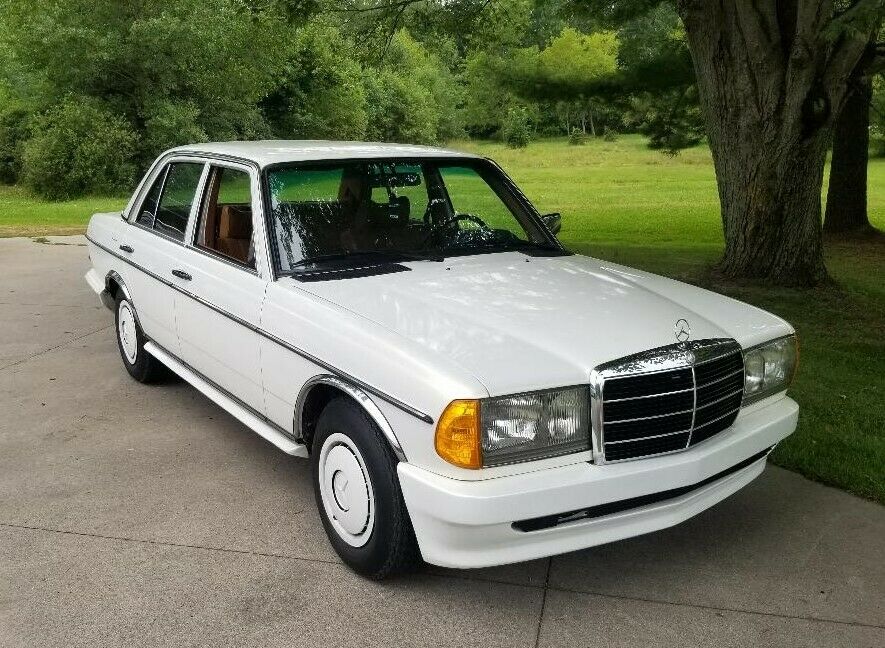 Here is a real odd ball. This is a European-spec 1978 Mercedes-Benz 240 for with some really interesting modifications. The early W123 looks to be fitted with some kind of aftermarket bumpers and side skirts, European hubcaps from a W126 S-Class, a bunch of painted black trim, and probably the worst placement for a third brake light I've ever seen. It supposedly has just 51,000 miles and is even fitted with Michelin XWX, a tire that if fitted to a W123 can often double the value of the entire car. I have a whole lot of questions, and it looks not like many answers.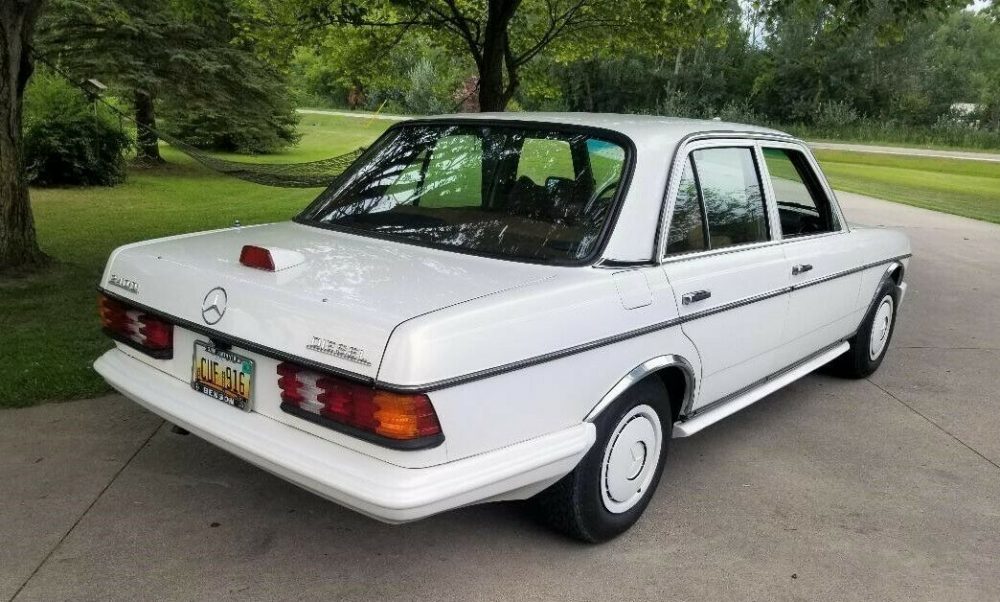 Year: 1978
Model: 240D
VIN: 12081597
Engine: 2.4 liter Inline-4
Transmission: 4-speed automatic
Mileage: 51,088 mi
Location: Port Huron, Michigan
Price: $13,999 Buy It Now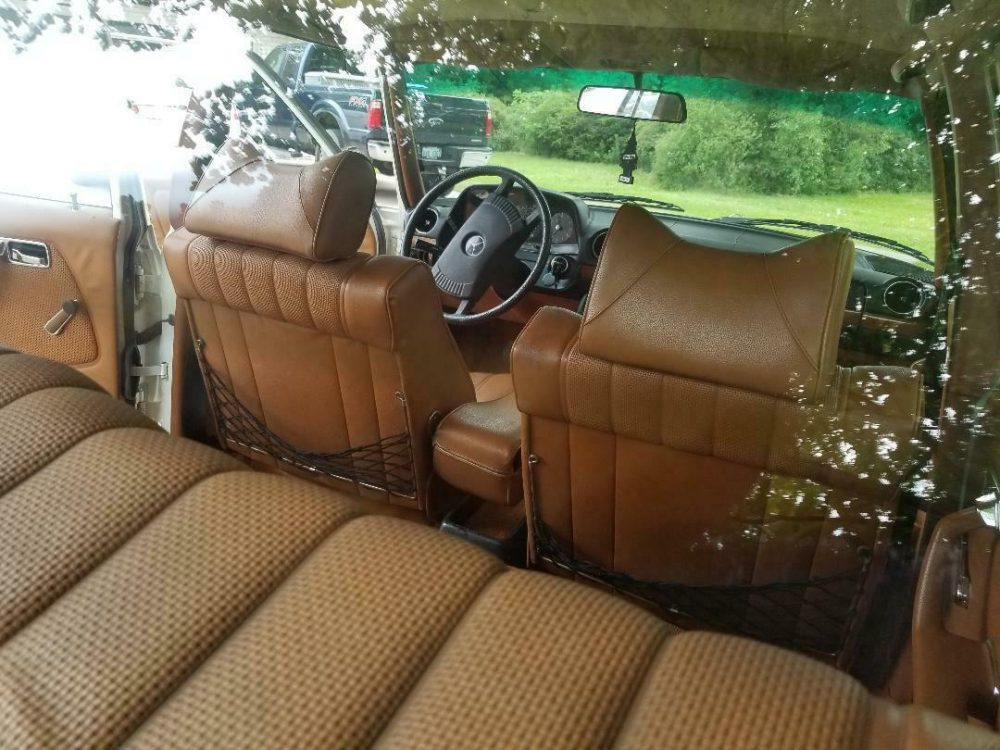 You are looking at an incredibly clean 1978 Mercedes Benz 240D.

It has 51088 miles on it and the VIN is 12081597.

This car has the notoriously reliable 2.4 liter straight 4 cylinder diesel engine. It is mechanically perfect and everything works well. All of the vacuum powered controls are operating properly, the air condition blows ice cold, the cruise control work perfectly, and the professionally installed 1500-watt premium sound system is controlled by the original Blaupunkt SQR26 head unit and sounds awesome.

The Michelin XWX tires are in like new condition. The original wheels have been sand blasted and professionally epoxy painted.

The beautiful pearl white exterior paint is very bright and clear with only very minor imperfections; the body panels are straight as an arrow.

These cars were made when Mercedes was dead set on laser precise manufacturing.

This 240D was a euro import, lived most of its life in dry Texas, has always been garaged, is currently mechanic owned, and has been thoroughly serviced and cleaned. The car is ready to be a beautiful daily driver or an event show car.

This Mercedes is located 45 minutes north of Detroit. The buyer is responsible for all transportation arrangements and costs. Delivery may be available depending on location. An immediate non-refundable $500 deposit via PayPal is required from the buyer at the end of the sale. Please feel free to ask any questions.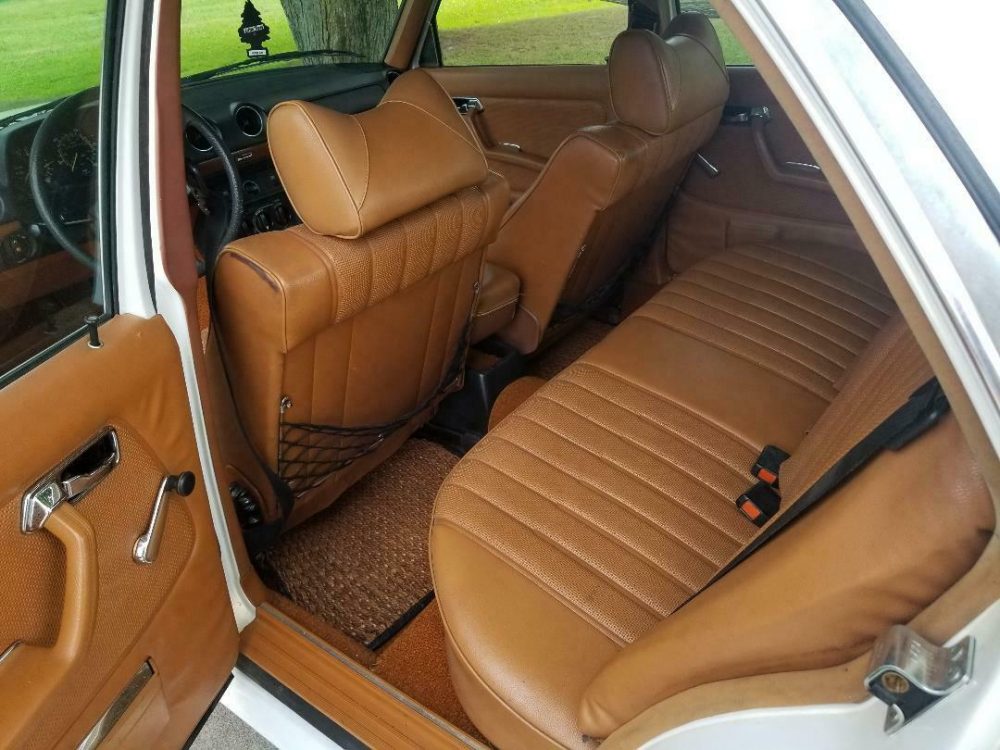 Just off the bat, that is not any bodywork from AMG. They used the steel bumpers and often made lower air dams for the front and rear. These look like some kind of plastic or fiberglass and as a result, don't match the shade of white on the actual body. The steel wheels look to have the hubcaps that were used on the base model W126 S-Class in the rest of the world and I don't believe they were ever offered on the W123, certainly not the early cars. Another odd thing is some of the chrome trim, including the front and rear glass, has been painted black. It might be totally missing something all together, but to actually paint that trim correctly you would need to removed the glass as you can't fit the seal without putting the trim in first. Inside, you can't actually see the front seats of dash at all, but I do spy a pretty thoroughly cracked dash and front seats with sun damage. That's very odd for the stated 55,000 miles.
Lets talk about the third brake light on this car. The third brake light law went into effect in 1986 for passenger cars meaning lots of companies had to hurry and retrofit them onto existing models. The W123 ended production in 1985, so they were spared such requirements. Other cars, not so much. The R107 was forced to put it directly on the trunk lid like a giant wart because of the soft top and they didn't want to modify the trunk like how the R129 integrated it. When this car was imported, for whatever reason they were made to add a third brake light. Instead of sticking it behind the rear glass like some owner's do for more safety, they were lazy it an drilled it in the center of the trunk lid. Probably so they could wire it up easily, but you go through all this work on this car and do that.
The asking price for this car is $14,000 and I don't need to tell you that is crazy. This car is a jumbled mess of odd parts that aren't all that attractive, general laziness, and an odometer that probably isn't correct. Not to mention the interior isn't anywhere near a W123 that is worth $14,000. I think this is just another wildly optimistic seller, or maybe just a very confused one.
– Andrew