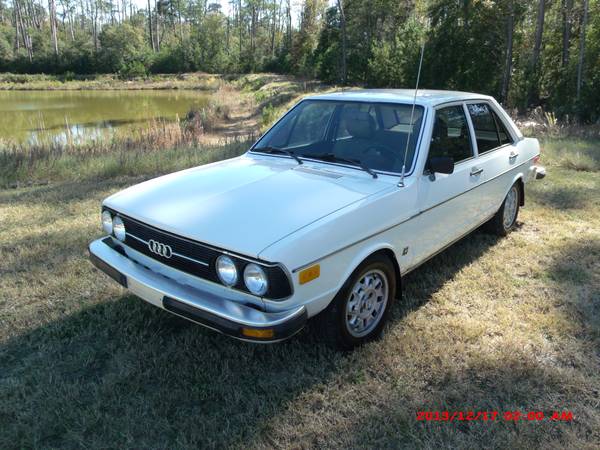 When it rains, so the saying goes. From zero Audi Foxes to two in two weeks, unlike the rare but in need of some work Fox Avant comes this ready to drive Fox sedan. Not often do driver-quality Foxes come up for sale at all, and this one looks great in white over tan. With some later 14″ Audi Coupe alloys fitted, this is a smart looking alternative to a 320i for the Volkswagen or Audi faithful: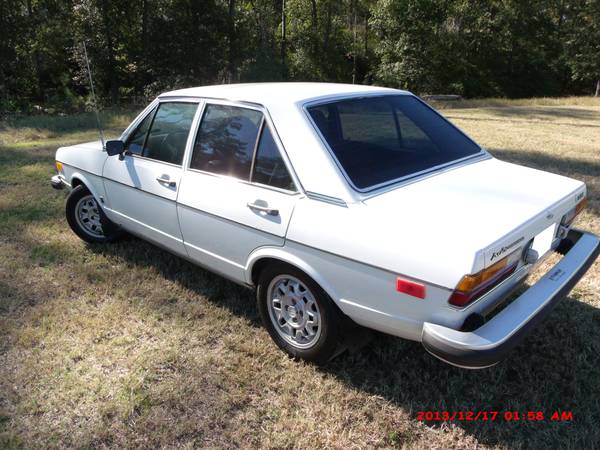 Year: 1979
Model: Fox
Engine: 1.6 liter inline-4
Transmission: 4-speed manual
Mileage: 125,000 mi
Price: $3,250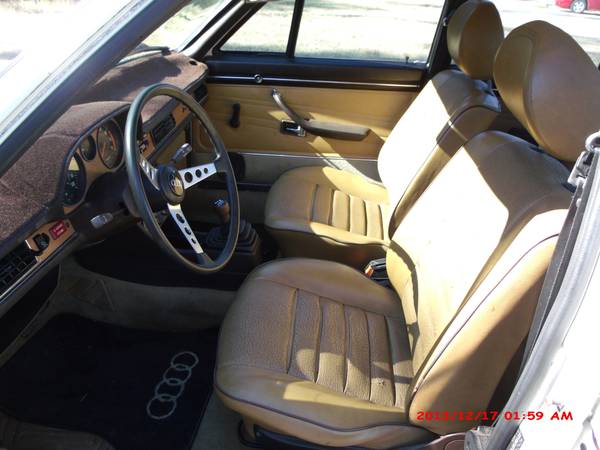 9421 FM 2920

1979 Audi Fox odometer: 125000 manual transmission
I am selling my 1979 Audi Fox 4-door 4-speed. This car is in good condition, and mostly original/unmodified. On the few road trips I"ve driven it it has returned about 31mpg. In town it gets around 24mpg.

It has the original 1.6L Fuel Injected 4-cylinder engine and 4-speed manual transmission. It has 125k on it.

This car was originally sold new in Bolder, CO, and still wears the original dealership sticker on the back bumper. This dealership is still in business as well.

I got this car several years ago, and have enjoyed the time I've had it to drive. It is not my daily driver (I have another Audi for that), but an occasional use vehicle. I have recently acquired a 1978 Fox 2-door GTI, so I am free to move this one onto the next enthusiast.

This Fox has the original interior, in good condition. There are a couple of areas that show time/wear. The drivers side front door panel has several small cracks in it, as does the drivers side seat. Also, the paint is in good condition. I have added H4 aftermarket lights for the low beams. On occasion I drive it at night, and these made a huge difference in low beam illumination.

It has an older Alpine stereo in it, not hooked up. It also has newer tires on it. The dash has a cover on it, the original dash is cracked significantly(they all do, I've had five of these). Also, the windshield is cracked, but I have a new one for it not yet installed. I may have that done after Christmas if I get time. There is a license bracket for the front plate, but it's removed and placed in the trunk.

The shocks/springs have been replaced with aftermarket pieces. The wheels are from a 1982 Audi Coupe GT, and are alluminum 14″.

This car does not have Air conditioning, and never did. It does have front vent windows that open, as well as a factory manual sunroof. It also has a very large trunk.

Please feel free to contact me with questions, either through email or phone.
My number is 832-797-0257. I prefer text messaging, but you may also call me (Tony). I am a huge Audi enthusiast, and have been for some time.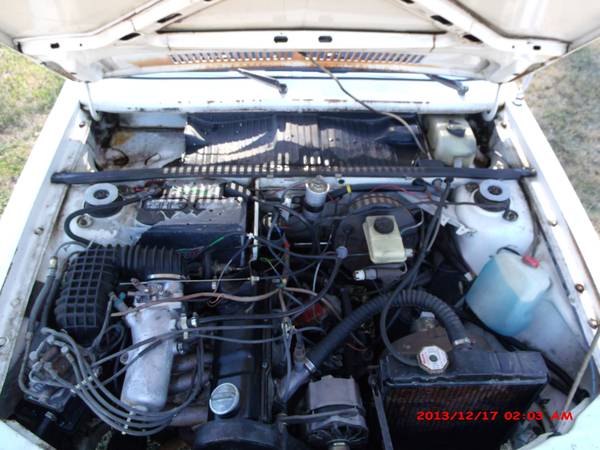 A sunroof, alloys and a nice radio will help you forget that this isn't a particularly quick car, but like the later 4000s they're fun to drive and simple to fix. They share a bunch of components with Volkswagen models that were around the same time, such as the original Passat, so parts aren't as much of an issue as you think they would be. They're unique and a bit of Audi/Volkswagen history – signaling the reemergence of Audi and certainly worth saving! Especially for a driver like this one, the possibilities to either keep the car stock or modify it slightly as has been done to suit your needs are virtually endless. The seller seems knowledgeable and available, and while the price may be higher for what is generally a fairly unexciting car, it's a neat and unique way to express your love of German motoring for really very little money in the grand scheme of things. For me, that's a win!
-Carter