Warning!
This post is in our archives. Links in this post may have been updated to point to similar cars available to bid on eBay.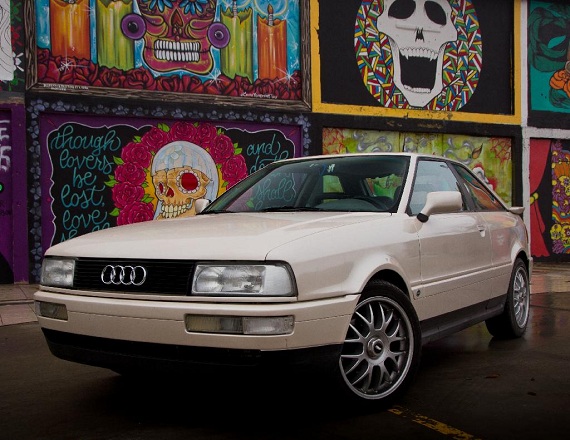 The third generation Audi Coupe had big shoes to fill. The first generation 100 Coupe S, while not a big seller and not available in the U.S., is generally regarded as one of the more attractive German car designs in recent memory. Then there was the second generation Coupe, which in GT form was voted one of the best handling GT cars of the 1980s and was also an attractive design in its own right. But of course, both paled in comparison to the legendary Quattro, its impact celebrated universally now and rightfully afforded a place amongst the best and most influential cars in history. The replacement for these cars, then, had to be pretty special – and in many eyes, it just wasn't – especially in U.S. form. Sure, the 20V normally aspirated engine was a great motor – but it was saddled with too much weight and the styling was rather bland compared to the fluid looks of the 100 and the angular awesomeness of the B2. Consequently and coupled with Audi's image issues following the 60 minute debacle, not many of these Coupes sold in the U.S.. In spite of that, as there were with nearly every Audi model there was a devoted fan base that saw through the expensive pricing, the so-so performance and not particularly exciting styling to what was a quite competent highway car, capable of carrying a much better load than the cars it replaced with the new hatchback configuration, and as ever a snow machine. As these fell into second and third ownership, many turned towards the much more potent European versions for inspiration on how to correct the car that Audi sent to the U.S., and for good reason – the Euro versions were hands down better looking in either B3 or B4 version than what was sent here. Two decades on, the styling of this GT has aged pretty well compared to some of the contemporaries' styling and these are handsome coupes overall. Today's example is the last of the run for the U.S., but has been refreshed with Euro goodies and some paintwork that help it shrug off its many miles: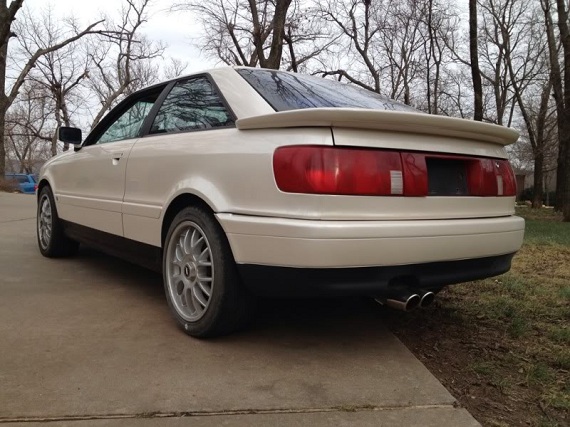 Year: 1991
Model: Coupe Quattro
Engine: 2.3 liter inline-5
Transmission: 5-speed manual
Mileage: 206,000 mi
Price: $5,500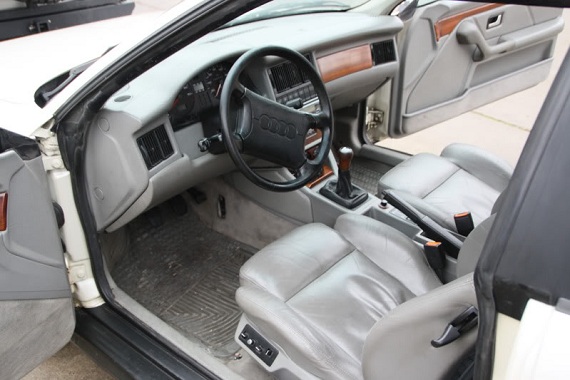 Pearl White 1991 Audi Coupe Quattro (CQ) with 206k miles. Has Quattro, 5-speed manual transmission and the winter package. I have a folder full of receipts documenting this car since about 2004, from what I can tell. I have owned the car for the last 4+ years.

I have done quite a bit of work to get the car where it is today. I just don't find myself driving it as much as I would like and want it to go to someone that will enjoy it. It would make a great car for someone to swap in an AAN or 3B or you can turbo the stock 7A. With only approximately 1,700 of these imported over a two year period, there's no telling how many road-worthy examples are still out there.

Here are some of the details on the car:

Modifications/Updates – Chassis/Exterior
-Complete new three-stage paint job – 11/2012
-European Coupe V6 front bumper with OEM foglights and clear turn signals
-European S2 rear bumper
-European B3 one-piece headlights
-Brand new complete set of OEM lower door trim moldings – 1/2013
-TSW Hockenheims 17″ x 8″ ET35mm. Includes a 5th spare.
-Brand new set of OEM rain trays – 1/2013
-Replaced roof mounted antenna

Modifications/Updates – Engine/Drivetrain/Exhaust
-034 Motorsport Injector Kit
-JHM short shifter – 9/2013
-Spec Stage 3 clutch

Modifications/Updates – Interior/Electronic
-UrS6 three-spoke steering wheel
-Grey leather shift boot & knob from B5 A4
-Kenwood headunit with Bluetooth phone/audio, USB , CD and XM capabilities
-Kenwood speakers in the dash and rear side panels
-Infinity Basslink powered subwoofer in hatch
-Carbon fiber wrapped interior beltline trim (can be easily removed)
-Driver's side knee bolster with cubby
-Replaced speedometer gear – 10/2013
-Installed a steering column firewall grommet
-Headlights have been relayed

Maintenance Items Worth Noting
-Clutch, master cyl, slave cyl, throwout bearing & trans mounts @ 200k
-Timing belt job @ 200k (belts, wp, t-stat, multi funtion temperature switch, aux fan switch, coolant reservoir)
-Replaced heater core @205k
-Rebuilt airbox @205k
-Steering rack @ 185k
-Tie rods @ 185k
-Idle stabilization valve @ 185k

Overall Condition
Exterior looks great with the new paint job. Interior is in good shape especially considering the miles. No tears in the seats. Headliner is starting to sag in the rear and needs to be re-done though. As with many of the older Audis, there are few items worth noting:
-Several interior switches that need to be taken apart and cleaned or have a bulb replaced
-The DIFF locker doesn't appear to working. Not sure if it's the switch or a bad vacuum hose.
-Parking break is in-operable. Might just need to be cleaned up.
-Left rear brake light doesn't light up.

Additional items included with the car:
-All-weather rubber floor mats
-OEM front carpet mats with Quattro script
-OEM rear deck lid
-OEM spare center console
-OEM original steering wheel
-OEM passenger side tail light
-OEM two tail light bulb holders
-OEM spare knee bolster cubby
-OEM original knee bolster
-OEM original shift knob & boot
-Rear wiper delete kit (made by McBoost)
-Whatever miscellaneous maintenance items I have (i.e. filters, drain plugs, etc.)

From what I can tell the car spent most of its life in Colorado before heading north to Wisconsin for a few years. It's been in Oklahoma for the last 4 years. No rust on the body and only some minor surface rust on the parts under the car. Sunroof works great. I would not hesitate to drive this car across the country. In fact, I drove it from Chicago to Tulsa when I bought it. And that was before all of the work I put in to it. My next priority was to work on freshening up the suspension bits.

I have been building a set of coilovers for it that are based on the OEM strut housing. I have ground off the lower spring perches and have all of the parts needed to complete the build-out (Bilstein struts, threaded sleeves, collars, Eibach springs, 034 strut mounts, etc.) All that is left to do is to weld the collars to the strut housing, paint and assemble. Those are not included in the price below, but can be negotiated into a deal.

Asking price is $5,500. I'm not is a hurry to sell. I've got way more in it than that. The car is located in Tulsa, Oklahoma.

Feel free to reply or PM me with any question. Here are a few pictures. I will be taking more pictures this weekend. Let me know if you want to see anything in particular.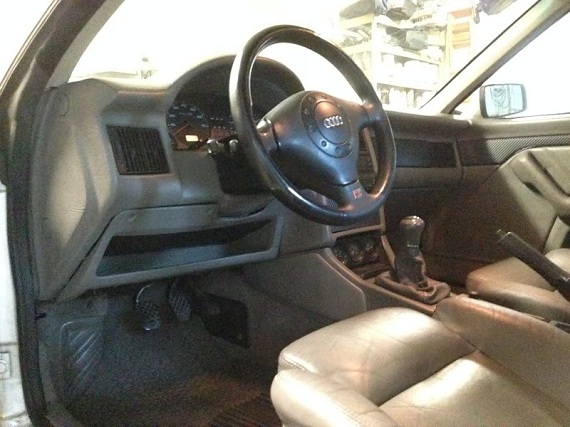 Those that know how much a correct OEM Pearlesant White paint job costs will understand the underlying value there; coupled with the expensive to source OEM front and rear bits, this car has a considerable amount of just exterior work put into it. I actually strongly prefer the one-piece European B3 lights to the often selected RS2 upgrade. Mechanically, the car has some nice upgrades to the otherwise stock platform, such as the 034 injector upgrade. While I haven't done this yet to my 7A GT, it's certainly on the radar. Add to that maintenance which includes the expensive steering rack and a fresh timing belt, ISV and airbox, and this car is ready to roll. Optional but worth considering is a suspension upgrade package which isn't installed, comprising Bilsteins and coilover Eibachs. Then there is a long list of sometimes hard to find spares, all of which is a benefit to the new owner. I'm not a fan of the TSW Hockenheim wheels, but wheels are always an individual taste and are reasonably easy to replace on this car. Asking price is $5,500 – and frankly, it's hard to muster an argument as to why it wouldn't be worth that price. You can find similar mileage Coupe Quattros that are wrecks for less, but to recreate the car that is here would cost you double that asking price pretty easily. As it sits, this is a very attractive platform that's ready for some additional power – the heavy lifting of exterior work is done, and with a AAN turbo swap – or what I'd like to see, a V8 swap once the 7A runs out of steam – this car would really be a stunner in both looks and performance.
-Carter