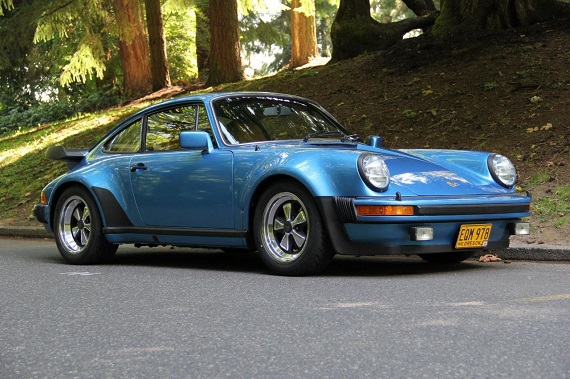 A couple weeks back I featured a 1977 Porsche 911S in the fantastic combination of Minerva Blue over Cork. It was wonderfully beautiful and while the '77 911 is coming along in appeal it remains one of the less desirable models. Well now we have that same great color combination, but on a model that takes our desire up a number of notches. Here we have a Minerva Blue Metallic 1979 Porsche 930 Coupe, located in Oregon, with Cork leather interior and a scant 20,426 miles on it! The paint is original, as is the interior. The only thing missing are some pictures of it in the sun so that we can really see that blue paint pop.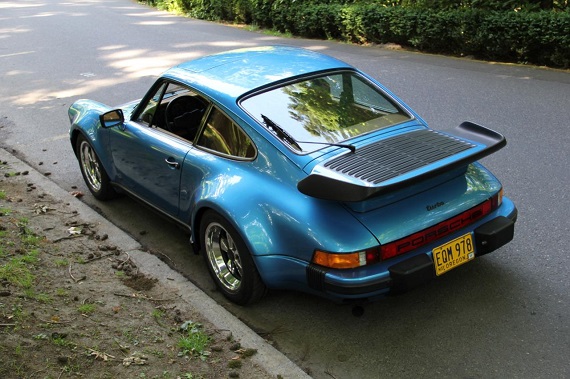 Year: 1979
Model: 911 Turbo
Engine: 3.3 liter turbocharged flat-6
Transmission: 4-speed manual
Mileage: 20,426 mi
Price: Reserve Auction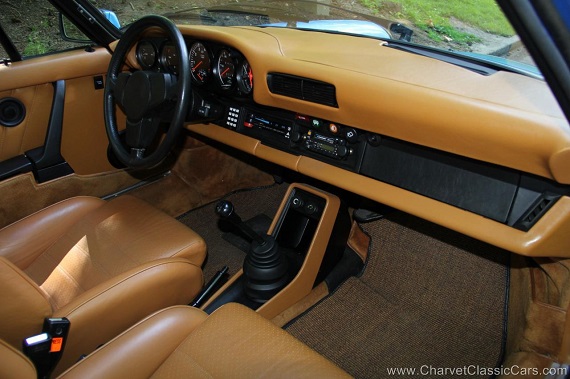 1979 Porsche 930 Turbo Carrera Coupe
Listed on behalf of Monte Shelton Motors
Located in PORTLAND, OREGON.

VIN: 9309800336
Engine Number: 6890250
Transmission Number: 7790679

This 1979 Porsche 911 ("930") Turbo Coupe was produced in December of 1978 and sold new by Carrera Motors in Bend, Oregon. The original owner lived in the small town of Sisters, Oregon and revered the car, keeping it parked in his living room. He rarely drove it, preferring to admire it inside of his home. In a financial downturn in 1983, he sold it to a gentleman in Portland, Oregon who kept it for the next 33 years (although not in his living room!) He recently made the car available and it is now being offered for sale. The car is numbers-matching with a certificate of authenticity from Porsche.

The current mileage of 20,400 is correct and verified by the file of service records that accompany the car. Over the past 30+ years it has been maintained by the same Porsche specialists. Outside of oil changes, belts, batteries, wiper blades and other minor maintenance items, this car is original throughout.

The Minerva Blue Metallic paint is as it left the factory 37 years ago. Other than a few very minor touch ups on the nose, (no doubt from driving on gravel roads in central Oregon during the first few years of its life, and barely show in photographs) the paint is completely original and impeccable.

The interior is incredible. Factory-fresh, orignal "cork" colored leather, reflecting its storage indoors from day-one. The carpets look as-new. A non-smoking car, it smells fresh with no mildew or odors. All of the rubber is excellent (and original) again attesting to the quality of storage. All accessories work, including the original Blaupunkt AM/FM stereo cassette player. The factory air conditioning blows cold.

Mechanically, this 930 is excellent. Again, it has always been serviced by the same Porsche specialists throughout much of its life. It runs and drives without fault, as would be expected of a perfectly maintained, 20,000 mile car. Great power and when the Turbo kicks-in you get that distinctive sound that is unmistakably "930." Shifts easily. Stops smooth and straight. Truly as good as new (because it nearly is.) The undercarriage is exceptionally clean and shows no signs of damage. Needless to state (but I will) the floorpan is original. Please see photos.

Includes original owners manual, service receipts and ownership records, original factory tool kit, fitted "bra" for the nose of the car, original floor mats.

I can state without hesitation that this is one of the finest, original 930's available today. "They are only original once" is really true, and in this case, the care of the car throughout its life shows. If you are seriously interested in this car I would suggest you see it in-person. Bring any Porsche expert in the world with you. They will be impressed.

A reserve has been placed on this car in keeping with its quality, originality and low actual miles. It cannot be duplicated by any restored car. Please bid accordingly.

WE WILL HAPPILY SELL TO BIDDERS, WORLDWIDE.

SCROLL DOWN TO SEE MANY MORE DETAILED PHOTOS, SHOWN BELOW THE LISTING.

Thanks for looking and GOOD LUCK!

If the video link below is inactive, please go to: https://youtu.be/dOn0B9l6E8c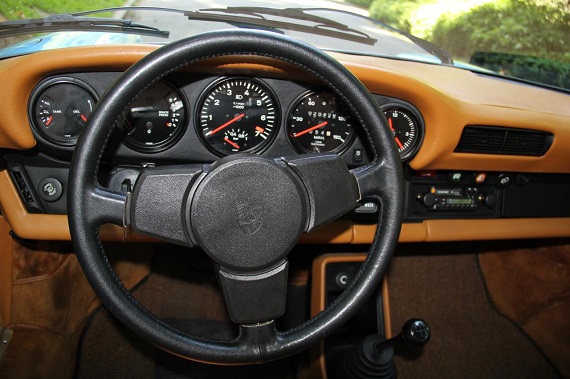 From the ad we can gather that this is a two-owner car and that the first owner appears to have used it somewhat as a couch. I can't really imagine that, but it does help explain some of the low miles. Even the second owner, who has had the car for 33 years and did not park it in his living room, did not put many miles on it. The condition appears to be befitting of those low miles. I will be very curious to see where bidding goes with this 930. Right now it sits at $85,100 and I expect that will come up quite a bit as this is surely one of the better examples I've come across given its level of originality and color combination. Six figures should be a given; how far into six figures we go we'll have to wait and see.
-Rob