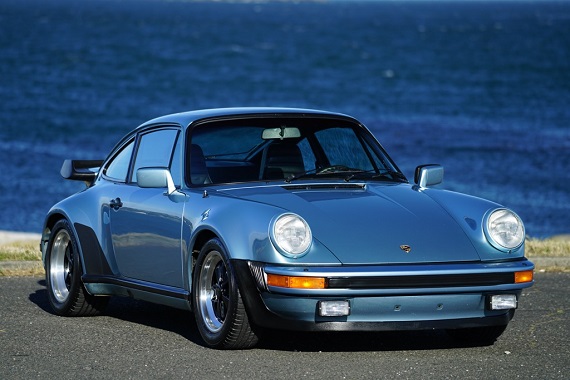 Take a beautiful blue car and place it next to the ocean (or any large body of water) and I will be attracted to it like a moth to a flame. It is a combination of color and environment that really speaks to me even if there is a certain monochromatic quality to the entire presentation. As should now be obvious my attraction to this 1979 Porsche 930 was kindled through just such an arrangement. The sky, the waves, the car. It all looks so inviting. Of course, once you've strapped yourself into this 930, fired up the engine, and attacked the local coast road the experience then takes on an entirely different dimension. That's right where my mind is transported after taking in the still photos. It's the total experience captured in a single photograph.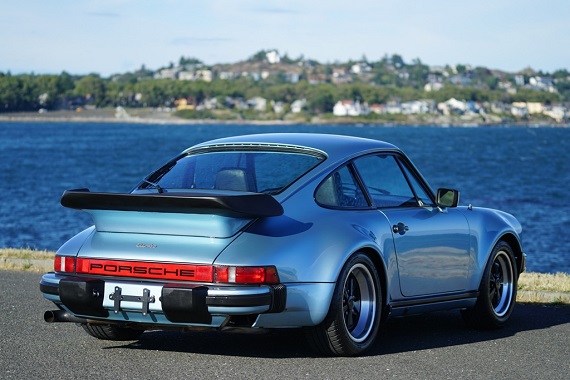 Year: 1979
Model: 911 Turbo
Engine: 3.3 liter turbocharged flat-6
Transmission: 4-speed manual
Mileage: 152,000 km (~ 94,448 mi)
Price: Reserve Auction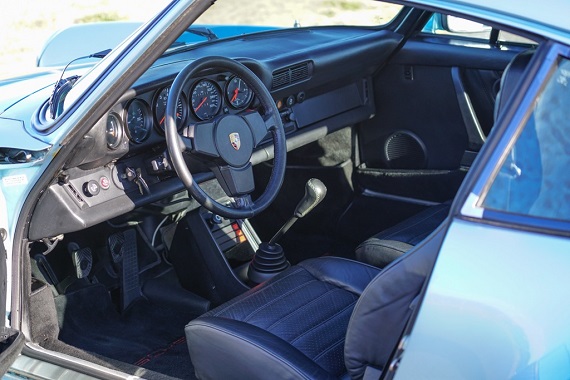 1979 Porsche 930 Turbo
Manual 4-Speed Transmission
VIN: 9309800619
Engine: 6451448 Type: 911/43
Mileage: 152,000 km (94,500 miles)
Light Metallic Blue Exterior
Black Leather/Vinyl Interior

Seller: Silver Arrow Cars Ltd.

Location: Victoria, BC, Canada
Nearest US Border: Blaine, Washington
Nearest Port: Vancouver, BC, Canada

We Ship Worldwide and can assist with export/import and shipping arrangements on your behalf. Please contact us for details and quotes.

Model Information (General):

Porsche began experimenting with turbocharging technology on their race cars during the late 1960s, and in 1972 began development on a turbocharged version of the 911. Porsche originally needed to produce the car in order to comply with homologation regulations and had intended on marketing it as a street legal race vehicle like the 1973 Carrera 2.7 RS. The FIA's Appendix "J" rules that brought about the 911 Turbo Carrera RSR 2.1 in 1974 changed in 1975 and 1976. The FIA announced that cars for Group 4 and Group 5 had to be production cars and be available for sale to individual purchasers through manufacturer dealer networks. For the 1976 season, new FIA regulations required manufactures to produce 400 cars in twenty-four months to gain approval for Group 4. Group 5 would require the car to be derived from a homologated model in Group 3 or 4. Porsche's group 4 entry was the 934, homologated on 6 December 1975. For Group 5, Porsche would create one of the most successful racing cars of all time, the 935. While the original purpose of the Porsche Turbo road car was to gain homologation for the 1976 racing season, it quickly became a cult road car. 400 cars were produced by the end of 1975. Since Porsche wanted to be racing for the 1976 season, they gained FIA homologation for the Porsche Turbo for Group 4 in Nr. 645 on 6 Dec '75 and the 1,000th 1976 Turbo was completed on 5 May '76.

Ernst Fuhrmann adapted the turbo-technology originally developed for the 917/30 CAN-AM car to the 3.0 litre flat-six from the Carrera RS 3.0, creating what Porsche internally dubbed as 930.

Total output from the engine was 234 hp (US Cars), much more than the standard Carrera. In order to ensure that the platform could make the most of the higher power output, a revised suspension, larger brakes and stronger gearbox became part of the package. A "whale tail" rear spoiler was installed to help vent more air to the engine and help create more downforce at the rear of the vehicle, and wider rear wheels with upgraded tires combined with flared wheelarches were added to increase the 911's width and grip, making it more stable.

Porsche badged the vehicle simply as "Turbo" (although early U.S. units were badged as "Turbo Carrera") and debuted it at the Paris Auto Show in October 1974 before putting it on sale in the spring of 1975; export to the United States began in 1976.

Porsche made its first and most significant changes to the 930 for 1978, enlarging the engine to 3.3 litres and adding an air-to-air intercooler. By cooling the pressurized air charge, the intercooler helped increase power output to 261 hp (DIN, USA); the rear 'whale tail' spoiler was re-profiled and raised slightly to make room for the intercooler. Porsche also upgraded the brakes to units similar to those used on the 917 racecar. While the increase in displacement and addition of an intercooler increased power output and torque, these changes also increased the weight of the vehicle, especially to the engine, which contributed to a substantial change in the handling and character of the car when compared to the earlier 3.0 litre models.

1979 Porsche 930 Turbo

Delivered new to Edmonton, Alberta and having just three owners since 1979, this 930 Turbo, in the highly desirable light blue metallic scheme, is one of the best driving cars of its day. It has had extensive mechanical work in the past few years including a 20,000 USD motor rebuild and tuning by Don Clark down in California. Most recently it was serviced at the local Porsche dealers where the 2nd and 3rd gear synchros were replaced. The car has patina from its years of being enjoyed on the road. The body is dry and in very good condition. Leather is still in great shape. This is the ultimate drivers 930 Turbo offered at significantly less than the identical specification 300,000 USD one sold at RM Sotheby's auction recently. Blue chip collector Porsche that can be used all season long.

This is one of only 1200 Turbos imported North America in 1979. Paying over sticker for a Turbo was common, as 1979 was supposed to be the last year that the Turbo would be brought into the US. Also the rear-engine 911 was rumoured to be on its way out with the introduction of the 928 and other front-engine Porsches. Buyers and dealers alike were speculating that the car would double in value within a few years. Base-price was close to 50,000 CAD and people would pay up-to 25% over sticker to get their hands on a "final year" 930 Turbo. In today's money that amount is getting close to 225,000 CAD.

Please call Robert at +1 (250) 532-6547 to have any additional questions answered or to see the car in person.6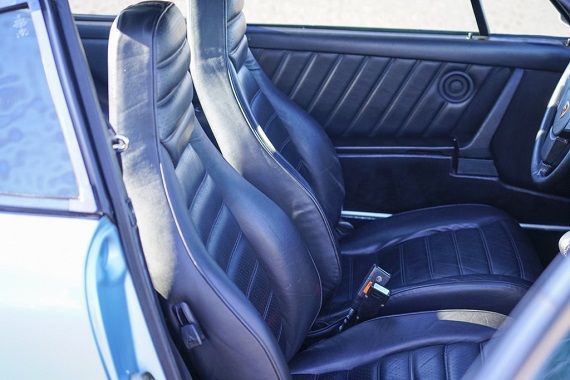 This particular 930 is located on the western edge of Canada, outside Seattle, so there will be some additional hoops to jump through for those who'd like to bring it Stateside, but perhaps nothing too arduous for anyone with a strong desire for this 930. It's a beautiful example showcasing a Light Blue exterior over a Black interior and the condition of the whole looks quite good. The engine has been rebuilt and the 2nd and 3rd gear synchros replaced, which hopefully will take care of some major potential mechanical issues for the foreseeable future. While once seen as a potential prize for collectors the '79 930 now makes for a pretty good driver's alternative as it comes in at much more reasonable cost than the earlier 3.0 liter models yet is a little lighter than later 4-speed models (and of course much less expensive than the '89 MY). Bidding here remains quite reasonable right now at only $53,850. It won't sell at that price, but we've seen plenty of these priced below $100K so it may not move up too much further either.
-Rob