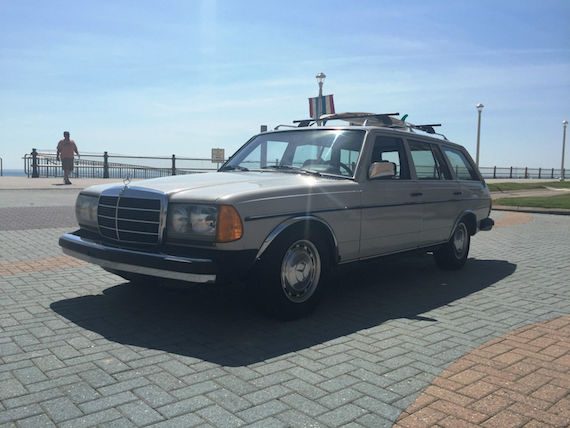 The sight of a W123 wagon on the road never fails to bring a smile to my face. It's a testament to the durability of these cars that they can still be seen today doing exactly what their designers intended forty years ago, chugging along faithfully and reliably, hauling stuff around. We've seen nice, well-kept examples fetch between $10K and $20k over the last few years. As a result, a lot of the nicer ones have been snapped up by rich hipsters (it's not for nothing that many of them have ended up in Brooklyn). That's a shame because these were always the workhorses of the Mercedes lineup and the hike in their value has put them out of the reach of those who just want a cheap, no-frills hauler.
That makes this particular car, suggested to us by our reader Don, all the more refreshing. While the mileage is low, the car is certainly not mint, and the somewhat tired but perfectly usable condition will help to keep the price of this one on the affordable side.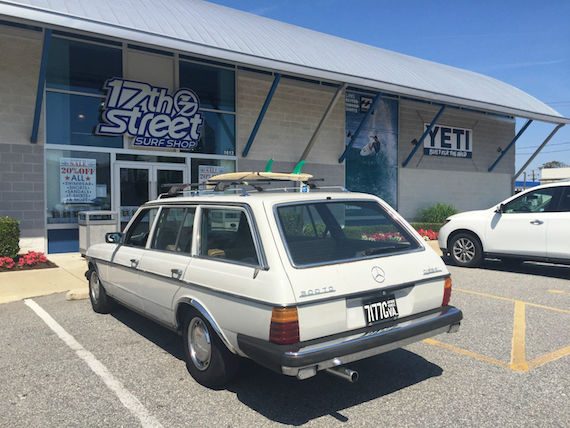 Year: 1980
Model: 300TD
Engine: 3.0 liter inline-5 diesel
Transmission: 4-speed manual
Mileage: 151,730 mi
Price: No reserve auction
This No Reserve auction is for a 1980 Mercedes Benz 300TD station wagon with a 4-speed manual transmission.

This wagon has the legendary OM617 straight-5 diesel engine that has a reputation for lasting over a million miles. This car only has 151k miles on it so you have a lot of life left in it. This is a non-turbo engine with a 4-speed manual transmission so it is as simple and uncomplicated as it gets. 300TD stands for 3.0 liter Touring Diesel not Turbo Diesel as many people think.

The exterior is the original Mercedes Benz Pastel Gray (Paint code 740) and it shows its age. There are a few rust spots around the car along with some surface rust and touch up paint here and there. It won't win any car shows for glossy paint but it is honest and original. If you wanted to replace the front fenders and repaint the car, it would look very much like John Lennon's 1979 300TD in appearance.

Even though the bottoms of the front fenders have rust, the floor panels are surprisingly solid. The interior is blue although palomino seats were installed at one point.

It comes equipped with Climate Control A/C, manual sliding sunroof, power windows, and aftermarket CD player with Satellite radio. The A/C does not blow cold but the heat works fine. The left rear window does not work (window regulator?) and the radio antenna is broken off (but radio still receives a good signal.)

This has been used as a surf wagon for many years, used only to go to the beach on sunny days. The roof rack has cross bars that have been used to carry surfboards to the beach but can be removed if you so choose.

You are welcome to come check it out in person and I would be happy to take it to a local mechanic if you would like to pay to have it checked out before buying.

This is an iconic car that will not go down in value, is cheap to insure and maintain, and gets great MPGs. It is rare to find one of these in the states with this low of mileage and a manual transmission.

I would feel confident driving this car cross country. I'm happy to pick you up if you would like to fly in to Norfolk International Airport (ORF) , spend the weekend at the beach and then drive it home. If you would like to have it shipped, I will help your shipper to load it onto their truck.

This is a No Reserve auction so whoever is the high bidder at the end, will be the lucky new owner of this Mercedes Benz 300TD manual transmission diesel wagon!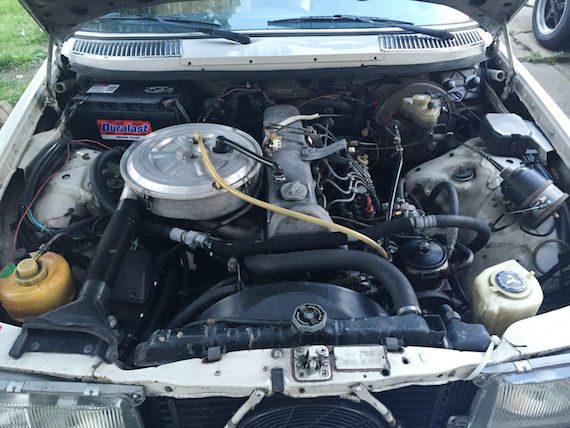 The first thing that stands out is the four speed manual transmission These things normally come with an automatic, so that's fairly unusual. Enthusiasts will probably rejoice (wagon! diesel! manual!) but the truth is that Mercedes manuals have never been that great, and the autoboxes on these were very smooth. So this could be a plus or a minus, depending on your perspective. But if nothing else it should make the car a little more entertaining to drive. Second, the owner has had the good sense to install European-specification headlights. These are more attractive than US-spec units and they put out better light. Third, this one comes with the OM617 inline-5 cylinder diesel engine, with a mere 151k miles on it. This is one of those rare instances in which I wouldn't even mind if the ad said "million mile engine," because it's true. When the end times come and all that remains are the cockroaches scurrying around (so, about 6 months into a Trump presidency), this engine will still be running. It really can lay legitimate claim to that oft-used phrase: "most reliable engine ever built." With barely any miles on the clock, this one has only just been broken in.
On the other hand, the exterior condition of the car isn't great; it's described as "honest" which is, well, honest. The shadows cast by direct sunlight in the photos make it hard to assess, but according to the seller the pastel gray paint "won't win any car shows" and there is rust apparent on the fenders. The A/C doesn't work and parts of the interior aren't original: the blue seats, which presumably gave out at some point, have been replaced with palomino colored ones instead. Still, without these issues we'd be back into silly money territory, and in my opinion these flaws neither detract from the charm of the car nor will they stop it from being used for its intended purpose. I hope that someone buys it and continues to drive it to the beach for the next twenty years.
– Craig