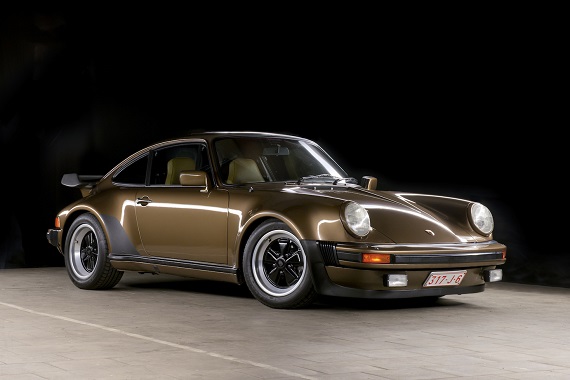 These are the cars I love coming across. Not just that it's a 911 Turbo, but the exterior color and the contrasting interior – basically everything about the appearance of this car makes me stop in my tracks. This is about as period correct a color combination as we're likely to come across, and as I've noted in other features of similarly-colored cars it is extremely rare to see a modern car, from any marque, produced in these shades. This particular Turbo seems to have taken that period correct color scheme to another level. The metallic paint with a slight golden hue flashes and sets it apart from many of the other brown shades I've seen. It's earthy and smoky, while also vibrant. There's definitely some very nice photography at work here, but still this car looks pretty great! Here we have a Tobacco Metallic 1980 Porsche 911 Turbo with around 53,000 miles on it, and as the ad notes this color was only available in 1979 and 1980.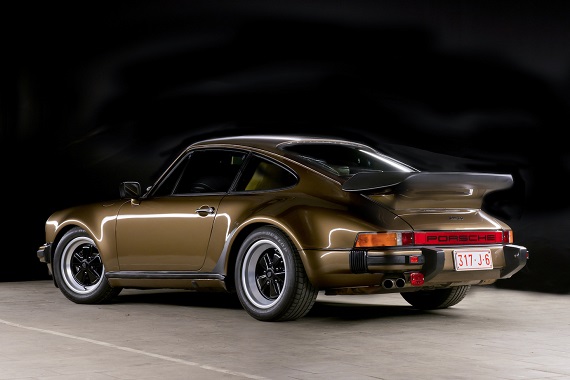 Year: 1980
Model: 911 Turbo
Engine: 3.3 liter turbocharged flat-6
Transmission: 4-speed manual
Mileage: 85,000 km (~53,000 mi)
Price: Inquire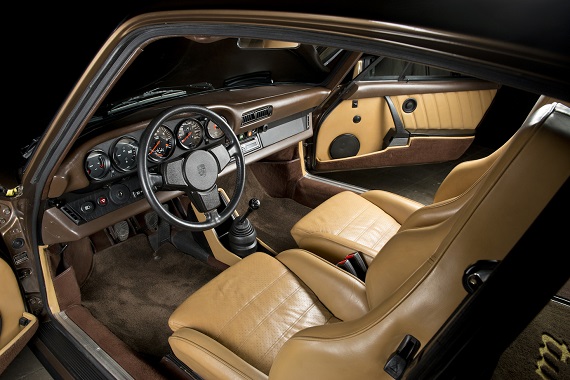 1980 PORSCHE 911 3.3 TURBO
VERY ORIGINAL, FULLY MATCHING NUMBERS
Fully matching numbers
European car
Original paint
Excellent documentation

Model history:
The 911 Turbo, internally code named 930 was introduced in Paris late 1974. Most people at the time did not understand the move as the world economy suffered its firs oil crisis. People were starting thinking about "saving fuel" instead of gas guzzling cars. Now little did Porsche know that there would be an oil crisis around the corner when they started their Turbo project. The Turbo was to become the top of the line in luxury specified 911, it was also to become an icon and a supercar in its own right.

The first cars had 3.0 Liter engines with a rather big single Turbo. Their engine had a bhp output of 260 bhp but more importantly the power came on as a rocket in between 3.500 and 4.000 rpm. The car was very difficult to master and i am sure lots and lots of the first generation 930 got crashed.

Thereafter Porsche developed the 3.3 liter engine where the explosive character of their 3.0 engine was seriously tuned down. The 3.3 liter was the far better car to drive.

Curiously all 930 (911 Turbo's) except for the very last two years of its production were equipped with 4 gear gearboxes. Porsche believed that their 5 gearbox would not be strong enough for the power of the engine. Now the 4 gearbox is more than sufficient to drive in a comfortable way along as well as it is to nail the car. It supports the power band of the car very well.

Specific history of this car:
This particular 1980 car has a 3.3 liter engine with the 4 gearbox. As it was delivered in Switzerland (see later) it was build as a European car. Therefore it is interesting to read the following text of the last US owner of the car who does compare the US and Euro specified cars.

"A word about the turbos in general, for those less familiar with the cars: I have driven various 930s for the last 30 years. I have driven both Euro-spec and US-spec cars. In fact, I still own another turbo, a US-spec 1986 model that I purchased new. The Euro and US cars drive completely differently. You wouldn't think so but you can put me in one blind-folded and I'll tell you which it is. The Euro cars drive much freer, which is a hard concept to put into words. They have a lighter feel (not that they weigh all that much less than a US car) and have a more relaxed nature to the engine character. A US car feels like it is being held back, even those that have been modified with the usual things. The power bands are quite different, with the Euro car feeling much more flexible. They also run much cooler. This car will run an oil temperature of 90C degrees, regardless of whether it's driven in town, or on the highway. It occasionally (all right, often…) gets to 100 degrees here in Oklahoma in the summer and this car still runs 90C degrees. You can attribute that to the richer fuel mixture a Euro car runs. The gas mileage is essentially the same for both cars. The earlier turbos have a slightly more raw feel. The later cars got a little more quiet and packed on a few pounds to show for it."

This car was originally delivered to a gentleman in Stusslingen, Switzerland on 11/07/80. It remained there for a period of years and was then imported to the US, by a gentleman that I believe lived in Texas.

The colour is Tobacco Metallic, a colour only available in 1979 and 1980. The paint has been touched up at the front of the car where small rock chips tend to occur; also along the rocker panels; the wheel centers have also been repainted. The interior is full leather, the colour is Beige and the carpets, dash and interior trim pieces are brown. Unusually for this model year, the headliner is also brown. Originally the car was equipped with air conditioning. The system used was one typical of European market Porsches, in that it lacked a front condenser. the A/C components were removed from the car and they will be made available to the buyer, if desired. The glass appears to be all original, including a heated front windshield which you don't ordinarily see in the US. The only non-standard parts on the car are an Alpine radio/CD player and Alpine component speakers in the front doors. The car has the stock 7×16 and 8×16 Fuchs that it came with.

This is an absolute immaculate example of the early 911 Turbo's with low kilometers (85.000kms) and a striking period (but nevertheless tasteful) color combination.

The car will be delivered with a fresh service and in excellent, "turn-key" condition. The complete engine, gearbox and brakes have just been rebuilt.

Tobacco Braun metallic
three tone full leather
Delivered new in Switzerland by AMAG
Matching numbers chassis, engine, transmission
Engine is dry, fuel injection completely rebuild, engine tuned up, Clutch like new
Complete rebuild of gearbox
Complete rebuild of brakes with new pistons, pads and disks
Original 16 inch wheels with correct period black star finish
Original automatic sunroof
Inflatable original spare wheel
A/C delete but with car
original kilometres
Certificate of Authenticity from Porsche
Many receipts from new, including recondition
Imported from the USA-EU specification car
Owner's manual and documents
Clean Belgian Title. All EU taxes paid.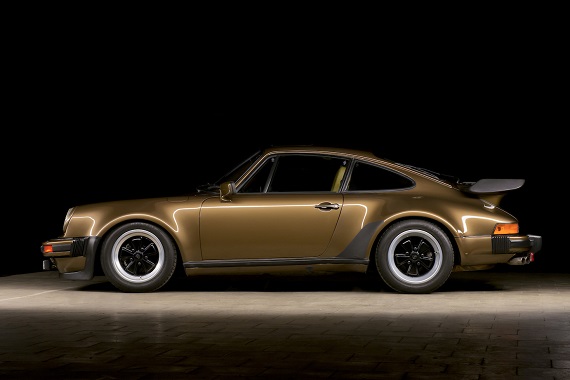 As fans of the Turbo will know, these cars were not available in the US market in 1980 so this is a European build, originally delivered to Switzerland, that at some point was imported to the US. Since the Jan Lühn showroom is in Western Germany I assume the car has made its way back to Europe though the ad does not really make that point clear. There isn't much said about the asking price, but it's probably safe to assume you'd be looking at something north of six figures, probably around $120K. All in all, for your money you're getting a pretty stunning example of an early Turbo that shows fairly clearly its time and place.
-Rob