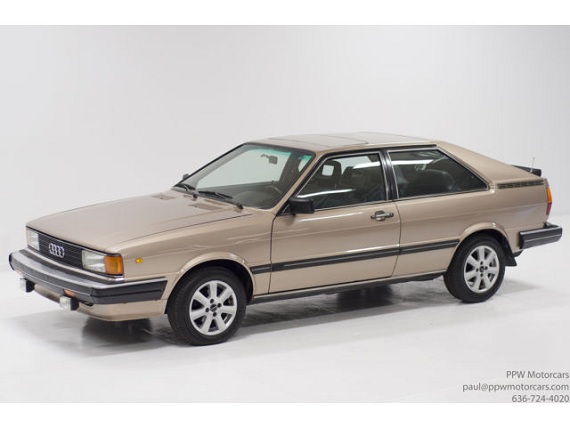 I've made it no secret that I'm a big fan of the Audi Coupe GT; obviously, it helps that I own one that I've had for a few decades now. They're stellar and underrated cars, forgotten by German car enthusiasts at large they remain one of the best unsung grand touring cars of the 1980s. While not the fastest or flashiest car out there, the GT provided a good amount of luxury and isolation, but brought with it a good dose of sport to back up the DNA links to motorsport and its big-brother Quattro. The GT was a car that gave you 80% of the performance of the turbocharged model for half the price. It also, in my mind, looked great too – while we all love boxflares, like the non-M3 E30s the GT had a charm of its own. The great angular yet curved C-pillar was the best design feature in my mind and still looks great today. For a car that shared a majority of its components with the 4000 model, the GT was remarkably different in character. However, as they were generally forgotten it is exceedingly difficult to find good examples of the B2 Coupes in general, and especially the first run of the cars. Distinctive with their DOT-spec diving board bumpers and quad-headlight setup with flat grill, these GTs have a loyal following – and one of the best examples from what was clearly a loving home is up for sale today: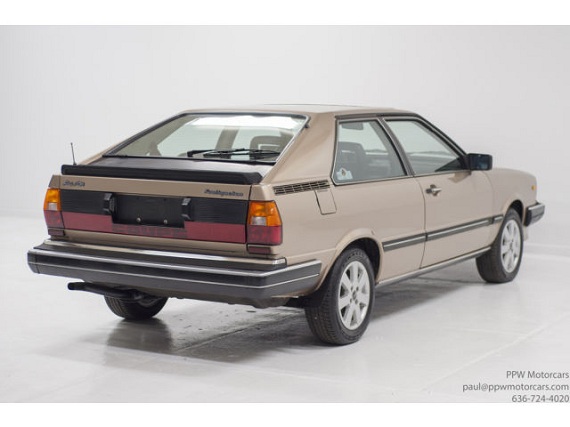 Year: 1982
Model: Coupe GT
Engine: 2.1 liter inline-5
Transmission: 3-speed automatic
Mileage: 57,301 mi
Price: $11,900 Buy It Now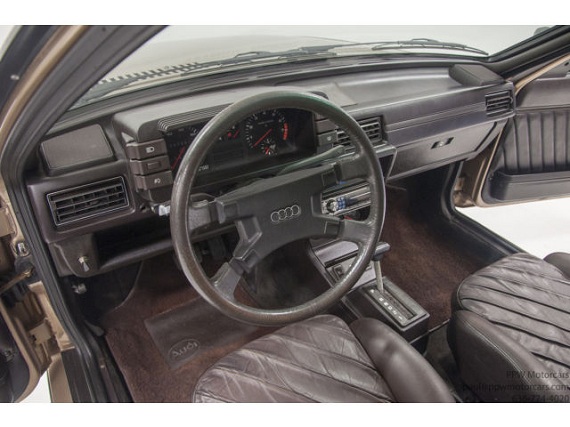 1982 Audi GT Coupe
Only 57,301 Original Miles!
One of 4,236 Produced!
Original 2.1L 5 Cylinder!
Incredible Condition!
Highly Desirable Gold over Chocolate!
Original and Factory Quattro Leather Interior!
Sun Roof!
Power Steering!
Power Brakes!
Power Windows!
Original Spare, Jack, and More!
Just Serviced and Ready to be Enjoyed Today!

SHOWROOM PRICE: $14,900

DISCOUNT: $3,000

SALE PRICE: $11,900!!!

Call 636-724-4020 today for a worldwide shipping quote!

PPW Motorcars is pleased to offer this beautiful 1982 Audi GT Coupe that was beautifully ordered in Gold Metallic over a soft and powdery Delux Quattro Leather Interior! This beautiful example has traveled just 57,301 miles from new and is the nicest example on the market today!

What sets this vehicle apart from all others is the incredible condition the vehicle is in. Most of the 4,236 examples did not survive to date and of the very few that exist most of them are in less than desirable condition. To find such a rare and iconic motorcar in such condition is practically unheard of! Further, the vehicle has just been serviced and has had a major service, spark plugs, distributor rotor, air filter, oil change, coolant flush, brake fluid, and much more! Offered for the enthusiast who understands and appreciates the investment potential of this extremely low mile, original and iconic Audi! Bid with confidence-you will not be disappointed in this truly amazing motorcar!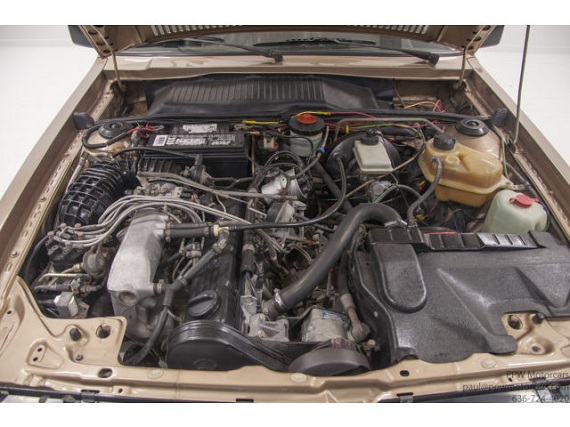 Gobi Beige Metallic is an interesting color; generally referred to as "Gold" by many, it's not one of my favorite colors on the B2 but if properly cared for it does look good. The interior is the real star here, and in seemingly great condition. Outside of the stereo upgrade and new speakers, the interior appears to be stock and unmolested. Of special note is the rare to see factory fog light switch powering those front Bosch fogs; later cars were equipped with Marchals integrated into the lower grill if you were quite lucky. Even more rare is to find the side cardboard for the radiator shroud intact, a clear sign that this car has led a relatively sheltered life. Outside, the car appears to be in very good condition as well – witness the "unleaded fuel only" sticker still in good shape on that door and the original badges still have the silver coating on top, often polished off with many cleanings and too much sun. The wheels are not original obviously, and the headlights have been upgraded to the European market flat H4 design. Some will argue that with proper sealed beams, the quad-headlight setup is superior to these H4s but in terms of looks, I like the Euro units more. Unfortunately those Euro lights aren't matched with Euro bumpers. They can still be found and really clean up the lines of the car, as would a set of Ronal R8 option wheels in 15×7. Aside from that, there isn't much not to like here. The automatic transmission is probably the biggest letdown for enthusiasts; having owned one, they're not a horrible drive but lack the enthusiasm of the manual. Still, this isn't likely to be a back-road burner anytime soon and would best be enjoyed as a show car. For a 32 year old, rarely seen piece of Audi history, there are few cars that approach the condition of this car. Does that make it worth $12,000? Not yet, though the GTs have been on the rise. I'd put current value on this car somewhere in the $8,000 – $10,000 range currently. That sounds like a lot for a non-quattro, but with prices rising quickly and the relative drought of good examples, you'd be hard pressed to replicate the quality of this car for less than that amount.
-Carter