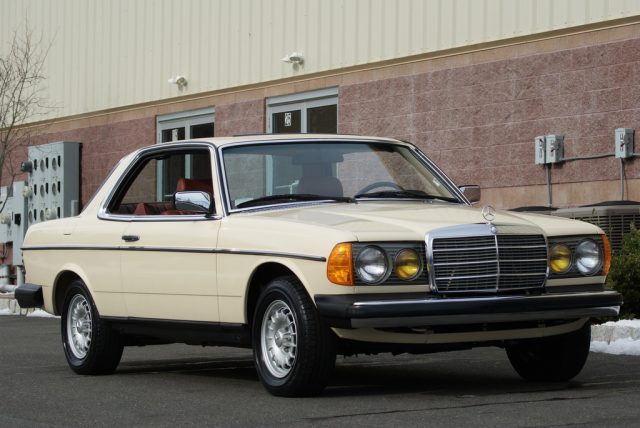 Another week, another crazy low mileage Mercedes-Benz. Today's example is a 1982 300CD in Light Ivory with the wonderful Sienna MB-Tex interior. This C123 for sale in New Jersey checks in with a little over 18,000 miles and while the seller explains this is basically a showroom car, but a lot of times I don't always agree with those claims. This car is an example why.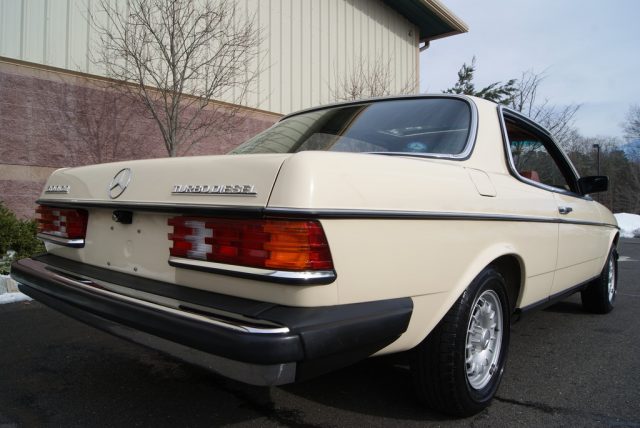 Year: 1982
Model: 300CD
Engine: 3.0 liter 5-cylinder
Transmission: 4-speed automatic
Mileage: 18,488 mi
Price: Reserve Auction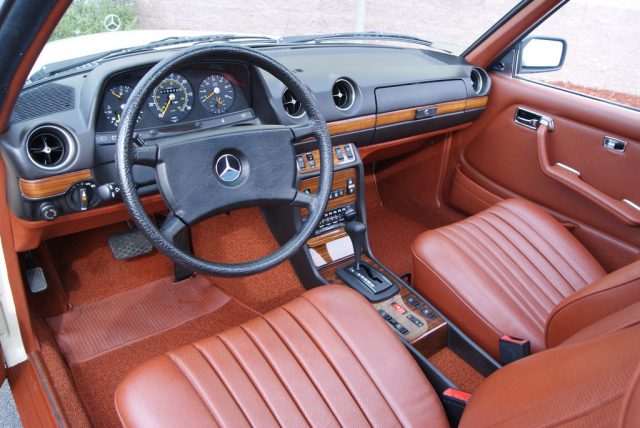 What is presented before you is the grail of all Turbo-Diesels – a 100% all original, 18,000 mile, two owner , Concourse level Mercedes-Benz 300CD !!! This is an unbelievable, unmolested, pristine, like NEW in the wrapper and very rare W123 Coupe !!!
This car is essentially priceless. This is not to say that the car is worth millions of dollars (nor that it will never achieve such a figure in time). I say priceless because there is no way to put a dollar value on a vehicle as rare as this. There is no other comparison that I know of; it is undoubtedly a one-of-a-kind.
A little history of the car from second owner:
The following information was passed on from the daughter of the original owner to the current collector: For propensities sake, before his passing in his 90s, the original owner had instructed his daughter to sell the car only to a collector. He said "the car is much too valuable to go to anyone else". After her father's passing, his daughter enlisted the help of a friend who is a licensed dealer in the state of North Carolina and deals only in high-end European cars. The car was sold to the current collector who has driven the automobile less than 80 miles while in his stewardship.
The original owner was a Mercedes-Benz enthusiast. In his middle-aged 50s he went to his local Mercedes-Benz dealership and placed an order to have this fine Mercedes-Benz built and shipped back to the states to his humble little town in Winston Salem, North Carolina. He purchased the car not as a daily driver, but as a pure pleasure vehicle. He was absolutely in love with the Turbo-Diesels and also had a Mercedes-Benz 300TD for his daily driver.
It was said that he would take this car for long drives in the foothills and through the mountains on the North Carolina Blue Ridge Parkway. These were some of his favorite weekend countryside drives. (Original period correct maps included.) While prepping this car for auction I found myself chuckling and picturing the old man with the windows down, cruising in the crisp cool air through the foothills of North Carolina; what a pleasure it must have been.
He, like most Mercedes-Benz owners, was in love with his car. He took the upmost care and precautions to preserve the integrity and fine workmanship of the automobile. When not in use, the vehicle was stored in his garage with cover. His daughter conveyed that he was so meticulous about the vehicle that when he took it out he would put a red matching towel on the rear of the dash as to not risk any type of sun fading since it was a "hotspot". (Original red towel included). I always find that Mercedes-Benz owners are some of the fussiest owners of their automobiles any one person can come across.

Now to describe the condition of the car:
The exterior finish is show quality and is beautifully complimented by bright and clear show quality chrome trim!!!

The anodized aluminum trims around the vehicles glass is in excellent condition!!!

All glass is crystal clear and free of nicks or chips, with the exception of one teeny tiny minuscule chip under the passenger windshield wiper; other than that all of the glass on the car is flawless!!!
The interior is the nicest I have ever seen with zero sun fade!!! Seats, carpeting, the entire interior is impeccable and as close to flawless as you can get, literally factory fresh and new!!!

Zebrano wood inlays have a mirror-like shine and a deep beautiful clear luster; excellent condition!!!

All power options functioning 100%, Becker Radio sounds beautiful and the A/C is ice cold!!!

Engine bay is factory fresh and THE nicest I have ever seen in its class!!!

The under carriage is in exceptionally preserved, like new condition. The Cosmoline looks as if it were applied yesterday, and the under carriage paint and factory coatings are the absolute best I have ever seen!!! This is without a doubt the best under carriage I have every laid eyes on in the vehicle's class!!! It well represents fair weather usage and in my expert opinion, no rain weather operation!!!

The vehicle still wears (very rare) its original matching factory issued Continental tires including spare which has never been down!!! The tools are still sealed in the wrapper!!!

The vehicle has been completely serviced, all fluids are fresh and a new battery has been installed…

This vehicle is at 100% optimum running order and needs nothing mechanically or cosmetically!!!

In short: ultimately the vehicle looks like it did back in 1982 the day it rolled off the factory line!!!!

This is one of the most well documented Turbo-Diesels on the planet. Everything is complete including hand written dealer service receipts (that's the way they did it back then). If you demand PERFECTION, this car is as close to perfect as you will ever get!!!

All Books, manuals, dealer brochures, first aid kit and service records are in order.

Please scroll through over 150 high resolution photos below:
Located in Central NJ, 07753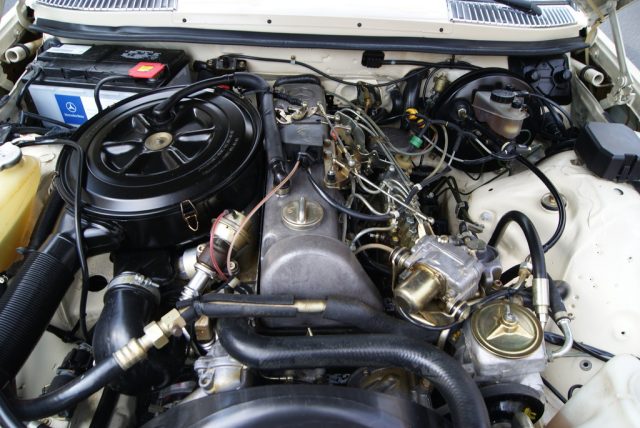 Just to get this out of the way, this is a really nice 300CD. The interior is the selling point of this car and it delivers many times over. Sienna is one of the least common interior options on the W123 and it's great to see an example that's been preserved as well as this one has. The Zebrano wood is what dreams are made of in terms of condition and I still can't get over how well it shines.
But, there are a few odds things about this car. Under the hood, the hose that leads from the coolant overflow tank and vents onto the ground is routed on top of the air box then routes into the hole for the coil spring. This isn't a big deal as this car probably isn't overflowing and dumping coolant from that hose but ideally it needs to be routed in its factory location and not on top of the rattling air box that will soon wear it away quickly. Second, the bottom of the spare tire well looks like it was damaged and repaired rather hastily with some sort of black goo. (I attached the photo of this.) Again, not a huge deal but just a little odd. Third and most importantly, it looks like this car still is riding on the original tires from 1983. I don't need to explain to anyone why this is a very bad idea seeing as it could turn a very nice 300CD into a 300CD that needs body work and paint.
Listings for cars like these make me shake my head when I see them. If you go out on a limb and say "This is an unbelievable, unmolested, pristine, like NEW in the wrapper and very rare W123 Coupe !!!" and then double down with three exclamation points, the car better be that. Unfortunately, in 1983 Mercedes didn't sell cars with dry rotted tires and strange repairs to the underside of their cars. I have no problem with sellers who say "This is a really nice example and here are things you should be aware of: … " but to go off the deep end and proclaim this is the best car ever just doesn't work for me. I literally feature cars just like this almost every week and many more that I pass on because they just aren't that interesting sometimes.
So where will this one end up? I wouldn't be shocked to see this one pass $20,000 or more. We are full into spring and summer is just around the corner so the market for a car like this is pretty warm. C123s always pull a premium over sedans and this one shouldn't be any different. Let's just hope the buyer leaves money in their budget for a new set of tires.
– Andrew