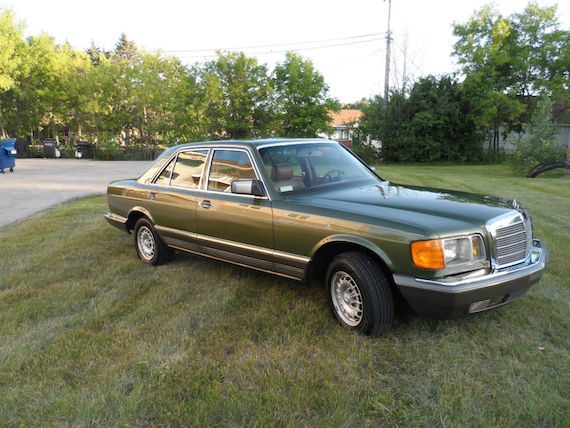 A W126 diesel provides all the comfort, style and luxury of the legendary S-class while giving your wallet less of a pounding at the pump. There were three diesel engines available for this platform: one five cylinder unit (a 3.0 liter offered in the 300SD between 1980 and 1985) and two six cylinder units (a 3.0 liter offered in the 300SDL between 1986 and 1987, and a 3.5 liter offered in the 350SD/SDL between 1990 and 1991). These later engines were afflicted by a number of reliability problems, quite out of character for a Mercedes diesel product. So if you really want an oil-burning W126, the safest bet is to stick with one of the earlier cars, like this one. Not only does this '82 300SD have the more reliable five cylinder engine, it's presented in a particularly fetching and suitably classy shade of green.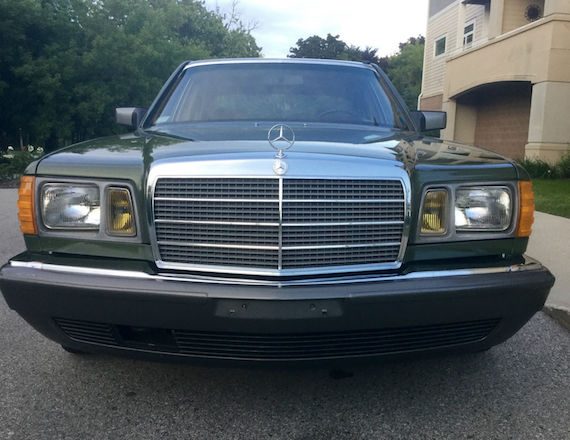 Year: 1982
Model: 300SD
Engine: 3.0 liter inline-5 diesel
Transmission: 4-speed automatic
Mileage: 54,000 mi
Price: Reserve auction with $23,900 Buy It Now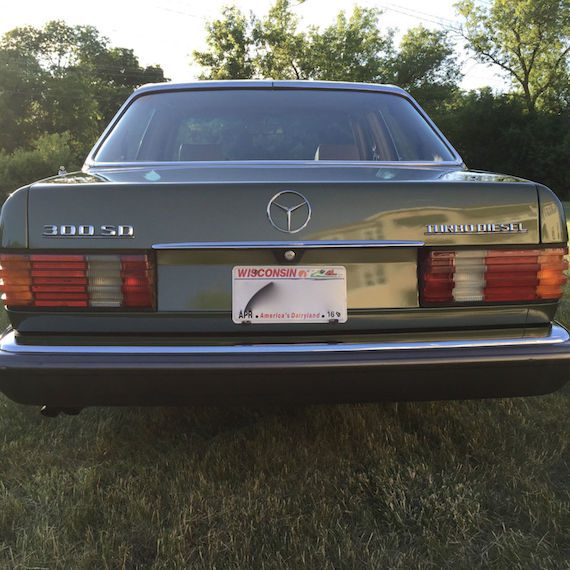 This is an exceptional example of the elegance and sophistication of one of the world's finest vehicles. It's true, this car has only 54,000 original documented miles on it. It was driven 1500 miles per year on average. My pictures tell the story. Look at the reflections in the paint, the near perfect condition of the burled walnut wood, the sumptuous carpet and leather seats. You have never seen a more gorgeous green exterior. It looks like a sun kissed leaf and the famous Mercedes Palomino leather interior is the perfect compliment. There is not even the hint of a blemish on the chrome bumpers. There is not one ding on this car. The exterior shines as if it came off the showroom floor. The dash is perfect and the carpet is clean and plush. There are no scratches or discoloration on the the seats. The trunk lining is spotless. I have scoured the internet and not found another 300SD with power seats and walnut trim on the doors. The car has a sunroof, cruise control, automatic climate control and heated seats. The rubber windshield and window lining shows no sign of age. I installed a state of the art Alpine radio with Satellite and blue tooth capability. This car came with a $38,000 sticker price in 1982 which is in excess of $100,000 in 2016 dollars. I am the second owner and purchased the car last year from a couple in their 80's who were both doctors and drove it strictly for pleasure. I am a perfectionist and had the car gone over from bumper to bumper. I spent $3000 replacing or repairing everything that was wrong or even could go wrong having shocks, gaskets, inline filters, kick down cable, o-rings, sensors, fuel hose, fuel screen, air cleaner mounts and seals wether they needed to be replaced or not. The passenger power window was not operating so I replaced the motor. The car is mechanically sound, the brakes are good, it shifts perfectly, the turbo kicks in when needed and the tires are new. The car has started the first time for me even in the Wisconsin winter. There are two minor scratches on the hood. The prior owner scraped the passenger side against some rose bushes and there are minor scratches on both passenger doors. These scratches are only visible in bright sunlight. There are some scuffs on the front bumper. I have done my best to show this in the pictures in as much detail as possible. Other than this there are no dings, dents or blemishes on the exterior. The tachometer does not work. There are no other known issues with the car and I believe it will exceed your expectations. Any questions please ask or call me at 262-993-2007. I require $500 down upon accepted offer and will accept a cashiers check as payment.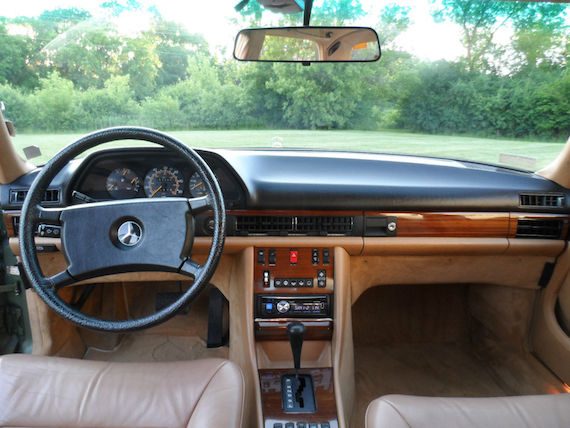 What caught my eye about this short wheel base W126 is the stunning color combination. Cypress Green (paint code 876) is a gorgeous, very 70's shade of green that looks great over the palomino leather interior and really accentuates the stately and classic lines of the W126 shape. With a mere 54,000 miles on the odometer, this car appears to be in great condition and the seller claims to have gone through and sorted out a number of maintenance items that presumably perished with age. The walnut wood and dash look spotless and although there aren't many pictures of the interior, what we can see indicates that the seats and trim are in excellent shape. Unfortunately, being an early car there are no airbags on offer, but you do get a sunroof, climate control A/C and heated seats.
The turbocharged OM617 engine in this car produces 123 hp and 181 lb-ft of torque. While it makes a fairly loud clackedy clack at idle, it's surprisingly smooth once you get going, giving you that serene S-class driving experience with slightly better fuel economy than you would expect from the gas variants. It's not the most frugal diesel out there; remember we are talking about 40 year-old engine technology. But it will probably return about 25 MPG, which isn't bad for a car of this age and size.
And now for the bad news. The seller wants $24k for this green beauty, which strikes me as way, way too much, at least double what he should really be asking. It is admittedly a nice looking car, but aside from the pretty color and low miles there doesn't seem much here to justify such a gargantuan asking price. It's especially galling when you consider that the tachometer is still broken and the pictures show the front bumper is missing a tow hook cover. Strangest of all, however, is that the Mercedes emblem on the trunk is wonky, suggesting evidence of a respray and distinct lack of care when refinishing it (odd then that the seller claims to be a perfectionist). These issues absolutely must be addressed before anything like the asking price can be demanded. I wonder whether this is one of those situations in which the seller has picked up a worn car from an estate sale, had it cleaned up, and is now trying to make an exorbitant profit. A thorough PPI is called for.
So I predict the car won't sell at anything near this price point. My advice: save it to your watch list and come back in a week or so when hopefully the seller has come back down to earth.
– Craig