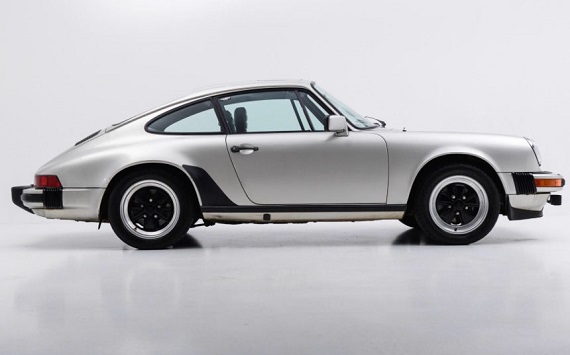 For me the 911SC still sits squarely within the driver, rather than collector, market for 911s. That is not to suggest they cannot make for good investments, they surely can, but they still present some of the few examples that can be had at a reasonable value and they share enough similarities with the somewhat more desirable 3.2 Carrera to restrain their growth. But this is good news as it means hopeful buyers might still find a 911 in good mechanical condition from which they can get years of motoring enjoyment without too significant an expenditure. While a 911SC will never be a supercar by modern standards, with 180 hp (in US-spec) and less than 2700 pounds to move around there is still sufficient power to make any section of back roads a joy to drive, all the while possessing the analog feel of an '80s performance car. Here we have a Silver over Black 1982 Porsche 911SC, located in New York, with 61,098 miles on it.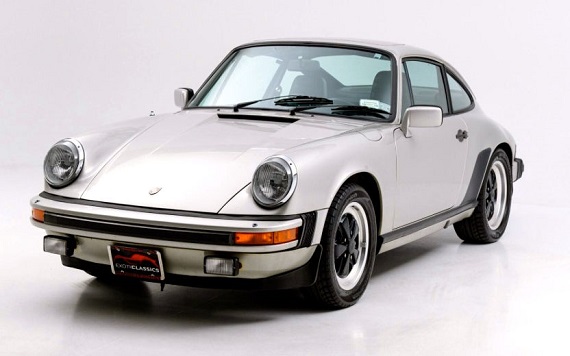 Year: 1982
Model: 911SC
Engine: 3.0 liter flat-6
Transmission: 5-speed manual
Mileage: 61,098 mi
Price: Reserve auction (Buy It Now $34,500)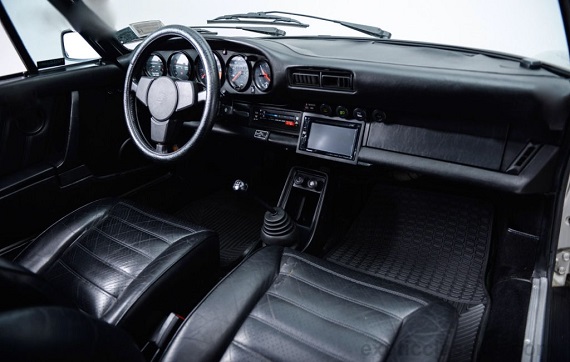 This is a unique silver 1982 Porsche 911 SC silver coupe in amazing original condition and brilliantly kept up mechanically. Only 61K original miles. Over $20K was invested into the car in the last two years at a time when I thought I'd keep the car forever. However, babies and new businesses have taken priority and although I still want to keep it forever, I'm willing to part with it for a fair price.

Great photos and video are posted at the following tumblr page. Copy and paste this address into your browser, any serious buyer will want to see this site:

silverporsche911sc.tumblr.com

Note: This Porsche SC doesn't come with the high-cost surprises that many SC owners have and will continue to go through. The list of upgrades, restorations, and repairs list is immense and available to serious bidders. The car is accident-free and car fax certified. The paint is original and has a glossy deep finish.

This car is meant for a buyer who understands the nature and value of the Porsche 911 SC. My investment of time and money will save you thousands over any comparable car without the same work completed, but it will more importantly give you peace of mind knowing that the major things that typically go wrong and required upgrades / repairs have most likely already all been taken care of.

I've addressed every major item that all the books and buying guides warn you about and I welcome and encourage a PPI with notice.

Practically every major and typical and necessary piece of the drivetrain has been replaced, restored, upgraded, etc with a complete top engine rebuild by one of New York's most respected Porsche mechanics with over 30 years experience. I quote him when I write, "If I drove 50 Porsche SCs not one of them would drive as well as this".

A full list and records/receipts are available to serious bidders but some of the items includes new head studs, clutch, brakes/calipers, suspension, chain tensioner, gaskets, ring sets, rack arms and shaft, valve guides and springs, oxygen sensor, replaced heat exchanger, pop off valve, engine sound insulation, fly wheel, oil returns, alternator, vent fan, warm air regulator, warm air valve, battery, and much more. You will not find one oil leak and the car drives perfectly. For those of you that don't know, a top end engine rebuild is actually a great thing because when we had to fix the head studs and take out the engine, all the 32 year old parts were replaced. So when the books and blogs talk about "Porsche SCs going 200-300K miles," it applies to this car.

Three owners including me in 32 years. Garaged with each.

Finished in a pewter silver metallic with black leather interior. The previous owners kept the car in climate controlled garages and this car was never driven in bad weather. It is totally rust free. The last owner purchased the car for his collection on 6/04/99 with 46,434 miles and put less than 10K miles on the car in 13 years. When I bought it, I planned on keeping it forever (and still want to). However, the car is not conducive to transporting children and babies.

The SC starts up like a new car in any climate. It idles perfectly. It has great oil pressure. It runs cool and performs amazingly well. The five speed transmission shifts really well and again, the full clutch assembly is brand new.

There are a few tiny chips in the paint that have been touched up. They are disclosed below. The leather seats are original and are glove soft with one minor 1-inch tear repaired and barely noticeable. The carpets are original and the door panels, headliner, and dash are in great condition.

The previous owner made some minor alterations such as installing european headlights that honestly look so good, I'd never replace them. The original assembly is still available however. The tires are almost brand new. The wheels are perfect.

Beyond my records I do not have any history or maintenance records other than verbal information that has been passed on by the previous owner so please don't inquire about that. I just don't have them. However, every inch of the car has been inspected and cared for since I've owned it.

The car is 32 years old. It is truly in amazing condition but not perfect museum or showroom condition. Expectations must be managed.

Buying a Porsche SC is a commitment. All Porsche SC owners know the joys of ownership and they also know that owning a 30-year-old car can come with big surprises. Fortunately, the big and expensive surprises have been dealt with already and what's left is a head turner in amazing condition for its age – inside and out. The car has potential to be show room condition with additional restoration.

All four speakers have been replaced and an expensive state of the art touch screen stereo system with navigation has been installed cleanly into the dash giving this driver's car the luxuries of a modern car in a classic dream. It has full wireless Bluetooth capabilities for phone and music. It was installed by the foremost custom car shop in the northeast and I am not removing it.

If you have any questions please call 917-488-4238 or send an email to jordan.henner@me.com.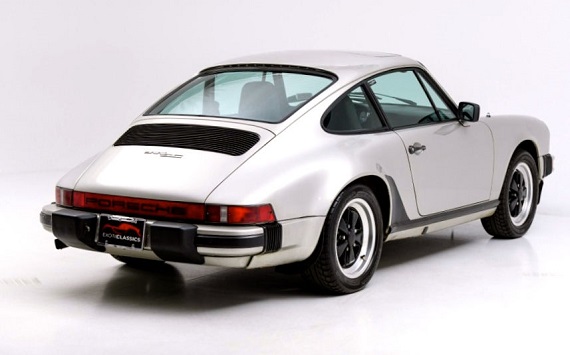 Even as driver-quality cars 911SC values still have moved north over the past year as air-cooled values in general have risen so these are not quite the excellent values they once were. Within that range this car is straddling the line between driver and collector. It presents really well both inside and out and the seller appears very well versed on its mechanical condition and condition relative to comparable examples. That fancy stereo, however, could be a problem and the seller is adamant it will not be removed, a point which suggests he may have received more than one question about it from prospective buyers. Again, the car straddles the line between driver and collector and as such this stereo likely won't be a bother to someone interested in a driver-quality 911SC, but the asking price, and condition of the rest of the car, are suggestive of a collector. Bidding currently sits at $29,600 so we aren't too far off of the asking price, but that last $5K makes a bit of a difference here. Ultimately, the seller will likely have to come down on the price and if he does then buyers should have a chance at what appears to be a mechanically excellent 911SC at a decent cost.
-Rob